Eve Ensler changed the world with The Vagina Monologues, her stage show based on interviews with women from around the world discussing their bodies, sexuality and the violence they have encountered in their lives. Since its inception in 1996, the play has been performed in thousands of cities from NYC to Cairo and was the inspiration for V-Day, a global activist movement to combat violence against women and girls.
Today, Ensler expands her voice for women and girls with Emotional Creature: the secret life of girls around the world, a musical theatre piece based on her 2010 bestselling book that chronicles what it is to be a teenage girl through a series of new stories, songs, dance and monologues,obvs. The multi-ethnic cast comprised of six talented actresses (Ashley Bryant, Molly Carden, Emily Grosland, Joaquina Kalukango, Sade Namei and Olivia Oguma) more than hold the stage as they each morph into different personalities across a variety of countries and cultures over the course of 90 minutes. The issues are all over the place, ranging Facebook profile pic obsession, to body image and eating disorders, to sex and abortion in a religious family.  In an early memorable and lively scene a girl recounts how her parents made her "fix" the protruding nose she was born and content with. Later, a young woman in the Congo confesses in a series of showstopping scenes how she coped and maintained spirit while being forced into sexual slavery. There's a bit of emotional whiplash, but this is an Eve Ensler script after all and the overall feeling of community among women is palpable.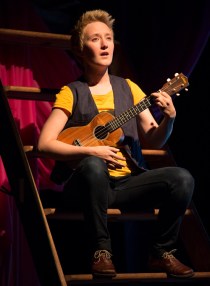 Emily Grosland is striking as a babygay rocking an alternative lifestyle haircut and queer skinny jeans/vest outfit reflecting on kissing a girl, more than liking it, and her feelings of betrayal when the other girl ignores her at school. Her melancholy performance is full of the daydream longing we all experience as we fall in unrequited love for the very first time. I was especially drawn to this actress (who identifies as pangender) so look for an interview with Emily next week!
If you are visiting NYC over the holidays this is the perfect thing to take your mom and little sister to.  Emotional Creature at the Pershing Square Signature Center (42nd Street and 10th Ave).