By Crystal and Stef
The thing about buying gifts for music lovers is that if you decide to go with an item that is associated with their favorite artist or band, chances are that they already own that item or that their other friends have bought it for them also. That's how, in 2004, I ended up with three copies of the same Green Day interview and photo book stuffed in my stocking. You don't want to do that to someone you love. Here are a bunch of non-artist/band specific items that the music lover in your life might enjoy.
Hand-painted Mix Tape Military Satchel ($54)
A mix tape is inarguably the most perfect gift for a special music lover in your life, but if you've already played that card then this Mix Tape bag might be the next best thing. The hand-painted tape design and wooden toggles are super cute while the canvas military-style bag is sorta bad ass, so this'll likely appeal to a wide range of personality types. At the time of publishing there was only one bag left for sale and so you'd better snap it up before I do.
How hot is this belt buckle? I don't even wear belt buckles but I would definitely start if someone gave me one of these for Christmas. Matching cuff-links are also available.
Guitar Pick Punch ($25)
The musician in your life is constantly running out of guitar picks. Now they can make everything they own into guitar picks, so they'll never run out.
Alternately, you can order a whole lot of picks with their name or their band's name or your cat's picture on them so they'll never want to lose them!
Show me a person who doesn't appreciate mix tape-related gifts and I will show you a person who doesn't deserve to be gifted with this amazing clock.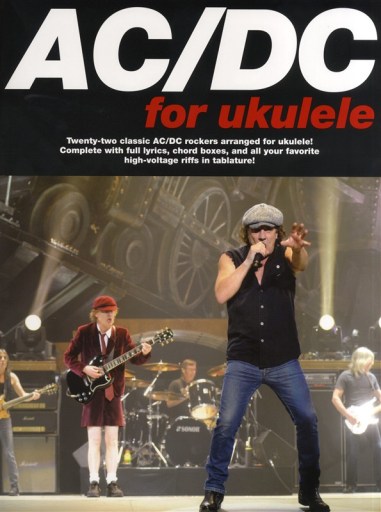 AC/DC for Ukulele ($11)
For the unabashed uke nerd in your life. This isn't even something I want – this is something I already own, cos a thoughtful friend bought it for me last year. Absolutely everything sounds funnier when played on a uke, and AC/DC's brand of balls-out arena rock is particularly hilarious. I can't describe the profound joy I experienced the first time I was able to pick out the tabs for "Back In Black" on my tiny acoustic ukulele, but I guarantee that it's an experience worth sharing.
You know who would really love a music wall decal? People on Tumblr who re-blog the shit out of images of wall decals. You probably know half a dozen of these people, at least. I am one of them. If you think this particular design is a little naff then run 'music decal' through Etsy's search engine to view a hundred more.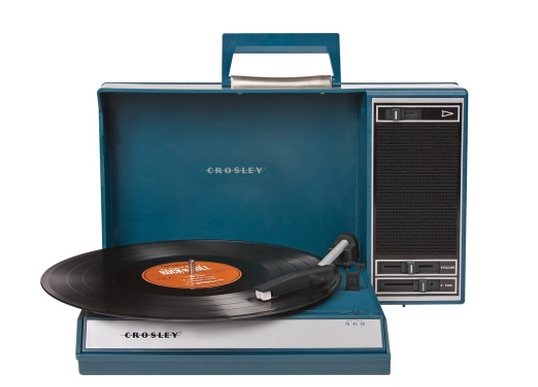 Spinnerette Record Player ($149)
This retro portable record player seems like it'd be the ideal gift for someone who enjoys sitting under a tree in the park listening to Etta James while reading a second-hand copy of On The Road. Or maybe just someone who enjoys nice-looking things. As someone who doesn't own a record collection, I think the best part about this turntable is that you don't actually need one — you can just plug in an iPod and pretend you're in the 50's.
Bliptronic 5000 LED Synthesizer ($42)
This is the beginner's version of the Tenori-On, a beautiful (but expensive) synthesizer that works sort of like a Lite Brite. This really basic table synth uses lit-up buttons to help you create changeable looping patterns in a variety of happy robot noises. It's a super fun, visual way to start messing around with the possibilities of electronic music, and if you have more than one you can even sync them up to each other and build more complicated arrangements. Also, I mean, it lights up, which will certainly keep you busy for an afternoon.
Imagine if you could custom-order a pair of headphones that were decorated with photos of your cats. Now stop imagining, because OrigAudio can make that dream a reality. Their Designears headphones are fully customisable — just choose the frame color and then upload the images that you want printed onto the headband and cups. If you don't want to design the headphones yourself, you can pick up a gift card and let the recipient do all the work.
Priced at $70, the Designears likely offer more style than sound quality. If you're after phones that deliver both, I recommend the V-Moda Crossfade LPs.
Headphone and iPod/iPhone Stand ($59)
Even the music lover who already owns everything probably doesn't own a headphone and iPod stand. I had no idea that these even existed outside of retail stores and now I really want one. The stand itself is extremely practical (never misplace headphones again!) but I think the true value of this gift is that it'll essentially give the recipient a free pass to flaunt their impeccable taste in audio gear in the most visible part of their home. Priceless.
Support a Music Charity
In lieu of a gift, why not donate to a music charity organisation on the recipient's behalf. There are a bunch of really great groups out there that doing things like supporting music education programs in public schools, providing instruments to those who can't afford them and developing community music and arts programs. There's VH1's Save The Music Foundation, The Fender Music Foundation, The Gibson Foundation, MusicAid, Sphinx Organisation and Support Act, to name a few.