Spit and Passion
by Cristy C. Road is a graphic memoir about the anxious, fragile and formative moments between childhood and adolescence. Written with the wisdom of hindsight and illustrated with the often-gruesome imperfections that Road's art is famous for, her memoir centers around her newly felt queerness and how her love affair with Green Day (yes, the band) saved her from the pain of being a weirdo.
Raised by a "gang of boisterous Cuban women" in a working-class family, Road was torn between the casual homophobia that was part of the backdrop of her daily life, and her growing physical attraction to women.  All at once, her body began to change, school became intolerable and she found herself weighed down by her secret queerness, which is when Road was suddenly saved by punk music. By allowing herself to connect with Green Day and by using her love of the band as a language to express what she otherwise could not, Road managed to harness a passion that eventually defined her.
This is the kind of book that you read in one ecstatic sitting, your brain pulsing with Road's frank yet multi-dimensional prose and your eyes lingering hungrily on the images of a young Road as she struggles to find herself within the parameters of not just the world, but her own body and mind.
Reading Road's memoir, I was right there with her. As she admits how easy it is to stay in the closet when you don't know any other queer people, and then describes her life-altering joy upon first seeing a girl with a shaved head, my heart was pounding. And in those same pages where she mulls over her brand new first crush on the "bald girl," Road draws herself holding her own face, surrounded by screaming words like "DYKE BITCH!" and "FAGGOT" and "TORTILLERA!" In this one drawing, Road hits a truth about being a young queer person: that you don't have the luxury of being simply excited about a crush when those feelings symbolizes your deeply-rooted otherness.
Here's an excerpt from Spit and Passion
: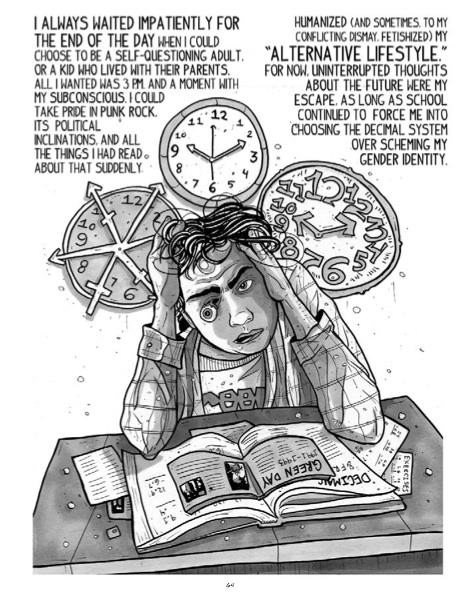 If Road's drawings look familiar, it's probably because you've seen them before: her work has appeared on countless record and book covers, as well as in zines, political posters, signs, anthologies and magazines. She's a fantastic writer, too, and Alison Bechdel, Kate Bornstein and even Road's own hero Billie Joe Armstrong have sung her praises. The world needs more memoirs like this, with more stories like Road's about life as a young queer Latina punk, to interrupt the popular narratives of what it means to become an adolescent.