Before watching this week's episode of Glee (I watch it online 'cause I don't have a teevee), a few eager fans decided to spoil my surprise homoparty by telling me, via formspring, that SANTANA IS A LESBIAN. I thought, "Is this a joke?" and then I thought, "but Santana is like the slutty one who sleeps with all the boys, there's no way SHE's the lesbian, this must be a trick of some kind," and then, much later than I'd like to admit, I remembered that I, too, was the slutty one who slept with all the boys.
And so here we are.
I get it. I mean I get Santana — where she's coming from. I mean I think I've been there too. I didn't figure myself out gradually and then suddenly or even just gradually. I figured it out suddenly, all at once, like Santana does here, and a million puzzle pieces fell from the sky and over time, found their place in the f*cked up scattershot damaged resources of my once-incomprehensible memories and desires. Like Santana, I didn't think making out with girls meant I could ever want to "be with" one.
I've never really related to a teenaged-teevee storyline before.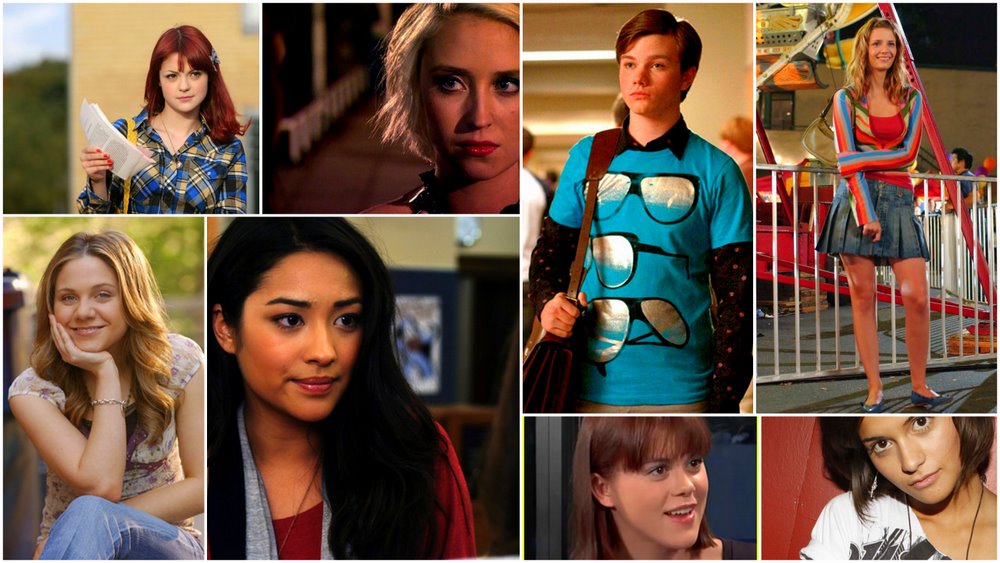 I didn't, like Paige McCullers, enjoy my date with a boy until he kissed me (the kiss was fine, too). My family hadn't been waiting all my life for me to tell them what they already knew, like Kurt Hummel. I hadn't been consciously living a lie because I was afraid of my family's reaction, like Emily Fields or Emily Fitch. I hadn't known since I was 12 and fell in love with my future girlfriend like Naomi Campbell. I didn't just know/accept it all along (or eventually reneg on it) like Tea. I wasn't coaxed out of the closet by an already-ok-with-being-gay paramour, like Paige Michaelchuck or Marissa Cooper or Spencer Carlin was. But Santana — Santana I get.
And isn't it amazing? That we have a choice now? That Willow is no longer speaking for the entire group?


+
Episode 215: Sexy
[thanks to gleekstorm and gleeky for leading me to many of the graphics/gifs used below. original gif-maker credited whenever possible]
Gwyneth Paltrow, playing Cameron Diaz playing Holly Holiday, is back at McKinley (I almost called it Rosewood!) to teach Health or whatever educational hybrid works best for this week's plotline.
Emma, fresh out of a not-productive Celibacy Club meeting with Quinn and Rachel, squeals that sex "is not for kids and not for adults" 'cause the only way to get KY Jelly between Emma's legs is to tell her it's hand sanitizer. Also, outfits like these don't make for quick-release nudity: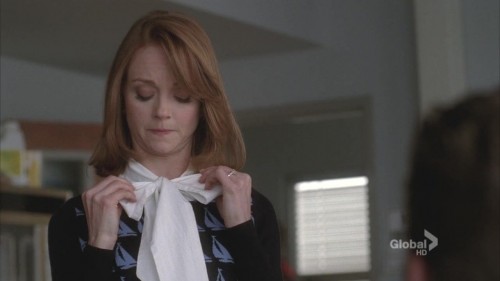 Meanwhile in the hallway — WERE WE EVER SO YOUNG — Santana's Black Panther Blazer is interested in sheltering Brittany's bird-related sweater set via cuddle puddle and incest porn.
Santana: "Hey, Brit-Brit. So, how about you and I pop in some Sweet Valley High this evening and get our cuddle on?"
Brittany: "Look, I'd love to get my sweet lady-kisses on, but I haven't been feeling sexy lately. I think I have a bun in the oven. Please don't tell anyone, okay, especially Artie."
Santana begins telling everyone before finishing telling Brittany she won't tell anyone. Anyhow, false alarm! When Will asks if Brittany's gotten a doctor to verify the impending birth of what will surely be the weirdest baby ever, we learn that Brittany mixed up "the voyage of sperm up her vaginal canal" with "the voyage of birds flying through the sky, landing and building nests outside her perrywinkle window."
As Brittany explains her predicament, the reaction shots are priceless:
Will, wearing denim-on-denim (not really, but it does look like denim-on-denim, so), is ready to get "deep into their setlist" in anticipation of Regionals, that massively competitive season-ending event oddly attended by no more than three other musical groups, one of which is always a gimmick (old people! deaf people!) BUT unfortunately, Will now sees he's got a bunch of future genital warts crowding up the music room and it's time for sexual education.
This education will not take place in sexual education class, where we've already flash-backed to see Mercedes have AIDS panic over Cucumbers (the same thing happened to me once but instead of cucumbers it was this gun-toting, stab-wound-sporting, small-time boxer who I met at The Olive Garden) but instead, in Glee Club.
Since nobody dates outside of Glee Club, at least you're taking care of all these couples as packages and LET'S BE REAL Glee Club is actually a pilot music therapy program for kids at risk. In this case it's all the best looking kids in school at risk of growing up and becoming Republicans if you don't keep 'em humble and slushied and singing like a bunch of homosexual pansies every week.
Speaking of packages, Holly Holiday's sex ed concept is that you've gotta "hide the vegetables" just like Jessica Seinfeld suggests in her cookbook about making sure children eat vegetables. Apparently the fact that "sex ed" is already pre-packaged in "sex," which I believe is already pretty fucking interesting, especially to teenangers, is not enough. In order to REALLY REACH THE KIDS, Holly knows sex ed should be wrapped in sex and also SINGING AND DANCING, which, to be fair, is how everything should be wrapped. (But really did anyone fall asleep or fail to pay attention during sex ed? Condoms, WHAT A SNOOZER, let's get back to The War of 1812 already! No. The problem with sex ed isn't that it's boring and kids don't listen — it's that most schools DON'T HAVE IT. I'll stop now before I get incensed.)
Holly: "Sex. It's just like hugging, only wetter."
Holly, who picked up her jacket either from the future or The Hard Rock Cafe, calls out the kids for being sexually misinformed, like how Finn believed in pregnation via jacuzzi jets (although in a pinch, it beats a turkey baster) and Holly says this misinformation will end "right here, right now."
How? By everyone acting completely inappropriate and singing Joan Jett while thrusting their tits into the air like spastic zoo animals. Beats chlamydia every time.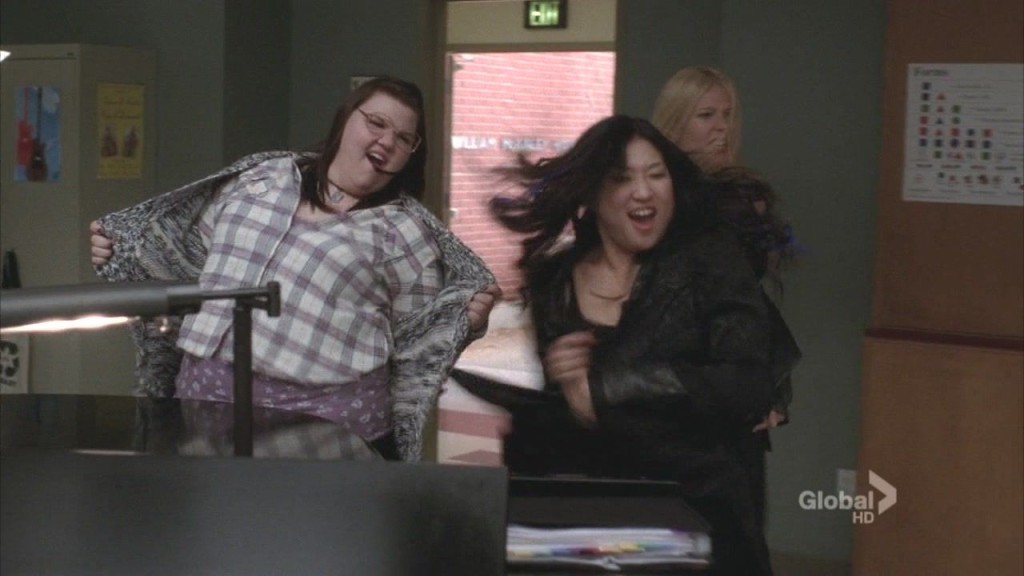 Although it seems like Holly got an excessive amount of screen time in Brittany's dance number, what with all her singing and dancing and lead vocalizing — THIS ALWAYS HAPPENS — I'm not mad at this scene. Will resists the urge to get all molesty and instead holds up a sign reading "TOO MUCH?" which Rachel should probs snag for safekeeping to whip out next time Will gyrates his way into a school assembly.
She ends with some words to the wise:
Holly: "Just remember, when you have sex with somebody, you're having sex with everybody. And everybody's got a random."


Sue magically finds Kurt ("Porcelain") and Blaine at the Coffee Shop, where she prepares herself a potion of sugar packets, vanilla syrup and heavy whipping cream while informing the boys they'll need sex appeal to win at regionals, which is utter nonsense.


Meanwhile at McKinley, where nobody's got time for lattes or syrup, Lauren lights Puck's loinfire by suggesting sex is in their future. I hope so, I've had enough of this chatty foreplay and am ready for the dramatic relationship part and subsequent Ballads to begin.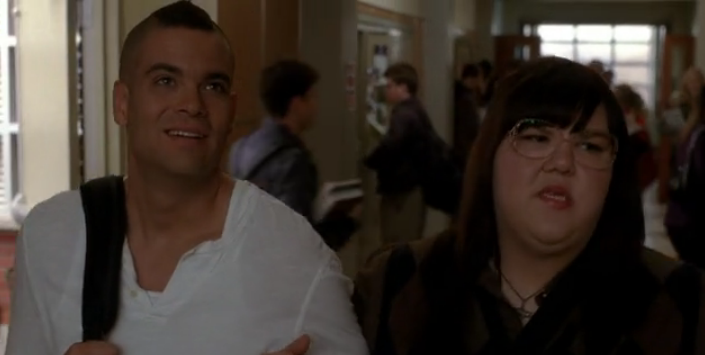 Lauren: "Puckerman, today is your lucky day."
Puck: "You're finally gonna let me motorboat those twins?"
Lauren: "Remember when I told you I had a master plan? Here it is." [DRAMATIC PAUSE] "Can you think of a celebrity who released a tape of their intimate relations that DIDN'T make them more famous?"
Puck: "If this is going where I think it's going, I may need to sit down."
Lauren: "Rachel Berry wants to be a famous singer. I just want to be famous. Doing that number for Glee Club was my first step towards being a star. I wanna be like a Kardashian, I want a TV show and a fragrance. It'll be called Zizes. And the slogan will be "you just got zized."
I will buy ten bottles of Zizes and I will stir-fry my breakfast in it. I will baptize my baby in Zizes and I'm not even Christian.


Meanwhile in an abandoned warehouse I swear just got busted with $16 million dollars of cocaine on The Wire episode I saw earlier today, The Warblers are putting on a private performance for a bunch of schoolgirls from their "sister school" to see if The Warblers are sexy enough to wow the adult judges who will be assessing the team based on vocal abilities, dancing and choreography.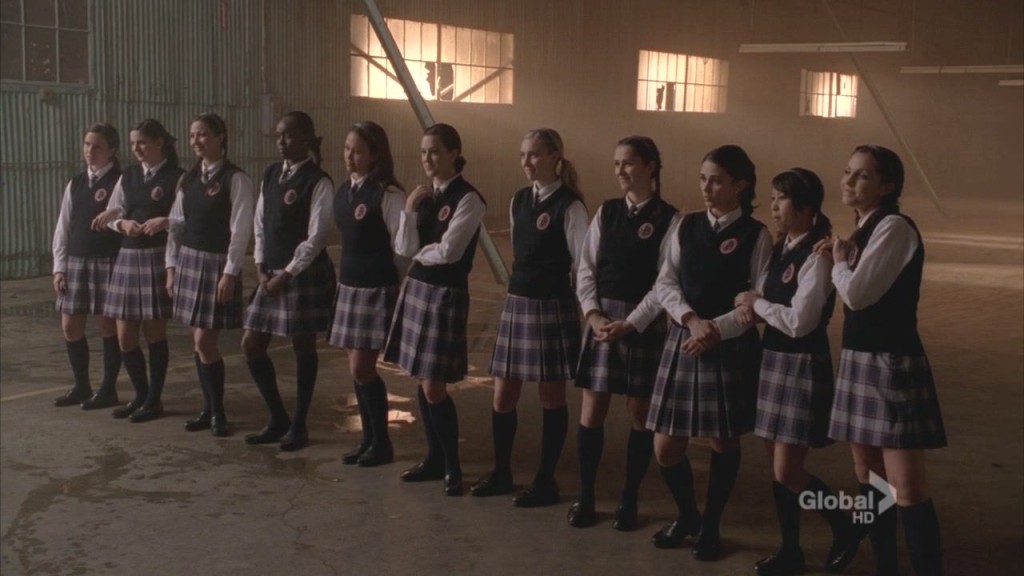 The passion in the warehouse reaches foam-party proportions and Kurt makes sexy faces that remind me of karaoke on the Rosie Cruise but Blaine isn't a fan/is an asshole.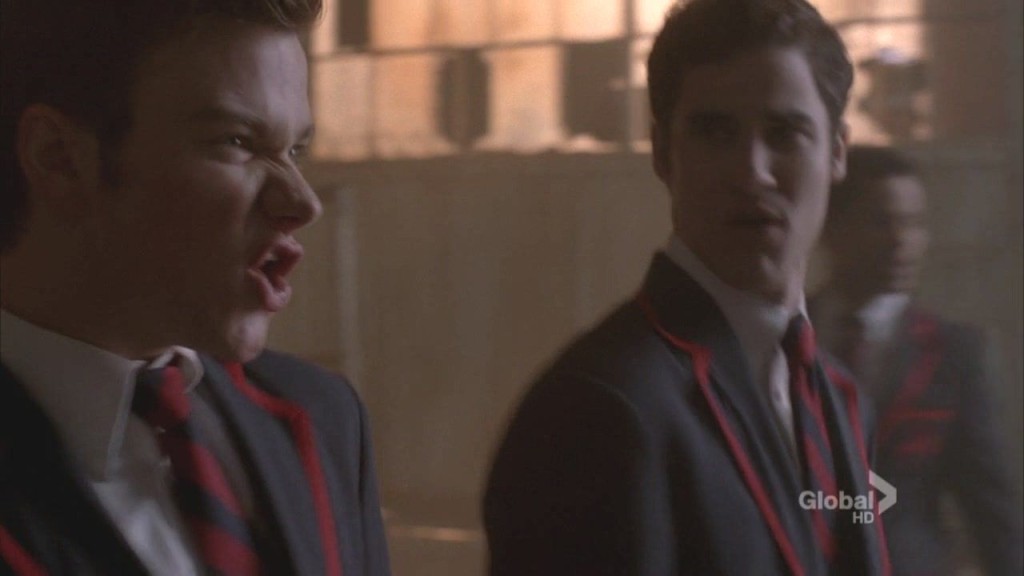 Blaine: "Are you okay? You kept making those weird faces during the whole song."
Kurt: "Those aren't weird faces, those are my sexy faces."
Blaine: "It looked like you were having gas pains or something."
Kurt: "Great.  How are we supposed to get up on the stage at regionals and sell sexy to the judges when I have as much sexual appeal and knowledge as a baby penguin?"
This image exists on the internet: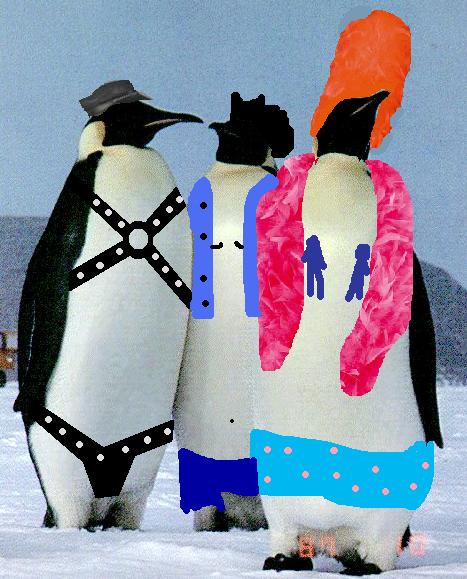 Pages: 1 2See entire article on one page