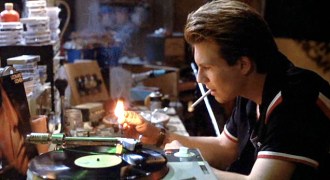 In the classic 1990 film Pump up the Volume, Christian Slater plays soft-spoken "anonymous nerd" high school student Mark, who launches a pirate radio station out of his bedroom and consequently SPEAKS THE TRUTH about the LIES of LIFE, eventually incites pandemonium amongst the student body and some kind of car chase. Hard Harry's number-one feeling — which understandably strikes a resonant chord amongst his destitute suburban angst-ridden peers — is this:
"Feeling screwed up at a screwed up time in a screwed up place does not necessarily make you screwed up."
And also this:

"You hear about some kid who did something stupid, something desperate; what possessed him? How could he do such a terrible thing? Well, it's really quite simple, actually. Consider the life of a teenager – you have parents, teachers telling you what to do, you have movies, magazines and TV telling you what to do, but you know what you have to do. Your job, your purpose is to get accepted, get a cute girlfriend, think up something great to do with the rest of your life. What if you're confused and can't imagine a career? What if you're funny looking and can't get a girlfriend? You see, no-one wants to hear it. But the terrible secret is that being young is sometimes less fun than being dead."
I thought about Pump up the Volume and its we're-all-depressed anarchist anti-establishment antiheroes while reading The New York Times article Gay or Straight, Teenagers Aren't So Different, in which author Jane E. Brody points out new research showing that gay kids are indeed f*cked/f*cked up, but not THAT much more than straight kids are!
Most research, Brody explains, uses clinical populations (people who've come under professional supervision of some kind either from attempting suicide, expressing suicidal thoughts, seeking help or getting in trouble), which can "skew results," suggesting "that gay teenagers on average are more prone to suicide and mental illness than they really are."
Brody goes on to cite studies conducted by Lisa Diamond, associate professor of psychology at the University of Utah ("My research focuses on two distinct but related areas — the nature and development of affectional bonds and the nature and development of same-sex sexuality."). Diamond, author of Sexual Fluidity: Understanding Women's Love and Desire, found "young gays had as many friends and were just as popular and socially connected as other teenagers" but "the composition of their friendships is somewhat different" — for example, "gay teenagers tend to go out of their way to befriend youths of other races or those who are stigmatized for their looks."
If Lisa Diamond's name sounds familiar to you and you're not just a total soc/psych research nerd like me, perhaps you are recalling a certain business meeting between these two ladies…
… and Lisa Diamond!
Yup, this summer one of our most esteemed social research persons suddenly found herself on Showtime's hit series The Real L Word, meeting with Jill & Nikki who want to turn her book into a TV show of some kind. Just a little trivia for 'ya.
Anyhow! Ritch Savin-Williams (who has done SO MUCH research on bisexulity/homosexuality/sexual orientation and child/adolescent development that while reading this article I actually recognized his name as being that guy who's done all that research), the director of Cornell's Sex and Gender Lab and professor and chair of Human Development at Cornell University, said in a news briefing:
"I'm concerned about the message being given to gay youth by adults who say they are destined to be depressed, abuse drugs or perhaps commit suicide. I believe the message may create more suicides, more depression and more substance abuse. I worry about suicide contagion. About 10 to 15 percent are fragile gay kids, and they're susceptible to messages of gay-youth suicide."
Savin-Williams told The New York Times:
"We hear only the negative aspects from research. We don't hear about normal gay teens. It's hard to get studies published when researchers don't find differences. A large number of studies found no group differences between gay and straight youth, but these have not been published."
Furthermore, Savin-Williams says that "bullying is less about sexuality than it is about gender non-conformity" and "a direct link between bullying and suicide among gay teens has not been shown." Risk factors for suicide are the same for teenagers regardless of orientation — "prior mental illness, depression, bipolar disorder, dysfunctional families, breakups in relationships, suicide in the family and access to means."
Lisa Diamond points out that the gay teenagers who are most at risk are those whose families or parents have rejected them due to their homosexuality. Also, parents tend to think about sex when their gay kids come out to them, especially if it's a boy. But boys don't wanna bang bang bang, they're just like heterosexual teens who want to be loved by a boyfriend who'll watch videos with them and go to prom with them and fight on public transportation with them, etc.
Diamond recommends that parents not be such assholes, even if they do think homosexuality = hellfire. If your parents are being total assholes, this article recommends they sit their asshole-containing asses on the couch and watch Lead with Love, and also "take a deep breath and answer their questions," "continue to express affection" and "watch movies together."
It's tempting to view this research and this type of thesis as doing more to harm the cause then help it — we tend to agree that everyone needs to know how special/important/unique our troubles are, otherwise we'll never get the attention we need from educators, health service providers and other students. It's also important that people understand the trickle-down effects of government-endorsed discrimination.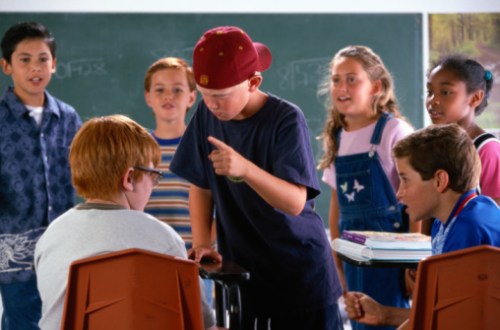 Other "outsider" groups are at increased risk as well, however — the odds of being bullied are 63 percent higher for an obese child, for example. Furthermore as Rachel pointed out in November, when it comes to being bullied in high school, "the funny thing about the world we live in is that even being straight doesn't protect you from the dangers of being gay." Some studies have shown that 77% of all students report being bullied, regardless of extraneous factors.
Savin-Williams suggests that we spend more time talking about things already being good:
"The negative message that gay teens get — just survive your adolescence and life will get better — is a disservice," Dr. Savin-Williams said. "The message should be that your life can be good right now.
"Many gay youth have excellent, productive, happy lives. When asked, gay youth can come up with a very long list of positive attributes — they're more artistic, creative, resilient and sensitive to the needs of others. They say they don't have to be the most popular."
We do this a lot within the movement — those of us who had pleasant coming-outs and accepting parents or who thrived/are thriving in high school tend to stay silent in these discussions out of respect for the horrors endured by their less-lucky peers. But if we've learned anything from running this website, it's that even abstract awareness of far-away homo-humans living pleasant lives can be enough to encourage a gay teen or any kind of outsider to hang in there.
Hard Harry from Pump Up the Volume sees it this way:
We're all worried, we're all in pain. That just comes with having eyes and having ears. But just remember one thing – it can't get any worse, it can only get better. High school is the bottom, being a teenager sucks, but that's the point, surviving it is the whole point. Quitting is not going to make you stronger, living will. So just hang on and hang in there.