Attention, there is now a website devoted solely to gifs of James Van Der Beek emoting.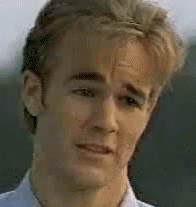 Like this, but more!
James Van Der Memes is part of Vanderweek on Funny or Die, which is this week, because Monday was the 10-year anniversary of Dawson Crying gif, so you have a lot of things to look forward to now. Also Rachel and I will have plenty of feelings gif ammo the next time we do a post together.