I don't know what people are gonna say about this episode. It was different. You know… less singing and dancing, less teenaged-romance storyline development. This episode included an almost unwatchable four-minute situation involving Jane Lynch, Carol Burnett, and a song on a stage. I remember about two of those four minutes, during which I was reminded of earlier in the evening when I thought I was dying of stomach cancer or a liver/kidney thing and went to the free clinic only to discover that we'd arrived too late to see a doctor (7:55 PM, btw). Because that pain was a similar sensation to what I felt during the aforementioned Strange Song Scene.
But I don't really care about all that.
Why not? Because MOTHERF-CKERS THE HOMOS GOT A VERY SPECIAL EPISODE LAST NIGHT. (EPISODE 208: FURT.) I mean, it wasn't officially called "a very special episode," but let's face it, it was a Very Special Episode. I don't even know if they do Very Special Episodes anymore, was that an '80s/90s thing? Probably all the issues have been taken care of already, like by Diff'rent Strokes (which I've actually never seen) and Blossom. Everyone had an abortion. Drugs were inhaled. Cars careened drunkenly into trees.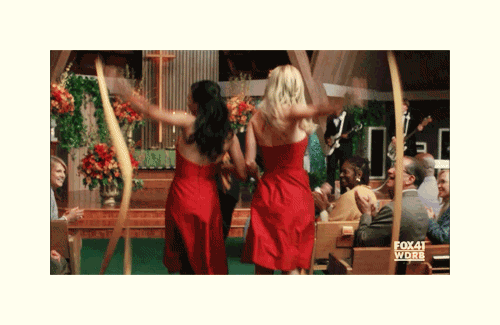 And last night — all the excess melodrama, sentiment and emotional fireworks we associate with a Very Special Episode were reserved for us. Glee saw an issue that needed to be discussed, and did a fucking ISSUE EPISODE.  You know, the kind where by the end you're like "okay, I get it, I need to use a condom or else die of AIDS!" Our dead horse was beaten and it WAS GLORIOUS.
However, it could've used:
1) More singing and dancing starring the nubile teenagers we've tuned in to watch

2) More Brittany and Santana making out
We owned that shit. I'm intentionally using graphics I found on various tumblrs like gleekstorm and gleeky, because that's where the children are, and this reflects their various enthusiasms.
+
The Very Special Episode of Glee – Gay Bullying Edition:
In which the following things happen, in opposition to everything we've come to expect from episodes about gay people– most notably, there was no room for a debate about the ethics of homophobia here. It was assumed that all the football players, Gleeks and their friends would automatically be opposed to homophobia and its manifestations.
1. After Compassionate Teacher takes Gay Boy to report bullying to Bullyish Principal after seeing Gay Boy get confronted by Bully, Gay Boy calls out Bullyish Principal for calling him "Lady" — "that's bullying too." Bullyish Principal apologizes.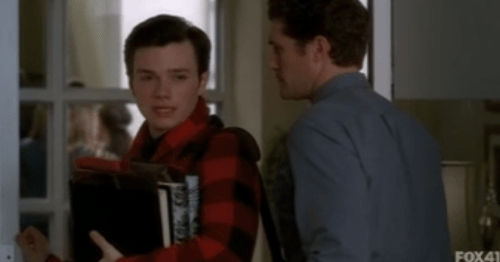 2. Cheerleaders & Miss Perfect & Glee Kids rally together to use their feminine wiles to lure their boyfriends into protecting Gay Boy. This is a very special episode, so we can forgive them their gender roles and just roll with it, just like we will later when punches are thrown.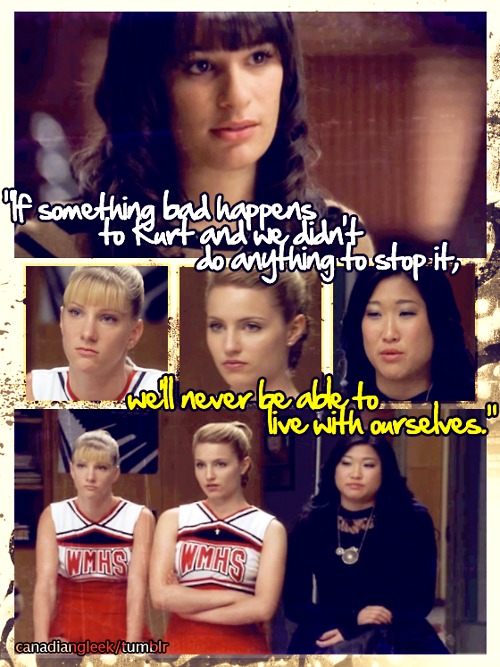 3. Miss Perfect tells Hunky Jock boyfriend that his decision to not rally with his friends to defend Gay Boy has made her more disappointed than she's ever been in him. Hunky Jock's resistance to the plot is not homophobia, it's football team politics.
4. Four football players, one in a wheelchair, confront Bully about harassing Gay Boy, telling him that it has to stop. When the Bully fights back, Dreamy Football Player throws punches and eventually the whole thing is broken up by their Female Football Coach.
ARTIE: Stop picking on Kurt.
KAROFSKY: You mind? I'm changing.
MIKE: We're serious. This is a warning.
KAROFSKY: Oh yeah?
ARTIE: From now on, you're going to leave him alone.
KAROFSKY: Look, if he wants to be a homo, that's up to him. Don't rub it in my face.
ARTIE: We're not asking.
MIKE: Yeah. We're done talking about this. Just back off, alright?
KAROFSKY: You back off!
5. Following aforementioned incident, Hot Cheerleader #1 tells the Boy in the Wheelchair that his participation in The Defend the Gay Boy Project makes her "so hot" for him right now. There is indication that Dreamy Football Player's defense of Gay Boy may actually get him a ticket into Hot Cheerleader's pants.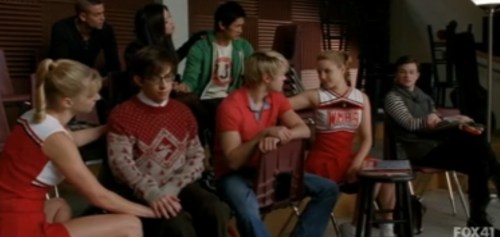 6. Then Compassionate Yet Dorky Teacher walks into the room. They explain that Football Player stood up to The Bully. They explain that the boys from the football team stood up for The Gay Boy and sent a warning to The Bully. They explain that Hunky Jock did not, which Miss Perfect has already told us is the most disappointed she's ever been in him. Everyone expresses scorn towards the Hunky Jock.
Mr. Shoeface walks over to the Gay Boy, says "Kurt, are you alright?" and puts his hand on Kurt's knee, and Kurt says yes.
And that, I think, might be the Most Tender Homosexual Television Moment of All Time. It happens so quickly and with characters (Mr. Shoe) you're often lukewarm towards, but it's right there. Like a little plush toy is kissing your heart. Oh just let yourself have feelings for chrissake.
7. When Gay Boy's Father finds out that The Bully has been threatening The Gay Boy, Dad attacks The Bully. Father then reprimands Hunky Jock AGAIN  — this is like not Finn's day at all — for his failure to protect his New Brother.
8. Principal Expels Bully for Bullying the Gay Guy. The group departs for their lovely autumn wedding:
9. Gay Boy and Hunky Jock Do Homosexual Dance Together, the crowd cheers and has never been so happy.
10. Gay Boy leaves public school for a private academy. His parents are foregoing a vacation to fund his escape from the school that refuses to adequately protect him. He says he is going to Dalton because we want him to kiss Blaine, but actually really because of their "zero tolerance bullying policy."
You see that? You see what they did there? That's putting the words "zero tolerance policy on bullying" on the teenaged tongue-tips the world over. Add a little singing and dancing and I think we had ourselves a heartwarming little experience tonight.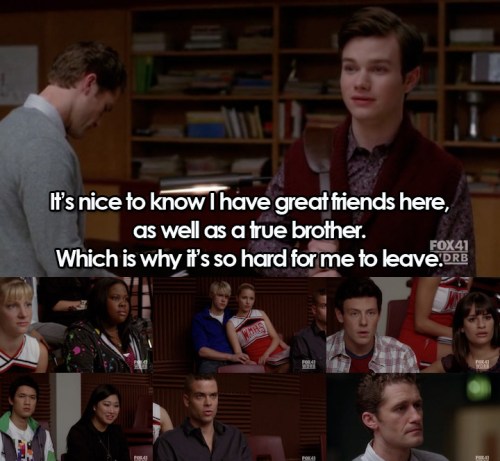 Oh, and this is what Rachel Berry had to say about that:
And that, my friends, is what we elderwomen call a "very. special. episode."