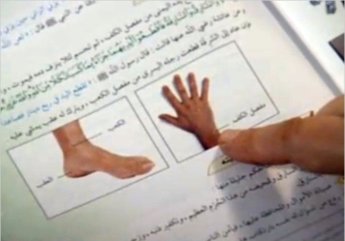 Over 5,000 children in part-time Islamic schools and clubs across Britain have been learning anti-Semitic and homophobic views from textbooks in a Saudi Arabian government curriculum.
According to researchers for BBC's Panorama, a weekly current affairs documentary show, a textbook recovered from a west London building owned by the Saudi Arabian government says that Jewish people "looked like monkeys and pigs" and Zionists want "world domination." A separate text states that the penalty for gay sex is execution but that there is debate between whether it should be carried out through stoning, burning, or throwing the accused over a cliff. Another discussed Sharia law and punishments for theft, including diagrams for amputating hands and feet. Part of the curriculum meant for six-year-olds says that someone who dies and is not a believer in Islam is condemned to "hellfire."
Panorama sent a young student undercover into a school, and then into a center in London, on the pretext of collecting textbooks for his younger sister. An official in London told him his sister would have to study the entire book.
The episode, which was called "British Schools, Muslim Rules," said that the Saudi Arabian embassy described the content of the program as taken out of context and referred to historical descriptions. The embassy has also formally denied a connection to the schools or the curriculum, however, the Saudi Cultural Bureau, which is part of the embassy, has authority over both.
Neal Robinson, a Leeds University theology professor with extensive knowledge of the Koran and Islamic teachings, said the context the material is presented in is important, and could be risky: "To present it cold, as it is here, as part of the teaching of Islam, is not wise. In the wrong hands, yes, I think it is ammunition for anti-Semitism."
Michael Gove, the education secretary, responded to the findings with concern. "It doesn't seem to me that this is the sort of material that should be used in English schools," he said in an interview aired on the program. He also said that the Office for Standards in Education, Children's Services and Skills (Ofsted) was considering the logistics of regulating the part-time schools and clubs, which currently don't fall within its jurisdiction, and would be reporting back "shortly."
In a statement issued when the program aired, Gove also said that confrontation with Saudi Arabia was not the goal: "Saudi Arabia is a sovereign country. We have no desire or wish to intervene in the decisions that the Saudi government makes in its own education system. But we are clear that we cannot have any anti-Semitic material of any kind being used in English schools."
Three years ago, a BBC investigation discovered a Saudi-funded school in London, King Fahad Academy, was using materials that were anti-Semitic and referred to Christians derogatorily. The director of the school, Dr. Sumaya Aluyusuf, said that the controversial passages were not actually taught in the academy, but agreed to remove those chapters. The content in question, similarly to the current textbooks, referred to Jewish and Christian people as "monkeys" and "pigs" and discussed non-believers and "hellfire."
In an interview in the documentary, Barry Sheerman, the former chairman of Ofsted, said that while politicians have avoided discussing controversial teachings in some Muslim schools, the issue may need to be addressed: "There are some very good Muslim schools, but there are some Muslim schools that give me great cause for concern that is often around the ethos of the schools, the focus of the schools, and a kind of ideology that is concerning."
According to the New York Times, the embassy has not responded to requests for comment.