by riese & crystal
[thanks to skinsftw for many of these graphics]
Episode 408: In which Riese & Crystal wished we'd just stuck to recapping the Naomi & Emily parts, b/c then this episode would've been a hands-down winner!
If you haven't seen the episode, you might want to skip this opening bit and come back to it after reading the recap. SPOILER ALERT! I just want to get this out before the recap because I really like almost everything about this show, enjoyed a great deal of this episode & adore its loyalty to homos.  But first must scream.
Skins, Episode 407/408: Let's get this out of the way straight off — what an oddly unsatisfying, amateurish & irresponsible ending! Like 2009's L Word finale and the "Who Killed Jenny" plotline that dominated their final season, Skins ended on a haphazard bang, wasting its last minutes on a purposeless undiscovered-murder plot. Furthermore, said murder didn't do anything to serve the rest of the story either; with the majority of the gang not even aware that Freddie's dead, we didn't even get flashbacks or a "brought together by common tragedy to realize what's truly important, like rainbows and love and education" moment.
This is particularly disappointing because we've always trusted Skins. Why? 'Cause Skins has always dared to portray a misunderstood demographic (teenagers) (just as TLW did for lesbians) as teenagers truly are, not as moralistic teen-soap-writers want them to be.  This means Skins can be harsh about adults whereas other shows prefer adults to be well-meaning role models (excessively at times); Skins' parents & leaders never have the answers. They're obscenely clumsy, solipistic, hypocritical, one-dimensional and morally ambiguous. That's rare in a show and these unsparing portraits quickly earned the trust of its young viewers –– Skins understands that parents & teachers just don't understand sometimes.
Yes, Skins has created one of television's most authentic adolescent worlds. Its characters can get so ugly while remaining honest and redemptive. The consequences of reckless living are relate-able; because unlike traditional Badass Kids Clichès and their corresponding Very Special Episodes from Dawson's Creek or 90210, every fuck didn't lead to pregnancy and every joint didn't lead to heroin addiction. Naomi & Emily's lesbian relationship completely eschewed traditional Lesbian Relationship Clichès. That's never been done before. More like an indie film than a TV drama, we relate to Skins's portrayal of the more typical repurcusions of teenage drugging, drinking, sexing, class-skipping and fist-fighting — the parts where we fall in love, make new friends, lose friends, fight, cry, and face terrifying moments of self-reckoning.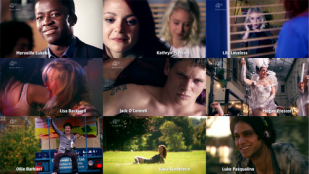 Did Freddie's murder betray those established no-life-threatening-consequences rules of Skins-ville? No, it didn't. But what the authors neglected to consider is that we appreciate Skins' matter-of-fact depiction of adolescence because it is true, not just because it's different, fun, titilating or enables us to rationalize our own bad behavior. It is different, titilating and edgy, but ultimately it's the honesty that hooks us; it's the honesty that makes the difference work. Freddie's murder wasn't honest and so it feels like a lie from a friend we always trusted.
There were plenty of ways for Skins kids to die: first-fights, drug overdoses, a giant rock to the head. And perhaps because Skins specifically wanted to avoid a Message show but apparently really wanted to kill someone, they invented John T. Foster. But really Skins? Of all the drug-pushers on this show, it's the two-episode licensed psychiatrist who turns out motivated by evil?
Not only did Skins' final episodes, like The L Word's, deny us a plethora of unexplored but juicy stories not yet told, but both dealt with mental illness in a surprisingly reckless fashion. In The L Word, Jenny Schecter, a bipolar rape victim who'd delt with coming out, being estranged from her family and self-mutilation, loses nuance in favor of a one-dimensional murder-ready cliche and suddenly all of her friends become potential killers? [More on that here] Effy, also bipolar, self-medicates with drugs and alcohol, completely loses her mind, and is finally seeking professional help for her illness. Mixing MDMA, cocaine, weed, alcohol and mushrooms doesn't kill anyone (which is fine), but taking prescribed medication while on a path to permanent wellness leads to the death of your true love (which is not)?
What an irresponsible message to send, ultimately, about a very serious issue, and one lots of druggie kids can relate to as self-medicating is so prevalent among mentally ill undiagnosed teenagers. And fine, fine, fine, Skins doesn't have to be responsible. But we know that it can be — it usually is!
So why do this? What was the point? How irresponsible of the writers, much like Ilene, to make mental illness the impetus for murder and so unnecessarily so. How disappointing. By seeking treatment and health, Effy caused the death of her boyfriend, and Jenny's "craziness" eventually became a punchline.
That being said, this might be the first time in human history that at the story's end, everyone's life is shit except for the lesbians' and the black guy's.

---

Maniac Magee
The final episode starts off uplifting: the sun's shining, birds are singing and Thomas is feeling the leaves of the trees and feeling grateful that unlike some of his peers, he's alive.
Then he starts running! Like the wind! Probs to escape his troubles with endorphins, or perhaps to run off the set of this show like we'd do. I didn't think kids in Bristol ran unless it was after someone who'd stolen their MDMA or because their girlfriend cheated on them with Cook and everyone was hallucinating in the forest.
---
+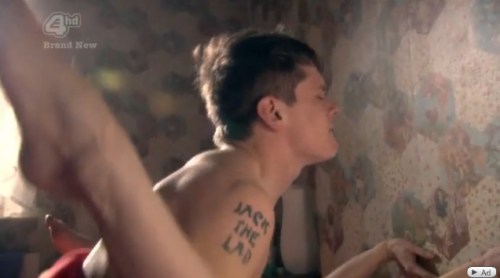 Hello Irrelevant New Finale Character #1! My, you're Flexible!
Like Thomas, Cook's found a way to get fit and get rid of his emotional pain.
Meanwhile…
---
+

Don't Get In Over Your Head
Emily is woken up by Cook's screwing and OMG IS THAT MANDY? There's liquor bottles everywhere and it would be easier for us to all blame the booze but let's face it, Emily all but admitted she wanted to jump Mandy's bones. Where are they? Is that Naomi's place?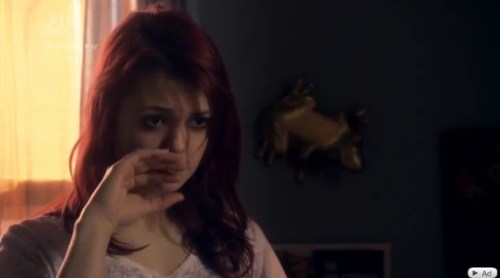 Smells Like Teen Spirit
She smells her fingers to see what she did last night, which is the second-best moment of this episode. Although with the level of unlucky circumstances swirling about this episode, I wouldn't be surprised here if she was sniffing bacterial vaginosis.
---
+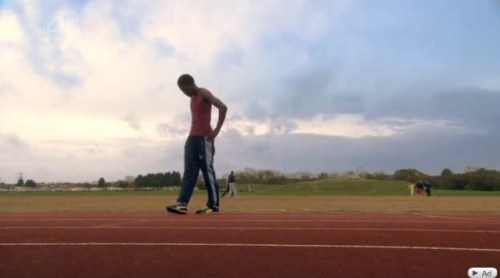 Eye of the Tiger
Thomas is jogging his broken heart out and ends up at the athletics track. Seeing as nightclub promoting and academia didn't exactly work for Tom-Tom, he's gonna win Pandora back like Forrest Gump meets Let's Get Fitched. His speed catches the attention of a coach who's trying to train a white man who can't jump or run.
---
+

ANTHRAX
Freddie's sister Karen receives a postcard in the mail but she's skeptical, his rucksack is in the corner of the room empty and we all know he'd never leave home without his hair straightener and overnight lip conditioner.  Is that even Freddie's handwriting? She puts on Freddie's favourite tshirt which is a shame and starts talking to Ghost Freddie.
---
+

Girl's Relationship, Rudely Interrupted
Katie's spent the night at the psych ward, Effy's room's massive by anyone's standard so it's probs better than the caravan park. I really do enjoy Katie's post-bankruptcy personality, showing such support and concern for a girl who once tried to kill her and is now dating her dead ex-boyfriend really does encapsulate the true meaning of 'bigger person'. Effy's waiting for someone who will likely never show.
Katie: Anything?
Effy: Only in my head. Talking in my head.
Katie: What's old Freds saying?
Effy: He's saying they're all fucking mad.
I wish I had a dead guy in my head and every time someone pissed me off I'd be like "Hey, old Freds says you need to stop stealing my tampons."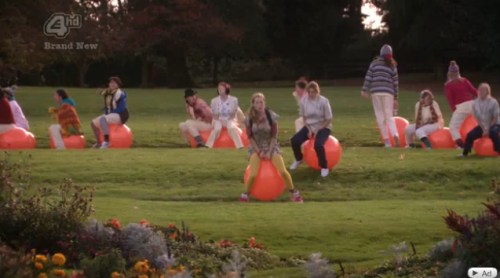 This is What Would Happen if Gay Marriage Was Legalized, People Would Marry Bouncy Balls
Pandora, who we know is attracted to balls and things that bounce, has joined the group for undetermined reasons. She's just as barmy as the other mad people really, but not in that certified way.
Panda breaks from the group and bounds through Effy's window like an enthusiastic little pup. Remember these good times 'cause they'll need to get you through the next 30 minutes.
---
+

I can't untangle, I can't untangle
What I feel and what would matter most
Yup, it is Naomi's place! Naomi bounds into the bedroom with eggs and Red Bull (home-cooked breakfast of champions) and suddenly sees that she should've prepared for three.
She doesn't notice Mandy at first which makes my stomach hurt, but then a fearful Emily nods Mandy's way.
Naomi: Has she been like that all night?
Emily: Wot?
Naomi: You were both so fucking trashed, so I slept on the couch with Panda. [about Mandy] She's quite cute… for a straight girl.
Whoa Naomi is doing normal gay-talk thing! They haven't done much gayspeak on this show; which has worked to make it seem just like any relationship, but it's cute to hear it.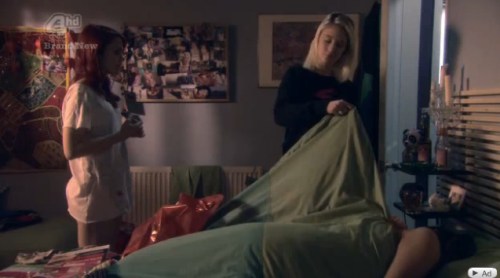 Built a Wall of Human Being Between Us in Your Bed
Since it's Naomi's bed and Naomi's rules, she has the right to check out the naked girl sleeping in it. Naomi in this episode really amps up the personality; even in her depression we see more of her edge and bitter sense of humor than we have previously this season.
Naomi: Wow, in the scud? When did that happen?
Emily: I didn't notice.
Naomi: Good thing, you might have been tempted.
Emily: I was wrecked.
Naomi: Yeah, you were both pissing gone. Like I said, cute. Is this bad?
Okay Skins, Crystal has two things:
1. Really?
2. Isn't it too soon to be joking about temptation? Or having a total perv at your girlfriend's friend's naked body and then joking about that too?
Naomi changes the subject back to eggs and jokes about doing Emily and really every second of this scene is like a fork getting slowly poked into my eyeball.
---
+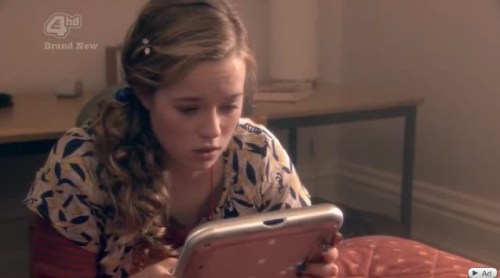 IF You Want to Sing Out, Sing Out

Back at the hospital, Pandora is about to sing Effy a song she wrote for her and unfortunately it is not "Where Did the Good (Freds) Go." Effy pulls out the maracas from the imaginary musical instrument bank they keep in hospital rooms (??) and some sort of electronic music device that's probably all the rage with the kids but sounds worse than a Casio. Pandora gets off to a rough start, shouting "fuck me up the ass three ways" and other vulgarities until Katie reprimands her.
The song, "Don't Be Down," needs to be seen (you can read the lyrics here).
+
As this scene played out, we all checked to see if we were on MDMA or if this is really happening. Pretty sure it's what the people call, "terrible/awesome."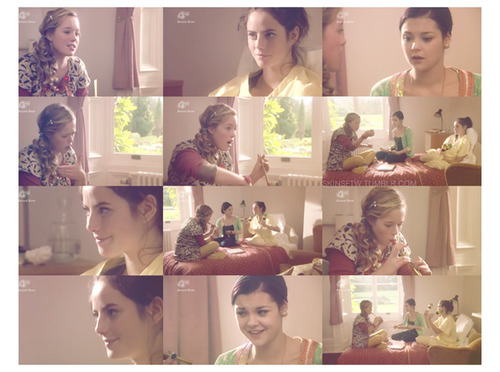 ---
+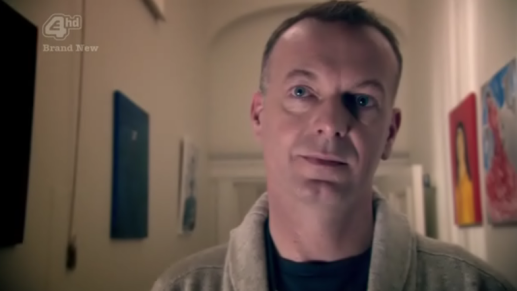 REDRUM
John T. Foster watches from the sidelines, looking like a psycho killer. Hahaha that's perfect 'cause he totally IS a psycho killer! HAHAHAHA! Psycho killers. Oh boy. Har.
---
+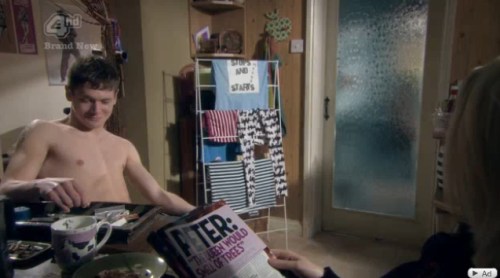 Thank You For Spending One Minute Of These Precious Remaining Minutes of Skins Cycle 2 on Farting
Oh hey, let's pretend like the gross toilet sounds aren't happening as Naomi gives Cook a hard time about his new lady-friend. Cook tells Naomi it's a sign he's moved on from Effy and SPEAK OF THE ANGEL; the door opens and out comes Effy!
Oh wait JK.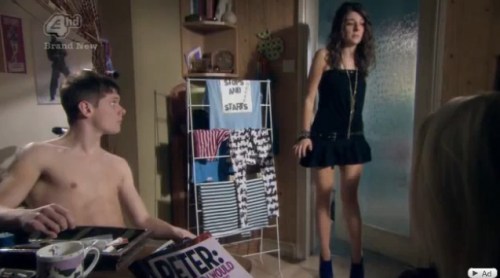 The Poor Man's Effy
Nope, that's just a girl who looks exactly like Effy minus the mystery, complication, and dead boyfriend. For Effy's sake, I hope there's a boy in Bristol who looks just like Freddie. I suppose if Naomi & Emily break up, Katie will be right there in the wings, waiting to be forcibly converted to the lesbian side.
Effy's doppleganger's name is Arcia which is funny 'cause it has the sound "arse" in it when said out loud. Naomi repeats it several times, which is probs the same reaction she had when she got this page of the script, minus the "Really? This is what we're spending time on?"
We're only eight minutes in and I think this episode has made me LOL twice so far, which is a 200% improvement on previous eps. I'm not sure if Skins trying to redeem themselves, or if they're just lulling us into a false sense of security and light-heartedness before the Massacre of the Unicorns.
Arcia sits on Cook's lap and calls him "lover" and "studman" and "my little criminal" and ew. Just ew. So are they all living at Naomi's house now? Why isn't anyone trying to call Freddie?
---
+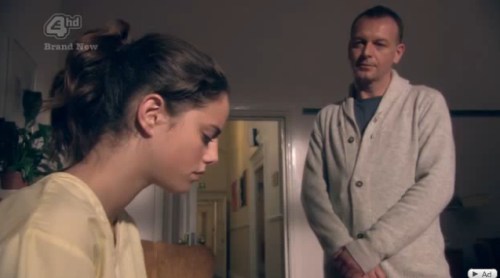 I'll Get You, My Pretty
When John T. Foster finds Effy mourning a photo of Freddie's pretty face (there's a lot of photo-love in this show), he gives her a talk about how hard moving on can be, clearly he knows, he's stuck with those cardigans since the mid-1800s.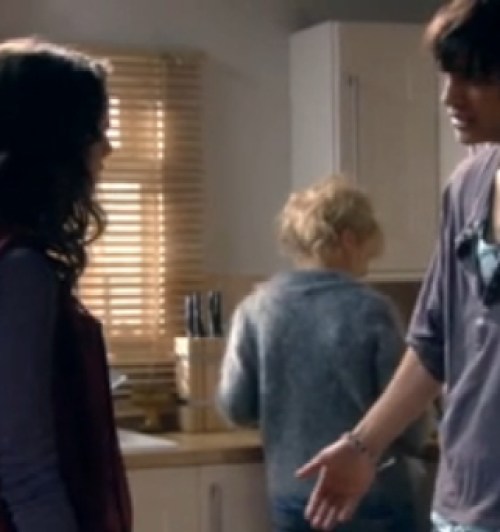 John tells Effy he'll be moving on from the hospital. He was going to leave sooner but that was before he realized that the alleged friends & lovers of the boy he murdered with a baseball bat weren't going to actually do anything about their missing friend. So he had a little more time than anticipated. John's gotta get a head start across the border, yannow.
So basically John killed Freddie, and now he's leaving? Why? Didn't he kill Freddie to get closer to Effy? That's so senseless! I HATE YOU SHOW. FUCK YOU SHOW!
Also um… suddenly Effy is warmed to John again?
Does anyone remember how seconds before John killed Freddie, he revealed that Effy and Mrs Stonem banned him from treating Effy? What happened there? Did Freddie send Mrs Stonem a postcard too? Having different writers for different episodes is a great idea but it's really only effective if they talk to each other.
---
+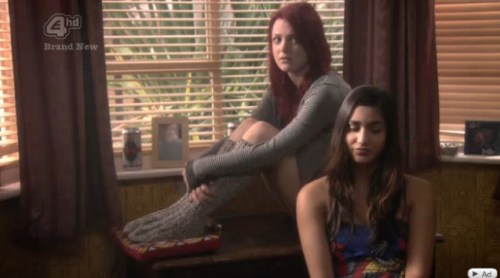 I Want a Little More For Me

Emily walks into Naomi's bedroom wearing nothing but a towel. Emily's faced with a tough decision, do you go for the girl passed out in your bed or the girl in the kitchen making you eggs.
Oh wait, Mandy's been awake this whole time. She's upset because Emily led her to believe that she was no longer sleeping with Naomi. Emily's in denial.
Emily: Mandy we haven't done anything, so I don't know why… we didn't do anything last night. Didn't we?
Mandy: You wanted to… if you hadn't been totally fucking AWOL.
Emily: No.. I didn't —
Mandy: Yeah? Otherwise, what have we been doing? What have you been doing? She thinks I'm straight!
Emily: What?
Mandy: She said it while she was looking at my tits, didn't she? It's a bit fucked up, that. I don't want to be fucked around Emily, just because she won't take you to Goa.
Sidenote Her Tits Are At Emily's Eye Level
Mandy leans in to kiss Emily, and when Emily doesn't kiss back she protests that she'd take Emily to Goa.
Mandy: "We'd go dancing, sleep in a hut, I'd make love to you on the beach. Isn't that you want?"
I think she's confusing "what Emily wants" with "what ladies want in romance novels want." Basically what's happening here is that Mandy is Fabio.
Emily is saved by the breakfast bell, the eggs are ready. I have so many questions! When did Naomi decide to go to Goa? And why isn't she taking Emily? This episode has more holes in it than Freddie's skull.
---
+
Pages: 1 2 3See entire article on one page