SEXY TUMBLR ALERTS:
Every NSFW Sunday we shoot you one SEXY TUMBLR ALERT (this moniker is a 3rd-generation ripoff of the near, dearly-departed Sassy magazine's "Cute Band Alert") and over the next few weeks we're gonna give you a close-up look at of some of the sexiest & brightest tumblrs out there. Why? 'Cause we think there's something special happening on tumblr w/r/t lesbian imagery, and we wanna have our fingers on the pulse/clit of that.
Because this is a list, some of you will be inclined to yell at us about what we're missing, but luckily this is only part one! So instead of yelling UM WHERE IS FUCKYEAHGIRLIMOBSESSEDWITH?? just suggest it, politely! We love suggestions! Also check out our 14 Lesbian & Genderqueer Tumblrs To Watch for a solid look at our favorites, NSFW and SFW.
Let's hit it.
Lesbian Sexy Tumblr Alert: The List, Part One
Fuck Yeah Lady Love: Hey, want to see some girls kissing? Go Here. They've pretty much got you covered for all your photographic snogging needs along with plenty of other lesbian-themed paraphernalia.
Elles Étaient Deux: Do you like to see gifs of Naomi and Emily making out? That scene in Jennifer's Body when Megan Fox kisses Amanda Seyfried? What about a collage of the sex scene in Gia? Elles posts pictures of sexy kisses in lesbian movies and tv shows so if you like to see celebrities kissing then go go go! Also; Xena Warrior Princess and Gaby.
Malloreigh: Malloreigh's a suicide girl who likes the vegan things, bicycles, and other girls. She calls herself an oversharer, but that's totally not a bad thing; you'll find exhibitionistic photos of her among all the other girls. If you dig her tumblr, you should check out her flickr account as well.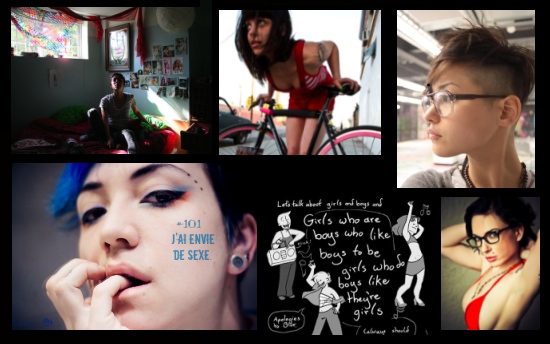 Cute Boyish Lesbian Girls: Don't let the name fool you, this guy's not all androgyny city, it's just about being queer. Most of the pictures here are good proof that beauty and butch aren't mutually exclusive.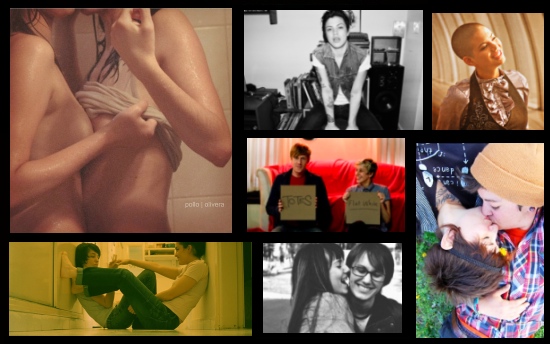 Also check out: Tumbling Into Paradise, a sex blogger's guide to responsible tumbling.
---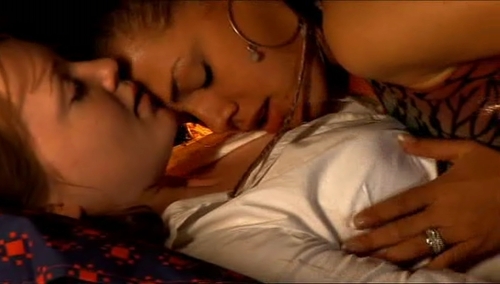 Link Party
SEX ED:
Chicago feminist sex ed paper focuses on LGBTQ students' needs: I am currently working on a research project that is focused on assessing the Chicago Public School's sex/health education system. Specifically, I am interested in learning whether or not this system meets the needs of LGBT students. (via @sexgenderbody)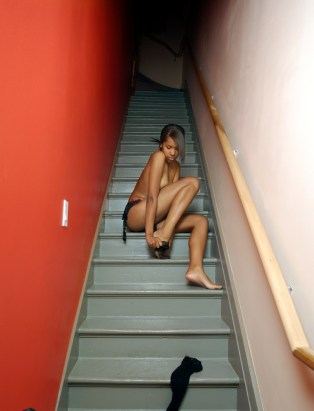 SEX PRIZE
"The Sexual Intelligence Awards: Each year, Sexual Intelligence Awards™ honor individuals and organizations which challenge the sexual fear, unrealistic expectations, and government hypocrisy that undermine love, sex, and relationships–and political freedom–today." (@carnal nation)
BOOBS:
The World's Most Perfect Boobs. (@zootoday)
DYKE PUNK GROUPIE SLUT CULTURE:
Susie Bright on Sexual Freedom: "Let me make something clear that the movie only hints at: The Runaways band would not have happened, could not have been conceived, without the Underground Dyke Punk Groupie Slut culture that stretched from the San Fernando Valley to the bowels of Orange County." (@eros)
BURNING ANGEL:
"Burning Angel is looking to do for bartenders what Digital Playground did for teachers (and nurses, cheerleaders, babysitters, and flight attendants)—only with more tattoos. Consider "Bartenders" the "Coyote Ugly" of porn…but actually good." (@fleshbot)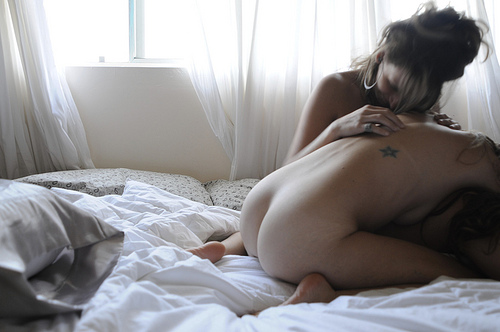 LESBIAN SEX ADVICE:
I'm a 26-year-old lesbian, and I've started dating a 40-year-old woman. I think she's great, but I've become sexually frustrated. (@timeoutny)
VAJAZZLED:
This is What Getting Your Vagina Vajazzled Looks Like
PEOPLE MAKE LISTS:
Another Day, Another Terrible List of Same-Sex kisses. Seriously can someone just ask us next time? We are actual same-sex kissers and have some feelings on it. (@entertainmentandshowbiz)
SXSW:
This is a new one. It's not the same as last week. It's like even better: South by Sexy Women: The Girls of SXSW (@coed)
TAKING ABOUT SEX:
In Praise of Sexual Expression: "Lust makes a liar out of everyone. But without lies, there is no fiction – and stories are where sexual expression really shines." (@guardian uk)
ORGASMS:
10 Steps to Orgasming Without a Vibrator (@emandlo)