DICE, the development team behind Battlefield: Bad Company 2, makes yet another jab at rival company Infinity Ward, this time taking aim at a controversial video the latter company released late last year.
Continuing their all-out onslaught against their competitor, DICE directly parodies Infinity Ward's video, dredging up the unseemly homophobic controversy they latter company had to diffuse last year. And while Infinity Ward's fake PSA about in-game "random grenades" fell flat on its face, DICE's ad, below, is actually legitimately funny.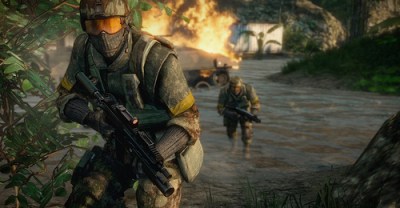 +
Infinity Ward's initial video warned against "grenade spam" in Modern Warfare 2 (when players throw frag grenades around all willy-nilly hoping to score a kill). The ad, while not particularly funny to begin with, ended with an embedded attempt at humor stating that the video was crated by an organization called "Fight Against Grenade Spam" or "F.A.G.S." Um. The video also notes that random grenades are "for pussies." Charming.
The short video was quickly pulled, following a totally deserved backlash. Infinity Ward had this to say:
"I think it was more of a social commentary joke of that stereotype than it was a fist-bump of acceptance to it."
Er. I think these guys were maybe assuming that their target audience's humor was way more sophisticated (or way less sophisticated?) than it was, assuming this was some kind of self-referential meta-joke about the prevalence of homophobic slurs in-game. That's probably giving Infinity Ward way, way too much credit. Either way, here's hoping this genre of shooters can someday expand its vocabulary.