Remember last week when Glee ended and I retreated into a blissful, relaxed moment of self-awareness, absorbing the loveliness that comes from knowing somebody else is writing about Glee and that person is not me. But unfortch our recapper has a feeling I know well, and it is as follows: "I enjoy Glee on a basic level, but I no longer have the strength left inside to find that tiny needle in the haystack of shit."
I mean to be honest, Glee has yet to introduce a compelling storyline — we don't tune in to see what happens next with Rachel and Finn, we tune in to see who is going to sing what and who will be dancing and what will happen with Brittany and Santana and what Heather Morris might say that'll be super funny or if Kurt is going to have Tender Gay Moments (sidenote: anyone else feel like the Rachel/Kurt moment by the lockers was added in after the tragedies of last week?) etc.
Anyhow, what you really want to know/discuss is what happened with Brittany and her bff/crush Santana: they make out and maybe have sex in cheerleading uniforms. Then Santana says she's only doing it because Puck is in jail (really? when did this happen?) and you can tell Brittany feels sad. Later she tries to seduce Artie to make Santana jealous, idk.
FEELINGS ABOUT THIS?:
Here are the words: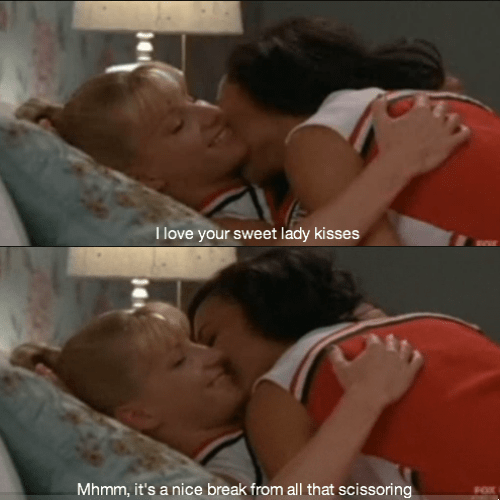 There was also another fantastic moment in which Brittany motioned to Santana that she would be getting no titty action.
Facepalm count: 3
Minutes into the show I picked up my laptop: 19
Number of times I tried to imitate the way Finn handles his chest and arms while singing and nobody noticed/politely pretended not to notice: 1
Number of times the entire room squirmed at shots of Mr. Shue's creepy facial expressions: 4
Number of times we observed discrepancies in character continuity: 2
Number of times we alluded to the BLM lesbian experience: 2
Also, Taylor enjoyed Kurt's performance and noted that "Brittany made noises when Santana was touching her neck which was basically a musical sequence."