"I can't believe what just happened — on AT LEAST a thousand teevees across America."
-Laneia
This week's episode of The Real L Word was about Valentine's Day. Its running time slightly exceeded that of Valentine's Day itself, the actual day. This episode was called "Bromance," and it aired on the 4th of July, which is also a holiday, but differs in that it celebrates breaking up, not being in love. Unfortunately, given the choice, I'd prefer participating in the Revolutionary War to more of this show.
At the episode's beginning, the girls agree that lesbians are better at Valentine's Day than straight people (except Mikey, who surprisingly wins us over with the answer that she's doing "fucking nothing, it was a ridiculous holiday invented by greeting card companies to make more money") and then proceed to prove otherwise for the next 50 minutes/years.
The level of creative/generous editing employed on The Real L Word is so high that we've completely divorced our opinions of the women as they're portrayed on this show from our opinions of who these women actually are. When every other sentence sounds chopped together from five different interviews, you realize it's not impossible that everyone is just being edited into playing a character. I hope that's clear. I mean I hope you know we aren't talking about the humans, but the roles they're being edited to play via This F*cking Show.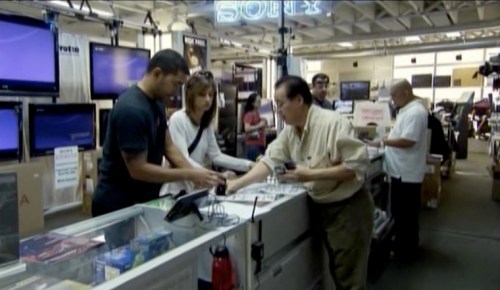 In preparation for Valentine's Day in the The Real L Word's Episode 103 'Bromance,' we are subjected to the following fascinating scenes:
+ Jill going shopping for video cameras
+ Nikki waiting for her Mom to finish work so they can talk about wedding planning
+ Tracy listing the chores she accomplished that day to Stamie
+ Mikey saying "Raquel doesn't make time for me" over and over on top of footage of Mikey hitting tennis balls
+ Rose calling to confirm an online reservation at a restaurant
+ Whitney listening to a straight male co-worker speak on the Blackberry even though we can't hear it
+ Tracy & Stamie trying to put the kids to bed when the kids don't want to go to bed (an experience which, while you're having it, you wish would be over immediately).
+ Whitney watching videos on YouTube
+ Jill & Nikki, the happy couple, reading Valentine's Day cards out loud to each other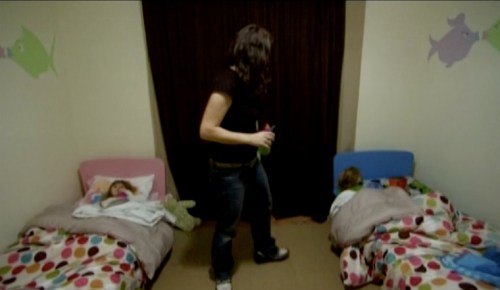 That's not all.
+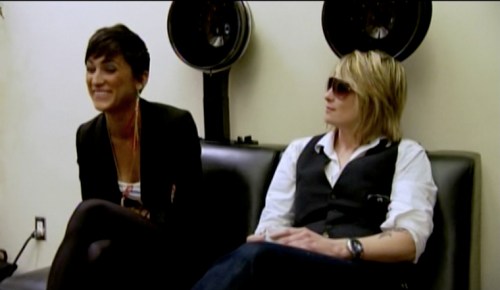 Terrible embarrassing things happened, too. Like Mikey asking Romi, who it's possible she's just met at the hair salon she's taken her aunt to, if the girl Romi likes is cuter than Mikey and Romi laughing nervously and dancing politely around the question.
At Rose & Natalie's Valentine's Day Dinner, Nat's gift of a "sexy" photo shoot inspires Rose to "accept [Natalie's] breast reduction," and we witness both women emphasizing the importance of this moment to their relationship. Let me repeat that: Rose & Natalie consider the following moment important – when photos of Natalie on top of a cotton ball cloud enable Rose to accept Natalie's breast reduction surgery.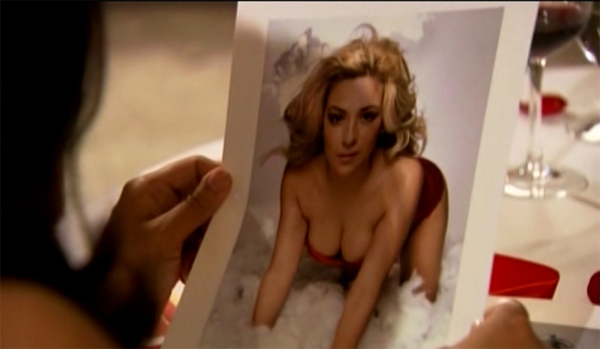 And then! And then! Whitney and Mikey fake-meet each other at a bar, and we don't even care about the fake meeting because what happens next is so depressing and unfortunate that we can barely remember what our lives were like before we saw it. After gushing over how much they like each other while we feel sorry for Romi, Whitney chides a very drunk Mikey into accepting a "femme makeover," and then nothing is not weird and/or terrible.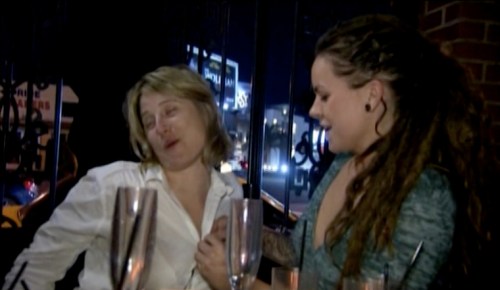 This makeover, initiated to resolve Whitney's confusion about the pumps/pants situation, involves Mikey undressing in a public bar down to her bra and referring to herself in third person, while a mysterious gay man applies her lip gloss. Then Mikey gets so drunk that she actually starts crying and makes some drunky comments about Valentine's Day and Raquel standing her up, right in front of Whitney & Romi. We agreed that if Mikey was our friend and she called on Monday, we'd pretend we hadn't seen the episode. Hey, we've been that girl. Perhaps as recently as last week for some of us. But we get to decide how we tell you about it, which makes us lucky or not, or possibly smarter or more dull, depending on what you want and what you're like.
Basically, if everyone in the cast is cool with how the show is, then we are too. It's their choice, and every minute of our own lives is likely just as dumb and boring and embarrassing — I mean seriously there are some Autostraddle moments far more disgusting and dumb than anything on that show tonight — but here I think I'm supposed to evaluate this program as entertainment or education or a bit of both, and I can't. Nat Garcia's video with Tracy was cute though, wasn't it.
This week, my favorite scene was Whitney and her friends talking about the trainer who may or may not be gay and may or may not be fair play for Whitney. It felt real, it was funny, I liked it, I even liked Whitney.
My favorite scene is a Whitney scene.
Also, Whitney & Romi had sex, much of it on-camera. I don't even know how to feel about it because I was already a shell of myself by that point. What did you think?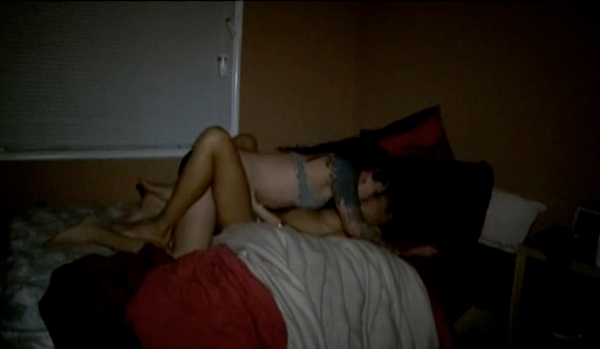 Near the episode's end, Rose says Valentine's Day was the highlight of her relationship with Natalie, and really, seriously, REALLY PAPI REALLY? As Laneia said while we watched the ending, pre-bedtime rituals footage:
"Oh my God I don't want anyone to see this show ever ever again, I want to die, I just want to DIE. She's gonna get rose petals up her ass, they're so fucking corny that even their pajamas are matching! Ughghh!
New rule! You are not allowed to let a camera follow you around unless your life is fucking interesting and you don't embarrass everyone with your shit!"
So we're going to go finish editing this piece by Gabrielle Rivera for tomorrow. It's an essay. She made this short film we both liked much better than this show (and as you can see, we are very cranky, bitter, miserable old hags who can barely stand to exist, let alone watch other people exist on the television, and therefore we hate everything and that hate is a reflection of our soul's darkness and therefore us liking something is a Big Deal).
They all seem like nice girls on this show. I bet Rose is fun to party with, and it actually is good to have that person in your life who knows how to show people a good time. I somehow sense that Nikki & Jill are both great listeners. Nikki seems like a strong, ambitious businesswoman, and Jill seems like a loyal, kind friend. I bet Whitney flirts skillfully and convinces even the best of us at times and knows how to charm somebody's pants off. I'm sure Mikey is funny, like Mikey Scott on The Office. And Stamie is funny, and Tracy radiates positive energy and smiles even when she says not-smiley things, which makes everything seem smiley. They're all really lovely people. I'm not sure why we must mangle them so and then call that "entertainment." Visibility, I guess? "Visibility." Being seen, it seems, should be enough, in and of itself. Well, it isn't.