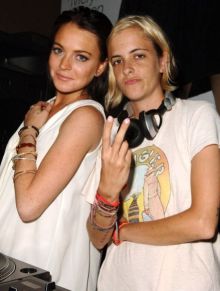 Riese: Why do we care about Lindsay Lohan and Samantha Ronson?
Laneia: Because they're us. Because they look like us.
Riese: Because they're our age?
Laneia: They're our age and they looked like us — like a straight girl and a gay girl, which is what we looked like, you know?
Riese: They're the first and only couple our age who have been out there in public like that, who everyone is watching.
Laneia: They're us. We get how they feel and we know when they're fucking it up!
Riese: If there were like five celebrity lesbian couples their age I wouldn't care about any of them. But because there's just one, I seem to uncontrollably care.
Laneia: Also, because Lindsay Lohan was in Mean Girls and we liked it. There was something there, like even in Parent Trap, there was something there that I connected to. I have no idea. I don't know and she's nothing really super special, she's not like annoyingly perfect looking like Angelina Jolie or anything. Also, she's a child celebrity and that's always fascinating.
Riese: If it was a straight couple, we wouldn't care 'cause we'd have plenty of stories to pick from. Think of how much bad tv and movies lesbians watch, this story is better than like Curl Girls.
Laneia: Uh-HUH. Also, w/r/t Lindsay — we've been there. I mean I don't have two million twitter followers, but I would've had that same meltdown.
– Editors of Autostraddle.com, just now [see also: Leave Lindsay Lohan Alone]
+
Samantha Ronson has never really been into the press and doesn't seem to care that they're incredibly interested in talking to her. Probably because she knows they only want to talk about the same thing we want to talk about: her on-again off-again LESBIAN relationship with Lindsay Lohan. Finally, Samantha has given a rare interview to The Times UK which covers topics including, but not limited to, Lindsay Lohan. Why now? The interviewer ponders:
One explanation for the timing might be because she had not long signed up with a new management company: Simon Fuller's 19 Entertainment. It seemingly came on board to help Ronson expand her interests and brand, via a new album she's recording and strategic media appearances. To make her more, then, than just Lindsay Lohan's ex.
Later the article mentions that Samantha is working on a new album and an "autobiographical-ishwp_postsnovel that she actually wrote a few years ago. In 2004, Samantha Ronson spoke to the UK Observer about her new album, which she said was her "random thoughts put to music," adding, "I write best when my heart's getting broken." Who broke Samantha's heart? We're not sure but it could be ex-boyfriend Happy Massee. Samantha's DJ career is thriving — although the well-connected Samantha didn't seem to have any trouble booking high-profile gigs prior to her relationship with Lindsay, her present booking fees well exceed 10K (how much over depends on who you ask, or how/who they know).
Though most lesbians knew about the Lindsay-Sam relationship (and perhaps had also heard rumors about Lohan's prior special female friends) way before the mainstream media caught on, few of us had actually heard much about Samantha before the duo began spending time together, despite her relatively prodigious DJ'ing experience.
Ditto for the rest of the world, says The Times:
…the main reason for Ronson's celebrity is her last romantic relationship. For something like 16 months, from around the beginning of 2008 to spring last year, she was the girlfriend of sometime actress and full-time trouble magnet, Lindsay Lohan. They were the most high-profile lesbian pairing in Hollywood. The first "outwp_postslesbian couple in modern mainstream youth culture. It was a relationship dogged by car crashes, run-ins with the Los Angeles paparazzi, incidents of drunk and drug-driving, legal disputes and a snarky swirl of homophobic comment.
The article mentions Lohan's father, Michael, who is totally insane and came out strongly against Lohan's relationship with Samantha, calling Sam "dark, hideous and a disgusting representation of humanitywp_postswhen the two started dating. That was another moment where many of us, unfortunately, related. Didn't you wish the New York Post had wanted to publish the letter you wrote your parents about their homophobia, as they did for Lindsay? The downside, of course, was the constant scrutiny, which Ronson didn't like:
Nonetheless, their relationship went from amicable to personal, and once they came out as a couple in autumn 2008, the paparazzi were on their tail 24/7. "I was like, damn. It would be really cool if we could just go for a walk,wp_postssays Ronson in an accent that veers between polite English and hipster American. And so began a romance for our times – a multimedia soap opera that had one section of society gripped and the rest baffled as to how the inconsequential affairs of two people they'd barely heard of should be so important.
Ronson rarely addresses gay topics herself, so it's interesting to hear her commenting on homophobia (although the term is a bit misapplied here, whatevs):
Reflecting on it now, Ronson appears scarred by the experience. And she is angry at the homophobic slant of much of the media coverage of her time with Lohan, that Twitter was abuzz with reports she abused her lover and that the rumours weren't quickly rebuffed.
"The fact that Perez Hilton calls me 'Saman' – it's the most homophobic thing ever,wp_postsshe spits. "The perpetuation of [the idea that I'm] the man in the relationship! OK, yeah, my hair is short and I'm a DJ. But I'm a girl, I'm not a dude. I'm pretty feminine at the end of the day.
Although everyone pressed Lindsay to pick a label, and Samantha's referred to everywhere as being "openly gay," it seems both Samantha and Lindsay apparently dislike the moniker:
"Everyone was like, 'Openly gay DJ Samantha Ronson…' No! Uh, excuse me! I'm not gay! I'm an equal-opportunity player! I still go back and forth. But I got called so many things by the press that 'openly gay' was the least of my worries at that point. Of course, I must be masculine and I must be violent. I'm sorry…wp_postsshe tails off with a laugh. "When the rumours started that I hit her or whatever, I called Lindsay up and I was like, 'You need to dead this rumour now.' "
It was widely rumored/believed that Samantha didn't do gay or lesbian venues/events, but this year things started changing for everyone, and Samantha DJ'ed at Girlbar's Dinah Shore weekend. We went, expecting complete pandemonium, but the scene was fairly low-key. She was a good DJ and looked hot and Lindsay was totally not there.
Samantha also addresses the breakup, recalling how Lindsay has blamed Samantha's friends and family for their breakup in the past:
Mark Ronson watched the drama engulfing his sister: "I never thought there was anything wrong with Samantha and Lindsay, because that seemed to make her happy. Until I started to see the really horrible, negative emotional impact Lindsay had on her life, and on all of our family. I was, like, this is just bad news, any way you wanna slice it. We all told her that. There were several intervention-type things where we all tried to make her see this."
Yet, for all her hurt and anger, Samantha Ronson clearly still has feelings for her high-profile ex.
Asked about the current status of their relationship, Ronson offers:

"I love her as a human being,wp_postssays Ronson. "And I'm not gonna sit there and negate everything that we had. You know, I could have a thousand times countered s*** with facts. And it's just not for me.wp_postsShe adds, in what sounds like a parody of this extraordinary world she inhabits: "I'm sorry, my Twitter page is for me to be like, 'Dude, I need to pee,' and [stuff about] American Idol."
This is unfortunate, as we are constantly baffled and frustrated by Samantha's refusal to tweet a string of personal, slightly insane things for us to speculate about.
Luckily, the writer leaves us with a shred of hope for these two, which keeps us hanging on!
So you're not back together? "No!wp_postsshe exclaims. "Not at all.wp_postsDo you want to get back together? "Ah-ha-ha,wp_postsSamantha Ronson laughs hesitantly. "No comment on that one."
And what if they never get back together? Will we still care about Samantha Ronson? Time will tell.
We can't seem to draw any conclusion from this interview, so in lieu of that, the following ideas:
1. The Parent Trap is on TV right now there are serious gay vibes happening between Lindsay Lohan and Lindsay Lohan.
2. Is the latest "Lindsay Lohan has a new girlfriend" rumor true? 'Cause Eilat Anschel is hot. Also it's funny how everyone is freaking out that she's a former Israeli soldier — every Israeli has to be in the army for two years after high school. Wouldn't it be interesting if Lindsay was the first one to move onto a new girl, rather than Samantha?
3. When this happened a few days ago, we felt really happy: