LINDSAY LOHAN:
How do totally untrue rumors spread so quickly on the internet? Well, all it takes is a little bit of scheming, Perez Hilton not sourcing his information per ushe, and a lot of traffic-mongering gossip websites: The 'Lindsay Lohan Has HIV' Twitter Scam That Fooled Everyone: Three days ago, a widely-reported story emerged that Michael Lohan had posted to Twitter that Lindsay was HIV-positive. Michael said it was a hacker. Lindsay said it was her dad. Nobody realized that the hack itself was a fake. (@gawker)
As you know, we've always given Lohan the benefit of the doubt and tried to stay away from the sleazy stuff while still providing our obligatory lesbian updates on The Ballad of Lindsay & Samantha (which coincidentally we're also obsessed with). We spot PR meddling. We genuinely enjoy her new single. Perhaps it's affection for a fellow 'mo or empathy for a girl all broken up over another girl that sours us towards gossipy alleged "trainwreck" tales, or maybe it's that reporting on somebody's going out schedule or lip size is just really fucking boring. We don't even read UsWeekly or tmz or x17 or whatever the sites are now, but somehow we're consistently peripherally aware of the headlines they swill. How? I guess they just get linked to by websites we do like and then these stories just circulate & pop up everywhere. That's gross and it pisses us off.
So we're digging Dodai at Jezebel's "In Defense of Lindsay Lohan" piece, written in response to Lindsay's latest round of "Daddy Issues," which we won't go into as it's more of the same; Dad talks crazy shit about Lindsay, Lindsay gets upset, etc.
In response to Michael's recent drama and considering his criminal record and upcoming marriage to a tabloid columnist, Dodai points out:
"It seems like drama that goes on between them is always instigated by Michael, and Lindsay responds the way a daughter with a father like that would: Angry, exasperated, sad, confused."
She argues that Lindsay "being ripped to shreds in the press mostly because she goes out at night." Furthermore, "Like Britney before her, Lindsay has become America's favorite person to complain about, feel sorry for, make fun of and tear down." She concludes:
The point is: Lindsay's living her life, working out her issues, but at this point, she can't even try to to something right — make a documentary in India; design for Ungaro — without being eviscerated, judged, ridiculed and trashed. It seems like we expect certain things of our little girls, even when they're not so little anymore. Maybe we're angry that they've grown up, or that they're not the things we hoped for… But our expectations should not be their concern. Lindsay should only have to be and do the things she hopes for.
[Also; major props for including quotes from one of our favorite books, Little Girl Lost by Drew Fucking Barrymore.]
However there's still one thing we'd like to add to the "conversation" as it were — YUP THE GAY THING.  On top of the crazy family and the child star pressure, we all know that Lindsay is bi (or gay), and grappling with your sexuality in the public eye is no easy feat. She's still the first enormously famous young starlet to ever come out at the peak of her career. And if Lindsay suffers from drug & alcohol problems, as she has in the past, we should remember that LGBT people are at increased risk of drug & alcohol abuse, addiction, and suicide. (This article has a good rundown on that topic, so does this website.) Making fun of her career ups & downs, physical appearance, finances or controversial photoshoots is disrespectful and, PEREZ HILTON, is often laced with viscious misogyny.
Perhaps this factor isn't brought up because Lindsay herself hasn't ever brought it up when defending herself. And for a girl who shares her feelings pretty freely, it's suprising that no "also this gay thing can be hard" feelings come out. But come on, certainly everyone reading this knows how easy it is to censor your own sexuality out of even your most intimate, vulnerable moments. It's the world's most popular well-kept secret, after all.
In conclusion: if you don't have anything nice to say, don't say anything at all.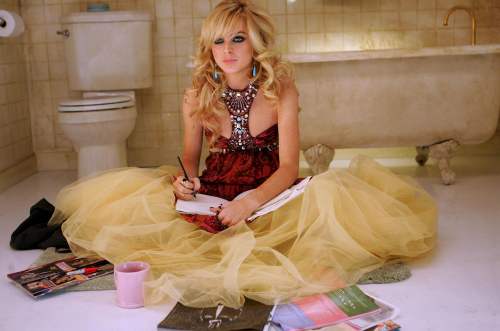 EX-GAY CAMP:
It looks really long, but it's worth it. You'll be either totally shocked or completely unsurprised to see that the tactics of conquering same-sex-attraction involve things like cuddling and beating a punching bag with a baseball bat as if it was your distant, non-loving father: What Happened When I Went Undercover at a Christian Gay-to-Straight Conversion Camp (@alternet)
THE MARBLE FAUN:
OMG THE MARBLE FAUN FROM GREY GARDENS IS GETTING HIS OWN DOCUMENTARY. Bonus? He's totally gay!: Jerry's story unfolds as a classic American tale. A compromising childhood, then a dash for freedom leading him indirectly to Grey Gardens, a formative event in his life. Later awakening to his sexuality in the 1970's in New York City, going on to travel in Europe and the Middle East under unique circumstances, and sadly falling into some of the darker passions in life. Eventually pulling himself up and dusting himself off, he decides to heed a lifelong call to carve stone and discovers his love for the craft. Jerry Torre's sculptures help free him, and he fully develops into the beloved individual he is today.
MEDS:
The Top 24 Psychiatric Prescriptions for 2009: y'all are mad stressed out, there's some seirous Xanax going on here.
THE BOONDOCKS:
Season Three of "The Boondocks" premieres tomorrow on Adult Swim. Here's a trailer!
BLOGGERS:
Times Online counts 40 Bloggers That Really Count. (@times online uk)