LOHAN: In which we continue to inexplicably care A LOT about Lindsay Lohan and Samantha Ronson… big news!(And thanks to reader catie for the tips-fest) the two were seen in the same video, leaving Teddy's in Hollywood. You know what that means — they were breathing the same airspace, which is practically second base. Super reliable news source TMZ reports: "The two were seen out at Teddy's together, but left separately — Linds taking off in the passenger seat of Sam's car while Ronson's sister drove." Yes indeed, LiLo left in a car with Lovely Annabelle, probably to go shop for wedding gowns.
The video's labeled "Someone's Confused," which we found confusing. After 3-4 views of said video, we remained confused regarding the source of the confusion mentioned in the video's title — is Lindsay confused about what car to drive in? Is Sam confused to see Lindsay? Is Lindsay confused about leggings? Are the paparazzi confused about following people around with cameras and shouting in their faces?
Silly us! We should've just read the video description in the sidebar!
"Lindsay Lohan just can't make up her mind — because two weeks after she was seen sucking face with a dude, she was spotted back out with her ex — the female Samantha Ronson.
OH HAHAHAHAHAHAHAH those CRAZY bisexuals JUST CAN'T MAKE UP THEIR MINDS!!!
TMZ, we h8 you.
Firstly, because our tunnelvision refuses to absorb any news related to Lindsay being with anyone other than Samantha Ronson, we have no idea what the hell this "face-sucking a dude" nonsense is all about. According to x17, Lohan went to Teddy's to see her "NYE fling " "DJ Jus Ske," which sounds untrue, his last name is missing a vowel.
Secondly, even if that IS true, how is that confusion? News flash: bisexuality exists!! Maybe Lindsay's confused about who specifically she wants to date, or if she wants to date at all, but nothing about that alleged information suggests any deviation from her stated sexuality.
Of course, there's plenty more sexist misogynist heteronormative nonsense out there on the interwebs today, like the headline from Hollywood Online reading "Ex-Boyfriend and Ex-Lesbian attend Adam Lambert's birthday bash." Ex-lesbian? Really? Was Lindsay shipped off to Exodus International? No? Okay then I think it's safe to say she's still bisexual. Besides as aforementioned, her and Samantha are likely very close to rekindling the flame… or um, being friends. Whatever it is, headlines like these are disappointing, to say the least, in this day and age.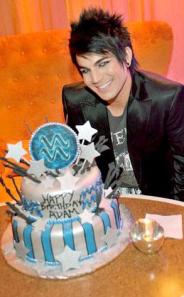 Oh right! But back to our boyfriend Adam Lambert. The two were also seen at Glambert's birthday bash so really we'd really like to start out today by apologizing to him for missing his birthday on Friday. HAPPY 28th, BUDDY! Sounds like his party was fun. Lindsay showed up, though no one can really tell if she was crashing or not. Coincidentally, Samantha was also present. JUST SAYING. (@hollywoodgossip)
ABM: Anyone But Me has won FOUR Indie Soap Awards! They won for Best Writing, Best Storyline, Best Lead Actress, and Best Supporting Actor. Congratulations to them!
And there's more to look forward to this season. Liza Weil of "Gilmore Girls" fame will have guest star soon! She'll have a multi-ep arc where she plays a pregnant psychiatrist. (@newteevee)
SYDNEY: Over in Sydney, Australia, celebrities including Ruby Rose, Kylie Gillies and Natalie Bassingthwaighte came together to show their support for the Wear it With Pride campaign which aims to educate Australians about 85 same-sex law reforms that would positively affect the lives of same-sex couples. The reforms were commemorated by a display of 85 T-shirts designed by local and international designers in the Opera House forecourt. Attending celebrities made a short speech each to highlight how their own lives have been affected by the laws:
Graeme Innes, who was the Australian commissioner for human rights when the reforms were being negotiated, told ABC News that the reforms meant nothing unless more people were aware of them.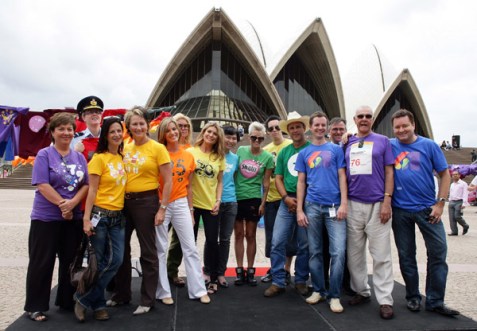 AMBER ROSE: Kanye West's hot bisexual girlfriend/beard Amber Rose did a photoshoot with Persona magazine recently, and here's some lovely behind-the-scenes footage:
There's apparently some deeper significance about London skinheads or something, but OMG I think she might've licked a knife at some point in there?!?! Awesome. And that music was perf. (@persona)
DRAG RACE: RuPaul loves Lady Gaga, too!
PW: So what do you think of someone like Lady GaGa, who obviously appropriates a lot of drag culture in her shows?
RuPaul: I think she's brilliant. At its core, drag is about sampling all aspects of pop culture and repurposing a lot of ideas. And that's what GaGa does — someone of my generation, I can pinpoint what she took from where. The same was true of Madonna. We knew when she was doing Dietrich or Monroe or Barbarella. A smart person knows the future belongs to those who can remember the past.
Season 2 of "RuPaul's Drag Race" premiered last night, and you should really be watching it. (@nypost)
GAGA/LILO?: Look, all of our favorite people are in today's fix! Speaking of Lohan, her deepest, truest wish might actually come true, you guys! No, not Samantha tweeting back. Recording a song with Lady Gaga! (Let's be real, though, Lindsay wants an @ reply from Gaga just as much as she wants one from Sam.) "I can pair them up," says Jerkins, whose most recent collaboration was on Gaga's "Telephone" featuring Beyoncé. "I would love it. I would love to see what could happen." I'll believe it when I hear it. (@E!)
BALDWIN: Stephen Baldwin comes off as a real jackass in this interview from the Guardian, and we suspect this must be because he is a real jackass.
The day after, we speak again on the phone and I ask him what he'd do if one of his girls came out as a lesbian and the other became a stripper. "Jesus or no Jesus, if my kid started working in a strip club, I'd beat her ass," he hoots. "Now, the other question is interesting and culturally relevant. I have two or three very dear friends who are homosexual and they know I'm born again and we have an understanding that we're just not going there…"
I'm not surprised. For the next 20 minutes, we have an intense discussion – argument, really – during which Stephen reveals that he's all for gay men who, through their faith, reject their homosexuality and get married: "To turn away from that lifestyle is astonishing." Yes, Stephen, it is. And he's definitely not for gay marriage.
In other news, the woman who wrote that article is a badass, and I want to be best friends with her. Other choice bits:
Stephen was convinced that 9/11 was a sign from the Lord. Which it may have been, though it's hard to believe that God caused all that tragedy just to inform one fairly successful actor that he should jack in his career and start skateboarding for Jesus.
She ends the article decidedly after Stephen says he answers a question about gay marriage by explaining that he doesn't think it's right for the minority to make decisions that impact the majority. The writer asks, "Honestly, what is it about American born-again Christians that makes them so intolerant? ­Whatever happened to loving thy ­neighbour?" Good question. (@guardian)
MISS AMERICA: Caressa Cameron was crowned Miss America this weekend. Her views on gays are def not great, though she's no Carrie Prejean. (@queerty)