Our insider Hollywood source insists that we're wrong about Shelby Lynne being the one coming out on the cover of People on May 5th. We're pretty sure that she's just trying to throw us off our blazing hot and surprisingly popular trail, but nevertheless we must consider other options. At this point, if Shelby Lynne's lesbian face isn't smiling back at us on the newsstands May 5th, we'll basically have to make her come out on Autostraddle anyhow.
Aforementioned source has confirmed, however, that the mystery lady is a country singer, a female, and that it's likely we've never heard of her before.
I know what you're thinking — it's Shelby Lynne. But take a closer look at country's rising stars and you may ask yourself; have country women always seemed this lez? We've never paid much attention to country music at all, but now they're all looking quite dapper & butch!
THIS JUST IN: As we were writing this post, Gawker & Queerty came out with The Other Goddamn Country Singer Who Might Come Out In People, Chely Wright. This seems just as likely and the info came from a tipster to Queerty. Actually, moreso, because of the Memoir Factor.
From Gawker:

Publicist Howard Bragman—who orchestrated this whole May 5th People coming out thing—is such a good publicist that he is generating publicity for dozens of people who probably aren't even his clients…
Chely Wright's book, Like Me: Confessions of a Heartland Country Singer, and her album Lifted Off the Ground. are both being released May 4th, the day before she does or does not come out on the cover of People magazine. Here: Here is a link to her Amazon page where you can purchase her music.
Queerty makes a really strong case, and provides a good background on Wright's career, remarking, "Wright, who was named in 2001 to People's "Most Beautiful" list, has much to gain from coming out. Namely, financial gains."
The only potential problem? If the book comes out on May 4th, that would out her BEFORE the show, right? And certainly the book's publication process (Wright has been writing it for three years) would've been privy to way more private eyes and therefore potentially incriminating sources than this. But damn would it blow up booksales.
The book description says it all (but then again, we were 100% confident that everything about Shelby Lynne — who BTW is for real gay, regardless):
From her childhood in Wellsville, Kansas, high school homecoming queen, determining at a young age to become a country music star, being cast in Country Music USA Opryland, making a pact with God—to keep her "sinning" to a minimum if he'd get her to the stage of the Grand Ole Opry—and her dream coming true at eighteen . . . She writes about the record contracts and bus tours; the concerts and TV videos; the critical acclaim and industry awards; the #1 hits on the Billboard charts; the fans; the friendships and the working collaborations with Vince Gill, Brad Paisley, and others. . . We see the vortex of success taking its toll on her life, and then her finding a new voice in her music, with music flowing naturally from her that never came so easily. Like Me is a book of revelation: honest, inspiring and true.
Chely Wright recently hit up the Promises, Promises premiere on Broadway, as a guest of Kristin Chenoweth, who is totally straight but is also a great friend of the gays. Cheno is a huge Chely Wright fan.

She seems like a nice lady and we're not entirely sure why everyone is mad that she is not an "A-Lister." Who cares, she's cute!
Rather than complete the article we were writing before this news crossed our desks, we're just going to put up the photos we'd gathered while investigating our thesis/question, "Have country music singers always looked this f*cking gay?"
Our hypothesis is "so many women we wish we could fingerblast, so little time/actual homosexuality."
This conglomerate is based completely on stereotypes, projection, and sleep deprivation. We have a Gayspy Catcher Club and shit to deal with, people.
+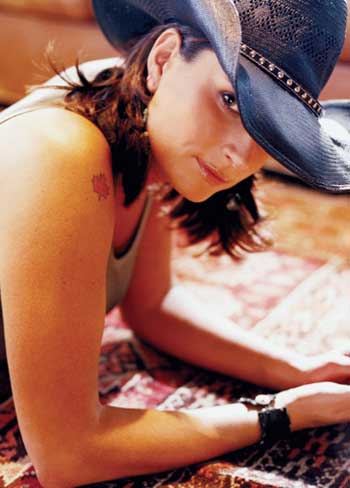 +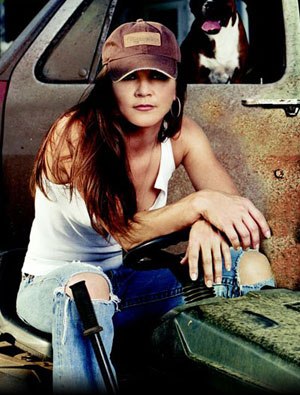 +
+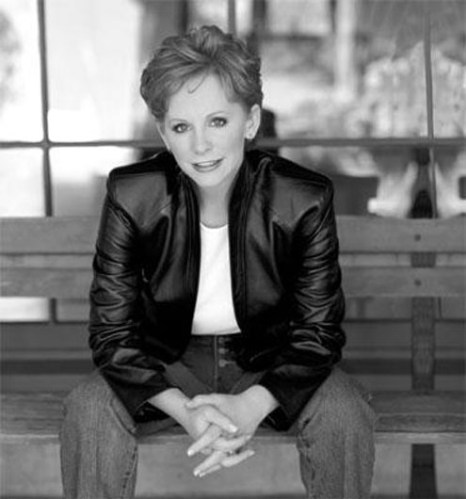 Oh and, just for good measure:

Here's our best tip of the day. (The Court Yard Hounds, which includes two members of The Dixie Chicks, will perform on The View May 5th.)