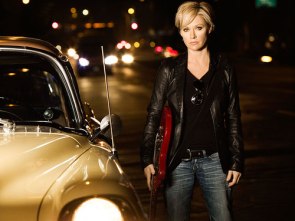 As you may know, a celebrity will be coming out on May 5th in People. We began speculating immediately, and the rest of the Internet has since conducted their own office pools, including 365 Gay, Queerty, Jezebel, Gawker and The Village Voice. This "coming out" is being orchestrated by PR powerhouse Howard Bragman, who strategically orchestrated the coming out parties of Meredith Baxter & Sheryl Swoopes, among others.
Partially we feel it's a big trick, and we're all gonna go buy People magazine, and it's gonna be about Kim Kardashian's summer workout. But also this game has infused us with serious Harriet the Gayspy energy. 
Reader, this shit is FUN! We're donning our Lesbian Lois Lane glasses, sleuthing about the internets with our magnifying glass aimed squarely at Queen Latifah's travel schedule and Johnny Weir's "music career."  After a lengthy investigation, we've chosen our woman. Even if we're wrong, we think that when it comes to our imaginary game of CLUE, we definitely got the right answer based on the evidence and clues available to us. Sorry, Professor Plum, maybe next time.
The Verdict? Shelby Lynne!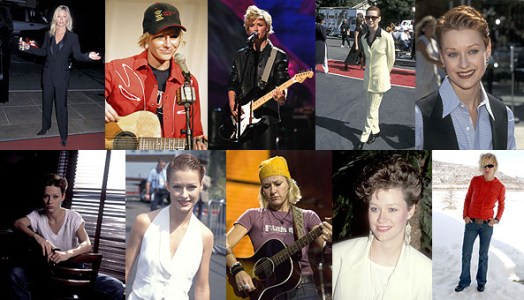 Exhibit A:
Cinco De Gayo's Clues Match Shelby Lynne's Evidence
+
1) Female? Check. Musician? Check.
2) A tipster told Jezebel: "A friend of mine who is high up at People told me that the 'May 5' celeb is a 'female country singer' and he didn't even know her name and had to look it up, but he didn't tell me who it is."
Our entire theory hinges on the veracity of that statement, and therefore our theory is potentially totally bogus.
The Dixie Chicks? We wondered for no particular reason. Dolly Parton? Well, we don't know much about country music so we took to g-chat to consult a Country Music Expert (who incidentally finds Taylor Swift not country enough, just saying) who requested she not be named, lest Michael Musto source her or something. Take a gander:
me: do you know any in the closet country ladies
[redacted]: hmmmm
me: since youre from the country
[redacted]: what is this for
me: these are just the questions i ask myself sometimes
[redacted]: haha
[redacted]: dixie chicks?
me: yeah thought of that but which one? how many are there
me: also why would they be in the closet
me: republicans already hate them
[redacted]: really, why are you asking
me: http://jezebel.com/5526825/oddsmaker-which-celebrity-will-be-the-next-to-come-out
me: scroll down, last item
[redacted]: ahhhhhhhh
me: …questions i ask myself while reading jezebel
[redacted]: omg
me: OMG YOU KNOW SOMETHING YOU'RE SLEEPING WITH REBA MACINTIRE OR WHATEVER HER NAME IS
[redacted]: OMG SHELBY FUCKING LYNNE
me: OMG who
[redacted]: [link]
me: ping!
+
3) …which brings us to this theory, floated by Gawker in defense of Kelly Pickler: "The reason there's so much buzz in advance could be because the announcement in and of itself won't make that big of an impact. Bragman is orchestrating this, and he's a PR veteran. If you get everyone talking about it ahead of time, the reveal will make it talk show worthy, even if it's like one of the girls from Pussycat Dolls that no one's ever heard of."
Exactly. And Lynne's been off the popular radar since I Am Shelby Lynne. What a day for a daydream/comeback!
4) The Mysterious Gay has been booked on several talk shows to do a "coming out tour," including The View. This works with Shelby Lynne's tour schedule.
Shelby will be layin' low in Cleveland, Ohio, on May 5, which's only an hour from New York City (where The View is filmed at the buttcrack of dawn) by plane and eight hours by car. The next day Lynne hits lesbian hotspot Northampton, MA (three hours from NYC), followed by a series of Eastern tour dates (Massachusetts, Philadelphia, Virginia) including a May 10 stop in New York City.
Exhibit B: Shelby Lynne's History of Being Gay, But Not Out
+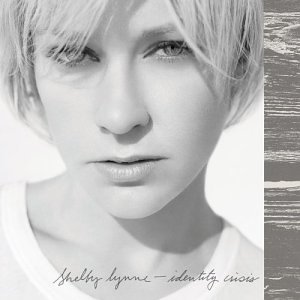 1) In November 2001 Shelby is interviewed by The Guardian UK and is furious when asked about her relationship with Betty Bottrell, the ex-wife of her producer, Bill, who has just left her husband and moved in with Shelby in Palm Springs (gay-friendly site of the legendary lesbian titsfest Dinah Shore Weekend!).
A few friends had told me they had heard Lynne has an open relationship with Betty. Was coming out a tough decision?
"Coming out what?"
As gay.
"Gay? I've never come out gay," she says, shocked.
Oh sorry, I say.
"I'm sorry. Do I look gay?"
I tell her that I don't know what it means to look gay.
"Even if I were gay, I wouldn't tell you."
But really, Shelby Lynne has been dodging the sexuality questions for years… though she mysteriously continued speaking to the gay press anyhow. In 2005, Lynne tells Pridesource, which describes her as "openly gay" although she isn't, "no one should be forced into "such an announcement." In a 2008 Advocate interview, Lynne gets "downright combative" when the gay issue comes up, again stating she doesn't ever want to "be a part of a group of people who have to make announcements about their personal life… it's not anybody's business who I sleep with or who I fuck." In her '08 Edge Boston interview, she answers the labels question with, "Honey, I've done it all — I go where the love is. That's not any kind of news. I've never hidden anything. No need to read between the lines. Love comes in all kinds of flavors, doesn't it?"
2) Her last release, in 2008, was a cover album of songs by bisexual Dusty Springfield. She's also explicitly pointed out that she and Dusty have nothing in common. Whatever. Lady doth protest too much etc.
3) In January 2008, a New York Times Profile: "…then there were the gay rumors that dogged Springfield most of her career, which in her case turned out to be true, though she never used the word "lesbian" officially."
4) However, she's been more polite in her interviews for her new album, Tears Lies and Alibis, perhaps 'cause she knows it'll all be out there soon enough! Last week, talking to SheWired, Lynne was cagey, but not defensive, when asked about her gay fan base: "I like reaching out to all my fans, lesbians or not, that's all fine with me. I don't give a damn who you sleep with. I just want you to like the music and come to the shows, and we'll all be friends."
Yesterday in a New York Magazine interview:
NY Mag: Have you had relationships with women who've tried to tie you down?
SL: I don't talk about my personal life. But the relationships I've had have usually been with other musicians. It's just easier that way.
Clearly she meant, "I don't talk about my personal life" YET. Tip of the hat to you, Howard Bragman. TIP OF THE VELVET TO YOU.
5) We also found an interesting interview with out lesbian Alexandra Hedison (Ellen DeGeneres' ex-girlfriend and L Word actress) from a few years back. Alexandra directed a documentary about Shelby Lynne, and is also a part of that secret web of California Lezzies who all know about each other's homosexuality. When asked, Alexandra denies reports that she and Shelby are together, but she seems unruffled by the homo suggestion itself:
FoA: Who is your favourite singer?
Alexandra: Shelby Lynne. I love her music.
FoA: I love Shelby too. I love her new tribute to Dusty Springfield album. You know, there is speculation that you and her are an item.
Alexandra: Oh really? Well, Shelby and I are not together. We're great friends and have been for a long time. She'll get a kick out of that – that's funny.
FoA: You directed a documentary for her album 'Suit Yourself'.
Alexandra: Yes. Is there any possibility you could get that for the site? I love it and I think it's really her, too.
Part C: The Present & Future
1) New Album: Shelby Lynne just released a new album: Tears, Lies & Alibis. Perfect time for some extra publicity and a strategic moment for a comeback!
2) Newly Free Spirit: Lynne left her record label, Lost Highway, to record Tears Lies & Alibis. "I've never felt more free," Shelby says of her mavericky decision to produce the album on her own label, Everso. See, Lost Highway "didn't give a crap about the art." Furthermore, she says, "I've never gotten more done. I don't have to answer to anybody, or ask for anybody's permission."
GET IT? So now she's not answering to anyone but her own VADGE AND THAT'S HOW WE LIKE IT.
In conclusion, if it's not Shelby Lynne, she should really consider coming out next week because it would be a great moment! Also, we agree wholeheartedly with Gawker's suggestion: "Can we get everyone to promise that every year on May 5 someone famous will come out? It'll be a new national holiday!"
Also, if we're wrong, we won't get any pudding, and we can live with that.
UPDATE #1: Our very own Autostraddle Hollywood Insider correspondent emailed our editor-in-chief Riese to insist that it is not Shelby Lynne. However she offers no other option, sooooooo…. red herring or truth, you decide, gumshoes.
UPDATE #2: Gawker, who picked up Autostraddle's story today, has called Shelby's publicist, who said 'I have no information on that,' which basically means it's TRUE.
UPDATE #3: Queerty now also cites Lynne as the "running favorite." Also they have a funny article about it in general which more or less echoes how we feel, we're sort of already getting anxiety attacks about it.
SIDENOTE: Hey! Our editor Riese and writer Jess chime in on the gay rumors in this Cinco de Gayo Grace the Spot Roundtable, in which Riese throws Gloria Estefan into the ring of contenders.