WHICH CELEBRITY IS GOING ON THEIR COMING OUT TOUR:
Mark your calendars: a celebrity is coming out to People (shocking!) on May 5th. This person is already booked for a People exclusive, with a string of talk show appearances afterward, including The View. Speculation has already begun, with anonymous peeps from all corners of the interweb taking part in the worldwide office pool.
The frontrunners at Autostraddle headquarters appear to be Johnny Weir or Queen Latifah. However The Queen has a movie coming out soon where she plays a straight romantic lead; generally assumed a bad move. Longshot votes are going to Anderson Cooper and Kelly Clarkson. Intern Laura thinks it'll be the couple starring in Toy Story 3, which we believe is an animated film about fictional characters.
We've also determined a large selection of our confirmed & speculative twentysomething hollywood lesbians — aka most of the people we wish would come out — are too edgy for People. And then there's heaps of people who we all know will never come out, like the married scientologists.
Also, Johnny Weir has the right look to come out in People Magazine — young bright eyes man with hair that's a little spikey in the front.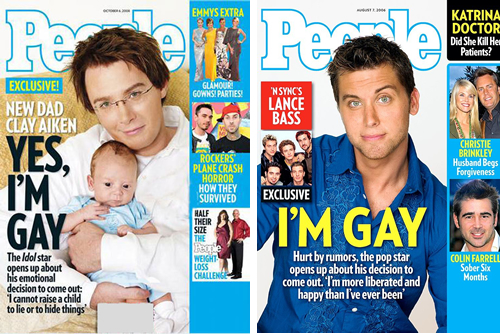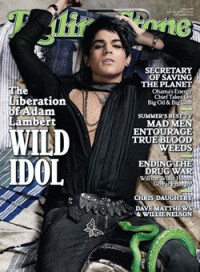 This does bring into question why People Magazine is The Chosen One to feature celebs with their "Yes, I'm Gay!" cheesy smiles on the cover. Is it because People is so bland and mainstream they figure it will lessen the fallout? Neil Patrick Harris, Lance Bass and Clay Aiken have all chosen People.
Wouldn't it be more interesting to go the Adam Lambert route of posing for Rolling Stone with a snake at his crotch or even Wanda Sykes who didn't make a big stink at all, just showed up at a No on 8 rally and spoke about her life.
Who do you think will be coming out to People on May 5th? Start your office pools now. (@zapittv)
GAGA VS. X-TINA:
"It just comes with the territory. That, in particular, is not even worth wasting the breath to comment on. I've been around for over a decade and I think my work speaks for myself." – Christina Aguilera on comparisons to Lady Gaga (@mtv)
MEGAN MULLALLY:
Get this! Megan Mullally is transforming her Emmy winning role as Karen on Will & Grace into a touring show! "We've got a producer, a composer, and a director, so now we're just looking for the perfect people to write the book," Mullally told The Advocate. "It's going to be a big throwdown between Karen Walker and Beverley Leslie, so I think Leslie Jordan and I are going to have a lot of fun together. And because it's a touring show, we can take it anywhere 'Will & Grace' is popular, which is kind of everywhere."
She also talks about Sean Hayes' recent coming out interview and her own infamous Advocate cover story coming out as bisexual: "Yeah, I know, I'll still read that. My husband is always like, 'Really? Are you bisexual?' [Laughs] I know the gay community wants me to be bisexual, but unfortunately I'm not as bisexual as people have wanted me to be. I am married to a man, we've been together 10 years, and I've never had sex with a woman. But I do still think everybody has an ability to love that isn't limited by gender." (@advocate)
LINDSAY & SAMANTHA:
Check out the latest from Lindsay Lohan & Samantha Ronson:
SARA GILBERT:
CBS is shooting a pilot aimed at competing with The View, starring Julie Chen, Lisa Rinna and Sara Gilbert as the show's resident lesbian mom. The "View"-style talk show is just one pilot CBS is considering to replace "As The World Turns." (@latimes)
THEATER:
"While gaydom now embraces a full gamut of subsets, in Mr. Jordan's pithy assessment the heady disco days of the 1970s had 'queens and butch queens,"' distinguishable by their dance-floor moves."
Also on Broadway– American Idiot is wowing critics.  (@nytimes)
TORI SPELLING:
Tori Spelling is developing her own talk show, which supposedly is going for a Will & Grace vibe, according to producers. This will only be watchable if Zachary Quinto from So NoTORIous is back as her main gay. (@ew)
GLAMBERT ON TOUR:
Adam Lambert is coming to a musical theatre near you on his Glam Nation Tour this summer. Talking to E! Online, Adam said, "It's going to be really theatrical and sparkly. You'll have to come. Maybe I'll make out with a snake." (@usatoday)
CITY OF BORDERS:
A new LGBT film, City of Borders, will screen on April 28 at the Lenore Marwil Jewish Film Festival in Commerce Township, Michigan. The film follows the daily lives of five Israelis and Palestinians at Jerusalem's only gay bar, The Shushan, an underground sanctuary where people of opposing nationalities, religions and sexual orientations create an island of peace in a land divided by war.