CHEYENNE WILLIAMS:
Judge reduces charges against teens accused of attacking gay classmate: Cheyenne Williams, the lesbian teen in Kentucky who was attacked by three of her friends on the Day of Silence (against LGBT bullying), went to court today, where Ashley Sams & Corinne Schwab & their unnamed 17-year-old friend, saw charges reduced against them.
The presiding Judge said the evidence did not justify the charges of kidnapping and attempted murder and reduced the charges to fourth-degree assault and menacing (both misdemeanors).
Williams' mother says the other girls targeted Williams because of her sexuality but the judge said that the attack was not a hate crime. Sams and Schwab's attorneys claimed that the attack was a performance which Williams willingly participated in. There is a video of the event from Williams' cellphone.
Williams herself has not testified, but she was sworn in so that means she might be.
A grand jury can now consider the case and issue new charges or decline to indict. The next grand jury session in Jackson County is scheduled for Tuesday.
About three dozen kids skipped class to show up, saying they were there in support of Cheyenne as well as Sams & Schawb.
GAY IPHONE APP:
Apple has just rejected, for the second time, the iPhone app "Gay New York: 101 Can't-Miss Places." The company objected to images that show too much skin, and to a caricature of former vice presidential candidate Sarah Palin. (@gawker)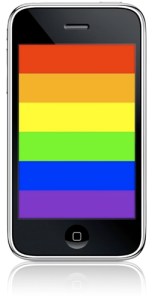 FEMINISM:
Salon has an interview with J. Courtney Sullivan, editor of a new collection "Click: When We Knew We Were Feminists" which features thirty feminists under 40 talking about their own epiphanies, prompted by everything from rape to ADHD, from bad sex education programs to Kurt Cobain's suicide. (@salon)
In an odd coincidence for real, Autostraddle.com's newest Roundtable is about when we knew we were feminists!
DISNEY SWITCHES GENDER ROLES:
Today, after school, girls across the land will log on to Pixie Hollow, one of Disney's most popular Web sites, and become boys. Not just boys. Fairies who are boys.
The open secret around the Hollow has long been that if you make your fairy tall, with short hair, and give her an ambiguous name like Jamie, she can pretty quickly establish a reputation as a he. Hey, Mom and Dad, we've got your rigid gender roles right here. (@salon)
DC MAYOR:
Somehow the city of DC decided to issue a certificate of honor for a leader of the ex-gay movement. D.C. Mayor Adrian M. Fenty apologized Thursday over his decision to issue a certificate of appreciation honoring the leader of the ex-gay movement, which believes homosexuals can be rehabilitated. Mafara Hobson, a Fenty spokeswoman, called Griggs' award a "staff-level error." (@washington voices)
RACE:
Does Gossip Have a Skin Color? "Black blogs cover a far more diverse range of stories than the rest of the media. Just ask Sandra Bullock … The funny thing is, black Web sites such as MediaTakeOut.com, Bossip, and Young, Black and Fabulous have been following Bullock for years. Part of the reason is her connection to the black community. "They know about her support for victims of Katrina and Haiti so they care about what happens to her, which we thought about when we gave her coverage," says Fred Mwangaguhunga, owner of the black entertainment site MediaTakeOut.com." (@newsweek)
TRANS:
How do you know you're not trans? "Transgender folks spend a lot of time explaining our identities to other people, and a lot more time being asked to explain how we knew we were trans. But, for myself and my trans friends I've talked about this with, we're baffled by the idea of knowing that the gender you were assigned at birth matches, at least closely enough, the gender you identify as. To experience gender in this way baffles us just as much as I imagine transgender experience confuses cisgender folks." (@feministing)
COMING OUT:
When I Came Out: Three Girls Tell Their Stories About Being Gay In College (@jezebel)
WOMEN CEOS:
Women account for only 3% of the chief executives at the helm of the 500 biggest U.S. companies. (@forbes)
LESBIAN TEACHER:
Lesbian teacher claims she was fired from elite Vancouver Catholic girls' school Reimer, the founder of Vancouver's Zing! Children's Choir, said she was fired because parents were afraid she would lead their daughters "astray." However the school claims she's making the whole thing up and was totally not fired at all. (@the province)