CHEYENNE WILLIAMS: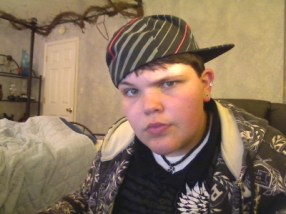 A little more (vague and unsubstantiated) information has surfaced regarding the strange and disturbing story of Cheyenne Williams' three "friends" who attempted to push her off a cliff as part of either a "prank" or a hate crime. Queerty and the Kentucky Equality Federation say that the three friends had made a secret pact giving Cheyenne six months to "turn straight or else" — no word on where that information might have come from.
The Kentucky Equality Federation, which is now speaking exclusively on Cheyenne's behalf and uses apostrophes to pluralize "Video" and "Picture" on its website, which may or may not be driving me insane, released the following, reports Lez Get Real:
… Corinne Schwab and Ashley Sams, both 18 and a 17-year-old girl — not named because she is a minor — told the victim they had given her six months to change her sexual orientation. According to KEF, the assailants made this pact between themselves and the Williams was never made aware of this until the day of the assault.
Williams was taken to Flat Lick Falls, a remote area about 60 mile southeast of Lexington, Ky, on the pretext they were taking her to a job interview last Friday afternoon, where they beat, and choked her and then attempted to push Williams off a 50-foot cliff.
Williams allegedly broke free by fending her attackers off with a stick.
However during the struggle a large rock was thrown at her by the attackers, and in trying to dodge it, she fell back on several large rocks injuring her back. The attackers eventually took Williams to a nearby restaurant and dropped her off, warning her not to say anything.
The Kentucky State police issued a news release Tuesday that says Williams was "taken against her will to the Flat Lick Falls areawp_postswhere she was assaulted and that the other three girls "attempted to push her over a cliff, which could have resulted in serious physical injury or death."
State Police Detective Joie Peters said, all the girls have been friends since sixth grade and school officials say that there has never seemingly been a problem between them. One of the alleged attackers roomed with Williams on a senior trip to Key West, Fla., and the Bahamas three weeks ago.
But Towleroad is reporting via the Lexington Herald-Leader that the whole thing "was a "staged incident" in which Williams was a willing participant", or so claim the classmates' lawyers:
"Attorneys for Ashley Sams and Corinne Schwab, both 18, said the teens committed no crime. There are some 'distinct falsehoods' in what the alleged victim, Cheyenne Williams, has told authorities, said James Baechtold, Schwab's attorney."
The lawyers also asked for a preliminary hearing this Thursday, so the truth — whatever that may be — could come to light then.
Hate crimes on GLBT teens and bullying of GLBT teens is nothing new — but parents & children standing up against these acts is relatively new, and each new detail is shocking and confusing. And what these avalanches of personal drama remind us of, for both Constance McMillen and Cheyenne Williams, is how fucking bizarre high school was and how nothing made sense. What the fuck, youth of America? What the frickin' frack is wrong with you people? You don't throw your friends off cliffs or host secret proms, you should be riding horses or watching scary movies or something.
In related news, it turns out that a few years ago a student at Cheyenne's high school was caught bringing a gun to school, apparently with the intention of shooting a lesbian classmate. (@queerty)
EDMONTON HATE CRIME:
Let's just get all of the violence against queers out of the way now: a lesbian in Edmonton was attacked by a group of young boys and sustained serious injuries. "Shannon Barry was kicked in the face after a group of young men allegedly taunted her with homophobic slurs. The blow broke Barry's jaw and the bone below her eye socket: she underwent reconstructive surgery earlier this week. Doctors put two metal plates in her face and told her she may have permanent nerve damage." The boy who's been taken into custody for the injuries to Barry's face is only 14. (@montrealgazette)
GAY JUDGE:
In all the brouhaha over whether or not a nominee to the Supreme Court may or may not be a closeted gay, it would be a shame to overlook the openly gay man, Edward DuMont, Obama has just nominated to a federal appeals court judgeship.(@keennewsservice)
BI INVISIBILITY:
In kind of a surprising turn of events, a politician is not only open about not being straight, but open about the fact that he's bisexual. Less surprisingly, he is not being taken seriously. Gregg Kravitz's opponent for the Democratic primary for the 182nd state House district of Pennsylvania claims that Kravitz is actually straight, and just pretending in order to win the LGBT vote. "Kravitz denies he's been lying about his bisexuality, saying Josephs' attacks will make it more difficult for "members of the LGBT community to be comfortable with themselves.wp_postsUm, yes. (@allgov)
BOY SCOUTS:
A former Scout with fond memories of his years in the troop talks about the current abuse scandal within the organization, and why the Boy Scouts of America should allow openly gay members. (@nytimes)
GAY DOLLAR/PINK POUND:
A fascinating article at the Guardian examines how while recognition of the power of gay spending is on the rise, the rights we're slowly gaining that allow us to have shared households and families may be changing our spending habits. Since for a long time it was assumed gays didn't have dependents or mouths to feed, they were a population with a lot of disposable income, and at least theoretically should have been attractive to advertisers. Now that families aren't out of reach for us, though, is our money going to be taken even less seriously than it is now because we're buying diapers instead of designer clothes? "All my wardrobe was designer: McQueen, Dior, D&G …" And now? "Raising children is more expensive than we expected," says Rob. "We need to economise a lot. Gay couples probably have higher standards on the items they buy for their children in terms of quality and design." (@guardian)
PETITION:
The Supreme Court is finally going to hear the case of whether it's legal to release the names on the Referendum 71 petition in Washington. "The Supreme Court, which hears arguments in the case on Wednesday, is expected to decide whether disclosing the names would violate the signers' First Amendment rights. If the court rules it does, that would likely keep private not only Referendum 71 petitions but all referendum and initiative petitions in this state — and potentially those in two dozen other states that allow citizens to put measures on the ballot. (@seattletimes)