What a crazy weekend in women's college basketball, as the Sweet 16 was winnowed down an Elite 8.
Naz Hillmon and Michigan pushing their game against Baylor into a competitive OT. UCONN and Iowa neutralizing their opponents' biggest stars and giving other players a chance to step up and enjoy the limelight. NC State coming up just short after rallying from being 14 points down in the fourth quarter. Texas A&M's luck finally running out against Arizona. South Carolina clawing out a victory against a scrappy Georgia Tech team. Dana Evans FINALLY finding her shot and taking down the Oregon Ducks. And Vic Shaefer taking the Texas Longhorns to the Elite 8, upsetting a hot Maryland team in the process.
It was amazing and I'm still trying to catch my breath.
(And also grieve a bit…that NC State loss was tough.)
Also, I'm told that men play basketball too. I don't know what happened there. My heart can only take so much excitement at a time.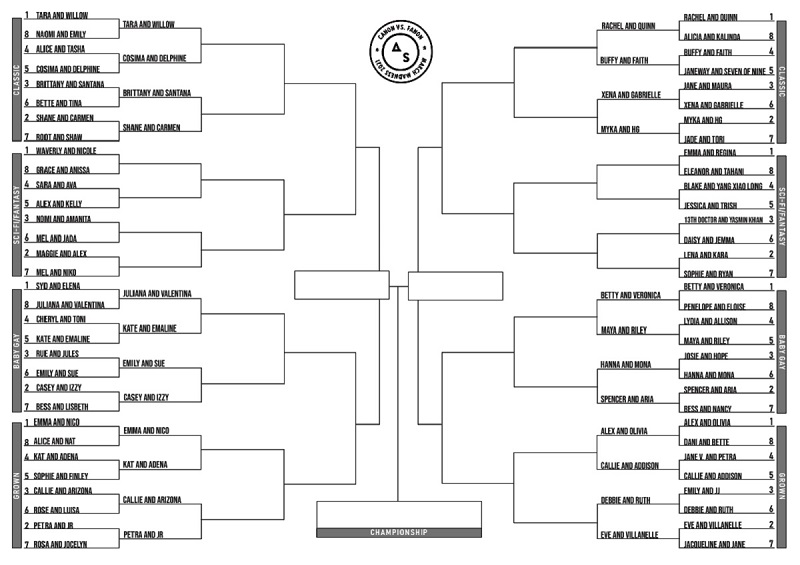 Click here for a full-size image.
Tonight, as we wait for the first two games of the Elite 8 to tip off — Baylor vs. UCONN and Arizona vs. Indiana — let's jump into our final opening round of Autostraddle's Canon vs. Fanon contest. A few notes about that opening round in the Baby Gays Category:
+ As most expected, Juliantina was going to be formidable in this competition but even I was surprised to see how easily they dispatched Elena and Syd of One Day at a Time. Is there another canon ship that can compete with that fandom?
+ Closest contest in the Baby Gays sub-region: Josie and Hope vs. Hanna and Mona, decided by 47 votes.
+ People voted for Spencer and Aria over Bess and Nancy but no one could explain why? Why do people ship Sparia? I really want to know.
+ Maya and Riley of Girl Meets World had a strong showing in the opening round, easily defeating the Teen Wolf ship.
With all that said, let's get to our final opening round sub-region, Sci-Fi/Fantasy! Who will reign supreme in the Canon vs. Fanon battle?
---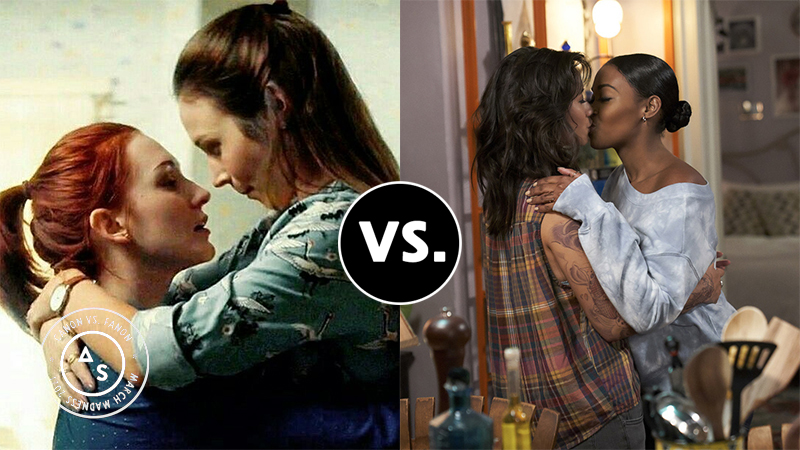 Canon #1. Waverly and Nicole – Wynonna Earp
After 18 months, three weeks and four days in the Garden of Eden, Waverly Earp returns home to Purgatory, startling her girlfriend, Nicole, who's been guarding the place against intruders. They rush to each other and kiss…the kiss affirming that Nicole is Nicole, not the sulfur-twinged version that Waverly met in the Garden. Then, the couple dubbed WayHaught gets their much deserved romantic reunion: 12 months, 25 days the fandom pulled Wynonna Earp back from the brink of cancellation.
Here's how Valerie described the reunion in her recap:
The music and the lights get soft, and they don't even make it all the way upstairs before their clothes are off and their hands are everywhere, touching, squeezing, holding — and, as the song says, "clinging to the mess we made," — because they know better than anyone that things can change on a dime. They're together, they're real, they're in love, they're safe. It might not last forever, so they are making the most of right now…

…this was the longest, most romantic love scene on the show so far, and it was hard-earned, and it wasn't gratuitous. It was a montage of softness and light flares, it wasn't for us, it was for them. (But also it was for us.) It was two women in love who have been fighting like hell to get back to one another, finally in each other's arms again.
The night Anissa Pierce shows up to Grace Choi's door in "Requiem," they probably shouldn't. They've barely been back together for a minute and Grace should be protecting her heart. But Anissa shows up at Grace's door with tears in her eyes, a broken heart, looking like Anissa Pierce looks and wonders, "if I knew I only had one day to live, who, besides my family, would I want to spend that day with? I only came up with one name. You." Some things are irresistible, even if you've got superpowers.
Here's Carmen in her recap of that episode:
The music behind them builds as Anissa pulls Grace in for a kiss. Slow, romantic, their hands searching for each other. First tentatively, then passionately, as Anissa walks Grace backwards to her living room wall. Grace exhales, and Anissa pins her hands above her head!!

The music may be soft, but they are hot. Sex is often about more than just sex. Their gasps, heavy breathing and messy kisses serve to remind each other that — on the night that Gambi died — dammit they are alive. Blissfully alive.
---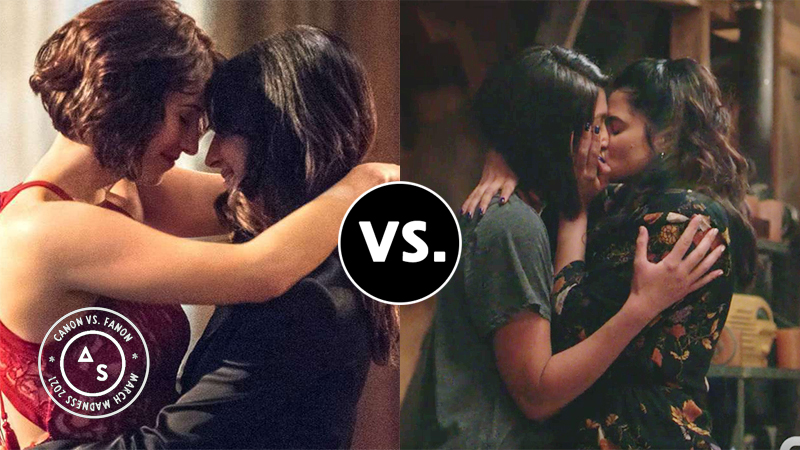 Canon #2. Maggie and Alex – Supergirl
During her eponymous episode, Alex — after being kidnapped by a former childhood friend — finds herself in a cell that is filling with water. Worried that she might not survive, she asks her sister to step out of the room so she can talk to Maggie…she wants to say goodbye…but, of course, Maggie isn't having it. They are not having this conversation, not today.
"We just started this, you and me, and it's not going to end. Not today. Not for a long time. We just had our first Valentine's Day and I wanna do more with you. I want more firsts," Maggie tells her. She begs Alex to hold on until they can get to her and, of course, she does. Later, Alex confesses that she never want to stop having firsts with Alex, start with this one:
"I love you, Maggie Sawyer," Alex says.
"I love you, Alex Danvers," Maggie answers.
Canon #7. Mel and Niko – Charmed
When Niko Hamada's partner, Trip Bailey, is murdered and framed for murders that Niko knows he didn't commit, she jumps headfirst into figuring out what really happened. Her desperation for answers puts her into the crosshairs of a shapeshifting demon assassin and Mel recognizes that only way to truly keep Niko safe is to erase the bond between them. She summons her powers to rewrite history: to make it as if she and Niko had never met.
As her sisters perform the spell, Mel rushes to say goodbye to the woman that she loves. She admits that she can't protect her from what's coming and this spell is the only thing that can guarantee her safety. Mel confesses,"I will always love you, Niko. And maybe some part of you will always be able to feel that. That's what I'll tell myself, anyway."
But, as she goes to kiss her, Niko disappears: her and all the tangible moments of her relationship with Mel, turned to dust.
---
Canon #3. Nomi and Amanita – Sense8
After an intense few days, Nomi and Amanita fall into bed next to each other, exhausted. Nomi wonders if this is their new normal and then asks if Amanita is okay with it all. Nomi can't ignore the voices in her head but Amanita has a choice; she doesn't have to be here, she didn't sign up for this. But that's not true, because from the moment that Amanita first saw Nomi walk into City Lights, she couldn't ignore the voice in her head either: Amanita couldn't let her go.
"I've been thinking a lot about all the things that have happened to us over this past year. I won't lie: sometimes it's terrifying and sometimes it's incredibly exciting. It's been maddening, enlightening, confusing and always unpredictable," Amanita admits. "However, I don't think there's been a single day when I didn't hear that same voice in my head telling me: 'Whatever you do, do not let her go.'"
Before Nomi can fully dissolve into tears, Nomi opens a ring box and asks Nomi to be her wife. But before she responds, Nomi reaches beneath their bed, digs out her own ring box and asks Amanita to be her wife. They giddly exchange rings and promises of forever before collapsing back into bed together.
Canon #6. Mel and Jada – Charmed
In her recap of Charmed's queer love triangle during the show's first season, Carmen refered to the witchy Jada Shields as "sex on a stick"…and, honestly, who am I to disagree?
But's it's tough though, right? Because when the show starts out, you're just so ennamored with Mel and Niko…they're so cute and adorable…and in a world where Mel isn't one of the Charmed Ones, you could imagine them being together forever. And even once Niko's memory is erased — and Mel is tormented by the fact that she still remembers — you secretly hope their love will persevere. But then comes Jada…and all of a sudden you're like: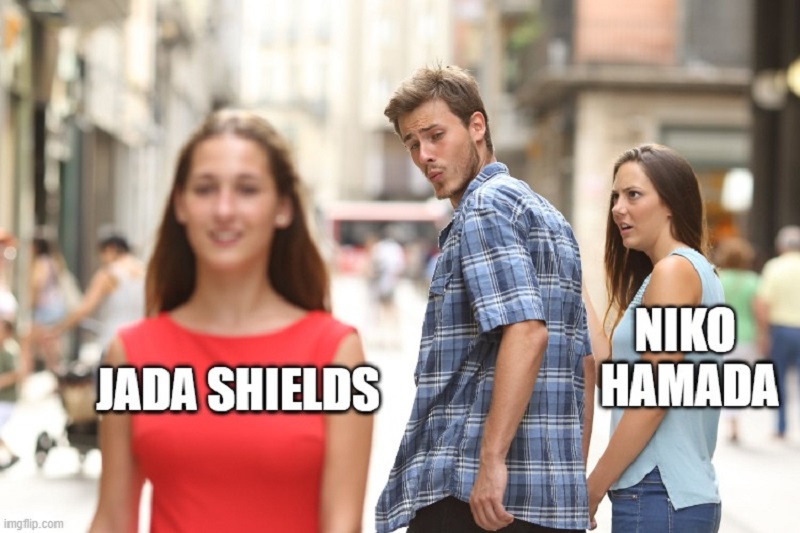 Jada has a hard shell with a soft heart and she allows herself to be vulernable with Mel even though that is scarier than any demon she's ever faced. Plus, the reality is, Mel is one of the Charmed ones and no one understands the challenges she's facing like Jada does. Also? Did I mention the whole Jada's like "sex on a stick" thing and that the pair radiant chemisty? 'Cause, yeah, that's definitely true.
---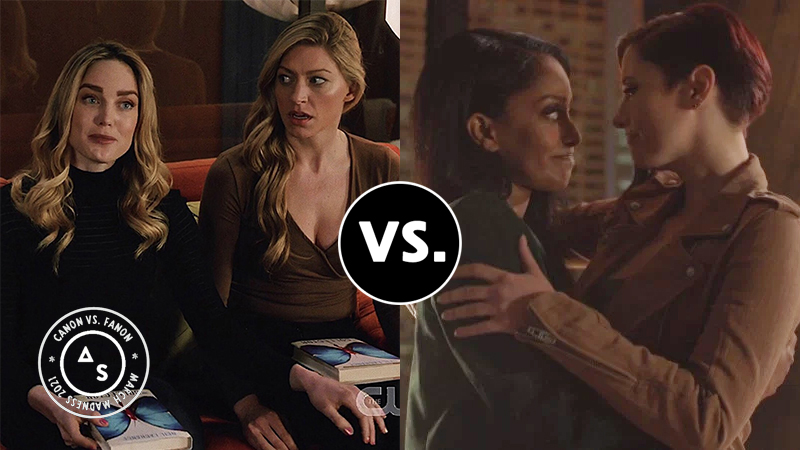 Of all the quests that Sara Lance and Ava Sharpe have been on, perhaps none causes them as much consternation as the one they fact in "The Eggplant, the Witch & the Wardrobe:" they have to pick a mattress. The first comes with a three year warranty, the second comes with a 15 year warranty…and, as purgatory is wont to do, the experience taps into their worst anxieties. For Ava, that anxiety is that Sara can't — or won't — stay with one person for 50 years. For Sara, that anxiety is not knowing if she can commit to anything past tomorrow.
"Ava, with my past, planning anything for the future is just feels like tempting fate," Sara admits. "And I convinced myself that I like it that way until you came along."
Ava reminds her that she's allowed to want things and to dare to dream. Neither of them need anyone but Ava wants Sara and Sara wants Ava and that's enough.
Canon #5. Alex and Kelly- Supergirl
By the time Alex and Kelly cement their relationship status as girlfriend, they've been through some stuff…some of it, the everyday calamaties that come from inhabiting the Arrowverse, other parts — Kelly's residual grief over the loss of her father and fiancée and Alex's adoption that never came to fruition — were real and intense. But still, Kelly's not ready for any of it to end.
"The closeness with you, it has felt like both the most natural thing in the world and like a revelation," Kelly confesses, in that almost breathless way that lets you know that she's been holding onto these feelings for a long time. "And I hope to God that I haven't made this awkward between us, I just I haven't felt like this in a long time, and I just felt like I had to…"
Alex interrupts her with a kiss and echoes all of Kelly's feelings with a simple word: "Ditto."
---
When I first pitched the idea for this tournament to the TV team, Carmen wrote: "YOU HAVE TO DO SWAN QUEEN." Just like that, in big capital letters, as if I had even the slightest clue about what a Swan Queen was.*
Turns out, Emma Swan and Regina Mills are Swan Queen. Once Upon a Time started with them as enemies and grow to be friends (the greatest trope in all of fandom, btw). Emma sees the good in Regina even when no one else does and, as a result, both are willing to sacrifice their lives for each other. They share amazing chemistry and a child together…and, somehow, they're not actually together. Once, after a fight sends the two back to their corners, Emma returns to apologize:
When I was a kid, someone came into my life for a while, and I thought we were gonna be…best friends. But this girl lied to me, and I pushed her away because of that lie, and she asked me to forgive her, but I never did. It took some time, but I realized that was a mistake — and I regretted the decision — but by then, it was too late. The damage was already done.

I don't want to make the same mistake again, Regina. Living in Storybrooke, I've got my son and my parents — and I love them — but they can't always understand me. They don't know what it feels like to be rejected and misunderstood, not the way I do, not the way you do. And somehow that makes us… I don't know…unique, or maybe even special.
I don't know how that's another other than a coming out story, especially since it sounds and feels so much like the coming out story that Alex would tell to Kara on Supergirl a year later.
Fanon #8. Eleanor and Tahani – The Good Place
For a split second in "Dance Dance Resolution," The Good Place makes it canon: in reboot #218 of the Good Place (which is secretly the Bad Place), Tahani Al-Jamil is Eleanor Shellstrop's soulmate. It doesn't last, sadly…and therefore not technically canon, but Eleanor's attraction to Tahani persists throughout the show's run.
Eleanor calls her "a hot, rich fraud with legs for days." She oggles Tahani's body every chance she gets. Even when she doesn't want to, she stumbles into a fantasy with Tahani: "She wants everybody to think she's such a perfect princess just 'cause she's tall and glamorous and has cappuccino skin and curves everywhere…and now I'm complimenting her…and kind of turned on."
The Good Place broke ground in its representation of non-binary people with Janet but the certainly left us wishing that Tahani could have a bite of that pear.
---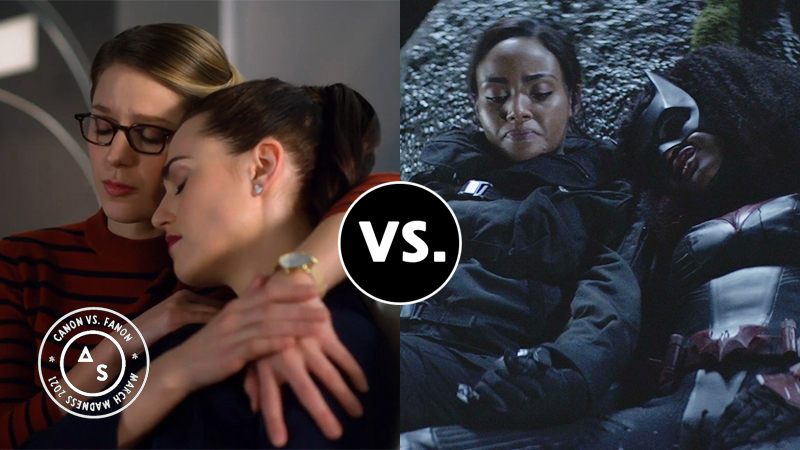 Fanon #2. Lena and Kara – Supergirl
For her entire life — thanks to the abuse heaped on her by her step-mother and brother — Lena Luthor has been told she's unworthy…so much so that by the time she meets Kara Danvers, she's reluctant to trust anyone. But Kara being Kara, she just keeps on being Lena's friend, keeps on believing in her and keeps on saving her, until Lena stops and lets her. And I get how, when you've been starved of true affection for your entire life, you might not know how to react to somehow showing that to you….but, fam…Lena bought all the roses in National City for Kara.
"I don't know how to thank you," Lena admits. "I've never had friends like you before. Come to think of it, I've never had family like you. No one has ever stood up for me like that."
Kara proclaims, "Well, now you have someone that will stand up for you. Always."
"Well, Supergirl may have saved me, but, Kara Danvers, you are my hero."
C'mon! This is fanon, seriously? Maybe some lillies would've been less subtle.
Fanon #7. Sophie and Ryan – Batwoman
Looking to escape her sister's place and grab a drink, Jordan Moore finds herself at The Hold Up, the neighborhood gay bar where Ryan happens to be working. When Jordan lets it slip that Batwoman saved her earlier, Ryan's intrigued. She listens as Jordan lumps Batwoman in with the cops and Crows and slides Jordan a free drink to repay her for all the good work she's doing in the community.
Once Jordan and Sophie move out of earshot, Jordan — wing-woman extraordinaire and the newly minted captain of the Rophie ship — notes the vibes between Ryan and her sister. She gives a highly accurate assessment on Ryan: "So, bartender chick? Fire."
But Sophie quickly shoots that idea down: "Nope. Not happening. Not even an enemies-to-lovers maybe."
And while you'd think this might dissuade me from shipping the pair, Sophie's denial only convinces me that Rophie won't be fanon for much longer.
---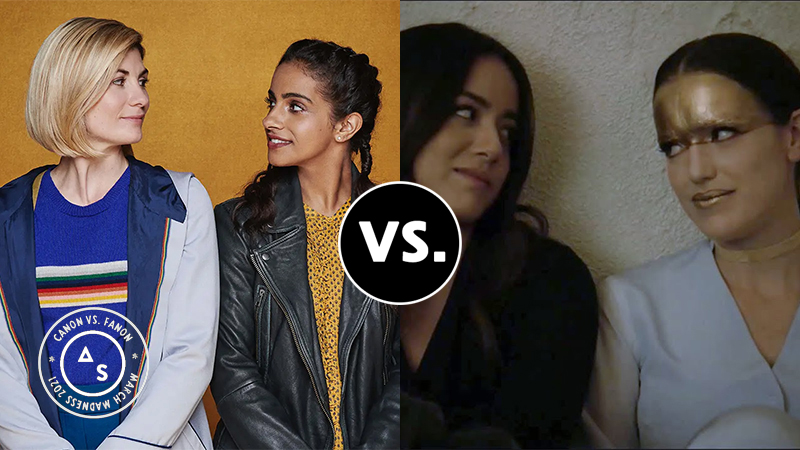 Fanon #3. 13th Doctor and Yasmin Khan – Doctor Who
Here's how Heather recapped the launching of the Thasmin ship:
In addition to the aforementioned queer Hunger Games-esque survivor Angstrom, ""Arachnids in the U.K." had a queer political strategist (who, like basically everyone else in that episode, got eaten by spiders), and it introduced the idea that Yaz is bisexual. It starts with a conversation between Yaz's mother and the Doctor.

Yaz's mom: Are you two seeing each other?
The Doctor: I don't think so. Are we?
Yaz: We're friends!
The Doctor: *Well, there you go face*
Yaz's mom: *rolls her eyes.

It's the same conversation Yaz's mom has later with her and Ryan, seeming to indicate that Yaz has previously expressed romantic interest in more than one gender and no one's got a problem with it, including the Doctor. Earlier in the episode, Yaz and Thirteen have a conversation strikingly similar to the one Rose and Ten (more than friends) have about him traveling the alone, and at the end of the episode Yaz breathlessly proclaims to the Doctor as she rushes to the TARDIS, I want more. More of the universe. More time with you. You're like the best person I've ever met." (Gay.)
This says it all, I think:
---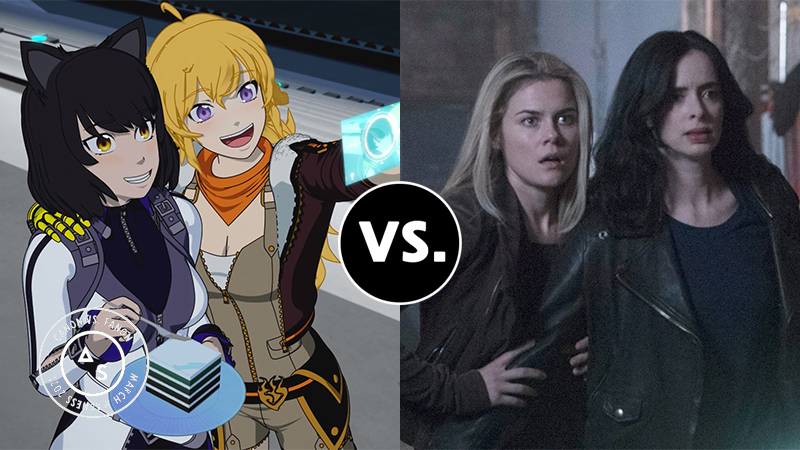 Fanon #4. Blake and Yang Xiao Long – RWBY
This is a bit of a departure from our usual March Madness fare, given that RWBY (pronounced "ruby") is a web series and not a television show but according to a recent analysis of 2020 F/F fanfiction from Archive of our Own, Blake and Yang Xiao Long (AKA Bumbleby) is the second most written about fanon ship (only behind SuperCorp). As such, I thought they were worthy of inclusion here.
Blake and Yang Xiao Long are one-half of RWBY, a group of four girls who attend Beacon Academy, where they train to become Huntresses who will protect the world from monsters called Grimm. In the sixth volume, Blake is taking on the show's antagonist, Adam Taurus, and, after a monstrous battle, it looks like Adam's got Blake beat.
"People hurt me long before we met…all sorts of people in all sorts of ways…but no one hurt me quite like you," Adam bemoans. "You didn't leave scars, you just left me alone. So, tell me, Blake, how does it feel to be alone?"
But before he can jab his sword in her abdomen, she hears Yang coming. Blake tells Adam, "I'm not alone," and Yang jumps into save her. Blake recovers, joining hands with Yang to tell Adam the truth: "She's not protecting me, Adam, and I'm not protecting her. We're protecting each other."
Fanon #5. Jessica and Trish – Jessica Jones
Admittedly, Jessica and Trish are stumbling into murky territory for me…I mean, technically, they're sisters, right? Adopted, but still…I thought we'd all decided during the Brandon and Callie years of The Fosters that relationships between adoptive siblings were verboten? But the fandom wants what the fandom wants.
The fandom isn't alone in reading the dynamics between Jessica and Trish as something more intimate: even Jessica Jones herself thought so on the initial read. In an interview with "Gold Derby," Krysten Ritter admitted that, before the writers added in that piece of the backstory, she'd read Trish and Jessica as exes.
She said, "I actually couldn't tell if they maybe were lovers at one point, just because their relationship was so dynamic and complex and so real and so alive, that I just felt like there had to be more there."
---
As always, the clock's set: you've got 48 hours to cast your ballot in this round of March Madness. We'll be back on Wednesday to unveil all the teams that have made it to the Round of 32.
---
Oops! We could not locate your form.