Hi you guys! Jess has entrusted me with this week's Music Fix while she goes off and interviews guitar gods for your reading pleasure. So now that I've got free reign, let's talk about Miley! And other musicians, too — with a little help from my friends.
LINDSAY LOHAN'S LESBIAN SONG "STUCK"
First off, Lindsay Lohan, the pop superstar behind the legendary single "Rumors," has released a new single, inexplicably available on Perez Hilton's website. We are 100% positive it's about Samantha Ronson. I mean, just listen to it! You'll see!
To prove our point, we've transcribed the lyrics and provided our own commentary, because let's be honest, we didn't have anything better to do on a Monday.
I wasn't looking [for a girlfriend] but I found you [Samantha Ronson]
I wasn't ready [to come out as bisexual] but you [and Perez Fucking Hilton] got me anyway
I wasn't looking but I had to
And now it seems like I can never look away [b/c everyone is obsessed with us, like the people writing this analysis on an otherwise respectable website, and I am sometimes a little emotionally unstable and vulnerable to public emotional outbursts, which TMZ la-la-la loves]
Final Notes on Verse #1: Obvs, this part is self explanatory, she was blindsided by her lesbian tendencies.
I'm going down, down, down [on your vadge, cunnilingus y'all]
I am not myself when you're around, 'round, 'round
No matter what I do, it's too fast, too slow [but I'm learning and now can basically make you climax every time]
This won't last, but I should go
But I can't help it, I can't
Final Notes on Verse #2: "I'm not myself when you're around" either references that Sam helped get her off drugs or that now she goes crazy when Sam is around. Other possible interpretations include "generic line included in most songs about rocky relationships, just pulled it out of someone else's ass." The last two lines can be loosely translated to mean, "I'm saying I don't think it will last so that you don't listen to this and freak out about committment."
I am stuck, stuck, stuck
I can try to run [like in an SUV on the LA freeway] but I am out of luck, luck, luck
Doesn't matter where I go I feel stuck
Sticky fingers, sticky hands, sticky [from lesbian fingerblasting!]
Oh I am stuck stuck stuck
And I ain't going, I'm stuck [on your giant fingers of love]
Final Notes on Verse #3: Fingerblasting is fun!

I didn't listen, but I heard you ['cause you're a DJ]
I wasn't there, and yet you swept me off my feet [which is good 'cause I sometimes have trouble walking with all these cameras in my face]
And there is no one I can turn to ['cause my Dad is an asshole and my friends can be douchebags]
Yeah I can run but you have got me on repeat ['cause we keep getting back together b/c our love is so deep & cute]

Final Notes on Verse #4: Why can't I back up off you, why can't I let you live?
I'm not ok, 'k 'k [not being your girlfriend]
Once again my heart got in the way, way, way [and I did some crazy shit that pissed you off, allegedly]
No matter what I do it's too wrong, too right
Try to reason [on twitter], try to fight [in public and on twitter]
But I can't help it [being in love with you], I can't
I am stuck, stuck, stuck
I can try to run but I am out of luck, luck, luck [and also can't afford another moving violation or court date]
Doesn't matter where I go, I feel stuck [on you]
Sticky fingers, sticky hands, sticky
Oh, I am stuck, stuck stuck
Oh oh oh, I'm still stuck
Final Notes: Lindsay & Sam are in love forever and um… we actually like this song? LILO&SAMRO FOREVER.
A'ight. Fangirls out.
LADY GAGA:

Lady Gaga grows up: A fascinating new New York Magazine story traces the history of Gaga with new insights on the construction of the Gaga image. We asked our in-house Gaga expert, Stef (our amazing music contributing editor who booked the one and only Lady DJ Starlight for our Rodeo Disco Party last year) for her take on the article:

It just made me remember how she and Starlight would show up for load-in wearing outfits that were not a far cry from what she'd actually wear onstage, and how nobody ever called her by a real first name, as one would a drag queen. She was completely gracious and sweet, but never broke character at ALL. The last time I booked her, she brought a camera crew, otsensibly to show her label what she was all about. She was the opener for a three-band show, so that much fanfare was a little unusual… I liked booking her not only because of her music, but because she was super enthusiastic and could be counted on to draw about 10-15 kids, which was all one could really ask for. This particular night, the bands shared a dressing room and we all hung out in there all night.. She got wasted and spilled red wine all over her disco ball, then almost left the club without getting paid — I caught her just as she was climbing into a cab, and we leaned up against the front of a poorly lit building and exchanged cash like we were doing a drug deal, then she gave me a sloppy hug and took off  for the afterparty. The first time I saw her play, I loved her immediately, and it's been amazing to see what she's grown into.
In other Gaga news, check out this video of Paramore's Hayley Williams covering "Bad Romance." It's uncertain whether this was done in honour of Gaga's birthday.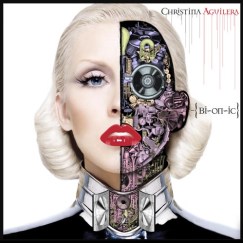 Christina Aguilera Premiers New Single, "Not Myself", Tonight
I have a feeling that Christina's upcoming album Bionic — which features collaborations with Le Tigre, Ladytron, Linda Perry, Sia & more — is going to blow us all away. We'll have a better idea with the official premiere of her debut single, "Not Myself Tonight." Visit ChristinaAguilera.com from 6 p.m. Eastern to hear the track in its entirety.
Sia Talks…
Electroqueer has done a great interview with Sia, in which she opens up about her new record, her expectations of live performance and giving everything of herself to her fans. She also gushes about Christina and JD, but maybe not JD's former dawg-like ways. Sia and Christina are dropping their albums on the same day, so put June 8 on your dance card. Some of Sia's new tracks can be heard here.
Melissa Auf der Maur Releases OOOM, Audiostraddle Prize Pack Winner Announced!
MAdM's new multimedia project, Out Of Our Minds, is released today! You can find out more about the project and where to buy it on the website. But it also means it's finally time to draw the winner of our MADM prize pack, so congrats Mike K! You're the new owner of an MAdM tshirt and the OOOM record & comic.
Stream New Album From Angus & Julia Stone
A lot of people are buzzing about Down The Way, the new release from Australian brother and sister duo Angus & Julia Stone. It's released in the US & Canada today, and so the good people at Spinner are letting us stream the entire thing.
Oh Uh Oh
Did you hear about that time Sony blocked video content on their own artist, Beyonce's, YouTube channel due to copyright infringement? Yeah, that really happened.
Macy Delivers The Sellout
After a 3 year absence, Macy Gray has announced her third album, The Sellout. Gray explains the title as "the story of how I found my salvation in just being myself instead of who other people thought I should be." It should be interesting, particularly with collaborators like T.I., Bobby Brown and Slash on board. You should be able to hear the record's first single, "Beauty In The World," here.
New From Robyn: Fembots Have Feelings Too
Swedish pop genius Robyn wants to tell you about her automatic booty applications in her new track "Fembot." The track is from an anticipated yet-to-be-titled album, which should have a mid-year release. Check it out on her website.
Dixie Chicks Release Gay-Themed Song
Martie Maguire and Emily Robison from the Dixie Chicks have written a new song titled "Ain't No Son," which is about a young man coming out to his judgmental father. It will be released in May on the debut record of their newly-formed side project, the Court Yard Hounds. Robinson told CMT, "'I turned the TV on, and it was A&E or one of those documentary kind of shows about these poor teenage kids who are devastated that their parents won't let 'em stay in the house because they found out they were gay… That idea, how can you have kids and love them so much and one day decide not to — it just boggled my mind.'"
Adam Lambert To Headline GLAAD Media Awards
The Advocate also reports that on April 17, Glambert will be belting out some songs from For Your Entertainment at the 21st Annual GLAAD Media Awards.
Carrie Brownstein Doesn't Have A New Band, SK Reunion Not Out Of The Question
Two week's ago Sleater-Kinney fans went wild with the news that Carrie Brownstein started a new band with Janet Weiss. Now she's set the record straight, telling Pitchfork that the reports were a little exaggerated. But an eventual SK reunion isn't out of the question. She also talks about her soon-to-be-released book and the film premiere of Some Days Are Better Than Others, in which she stars. Read the full interview here.
Second Album For The Dead Weather
Jack White and Alison Mosshart's collaboration The Dead Weather have announced that their sophomore record, Sea Of Cowards, will drop on May 10. Listen to the album's first single, "Die By The Drop," in a teaser of the music video, directed by The Runaway's creator Flora Sigismondi.
PSA: Last week I finally got to see The Dead Weather live in concert and have been shivering ever since. Mosshart on stage is a women possessed. The band's chemistry is truly something that needs to be seen. Get yourself to a show ASAP.
New Video: Usher & Nicky Get Freaky
Usher has partnered up with everyone's favourite bisexual rapper Nicki Minaj for "Little Freak," a track from the upcoming record Raymond v. Raymond. Here's the extended version of the video. It takes a minute to warm up, but when it does, it's hot sex just like his new scent.
+
Tegan & Sara Release Alligator. 17 Times.
If you're a fan of the Tegan & Sara hit "Alligator," don't forget that as of today you can purchase The Alligator LP and download 17 different remixes! YES 17 OF THEM! Did you buy it? I did, let's talk about it. Also keep an eye out this Friday, 'cause AOL Music & Spinner will be debuting the new music video for Alligator – the Passion Pit remix – and dancing has been guaranteed.
She's Just Bein' Miley
Miley Cyrus' upcoming record, I Can't Be Tamed, will be her last one! Forever! Citing the cruelness of the recording industry as a motivator, Miley told E! that she's quitting music and will now be focusing solely on her film career. I report this with mixed emotions. I used to enjoy Miley when she was just a young bright-eyed kid chasing after Hilary Duff's dream. Then she discovered free speech & stripper poles, and well, maybe a new leaf isn't a bad idea.
RIP Jim Marshall
In not-so-recent news, photographer Jim Marshall passed away last week, leaving behind a legacy of some of the world's most vivid & iconic rock 'n roll shots. His rock star subjects ranged from Jimi Hendrix, Janis Joplin and Jim Morrison, to modern artists like Mayer and Kravitz.