Two years ago, when I first met the artist we know today as Lady Gaga, she was a dark-haired sweetheart in stripper heels who was hustling for a gig in New York City.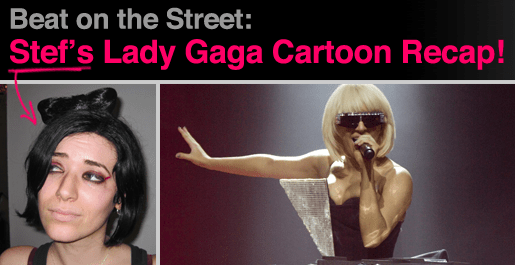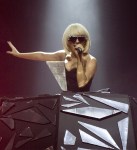 The production company I was working for at the time had booked her to open a show, and they sent me to cover it because they knew I was into pop, glam rock and other unsavoury things. That first night at the Knitting Factory, I watched this super-confident, glittery bikini-clad stranger flawlessly execute one total pop gem after another, winningly pounding the keys with her adorable partner in crime, DJ Lady Starlight. Her stage presence was — then as in now — incredible. She was totally magnetic, and totally weird. It was obvious that all this kid needed was a budget, and she could take over the world.
When she stepped off stage, disco ball in hand, I grabbed her arm and begged her to release an album as soon as possible. She smiled, thanked me, and promised she was working on it. And she did. And that record, The Fame, has uhh… well, it's done better than we all expected. It's shattered records across the globe and proved that it's still possible to create pop art and move records in this graveyard of a music industry.  Saturday night's sold out homecoming gig at Terminal 5 proved that regardless of the hype, this girl's onto something, and New York City is damn proud of her. There was no way I could miss it.

Remember when A;ex saw Lady Gaga at Dinah Shore and came away claiming that Lady Gaga was her #1 feeling?  That's exactly how I felt after this show. All my friends who've tired of listening to my frequent Gaga Gospel preaching are gonna be especially sick of me now, 'cause this show has officially replaced the Spice Girls reunion tour as The Gayest Thing I Have Ever Seen. The only viable option is for me to cartoon recap it – for the good of the people!

I arrived around 4:30 to see an endless line stretched across the street and down the next block, composed entirely of kids in wigs and sunglasses hoping to catch a glimpse of Inspector Gadget herself.
I'm impressed that Gaga has inspired so many kids to dress … um … basically exactly like her! Which works … if you have a body like hers. But um. Hm. Well. In any event, there were so many wigs and sunglasses around Terminal 5 that 55th Street looked like a JT LeRoy convention.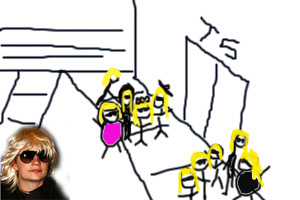 When I got inside, ready to count in merch (not gonna lie, I was supposed to be working during about 99% of this show), Gaga was onstage, soundchecking a brand new song on her bubble piano, singing to a huge white statue of a man that probably didn't need to be on stage for soundcheck alone. Um, also, she was wearing this: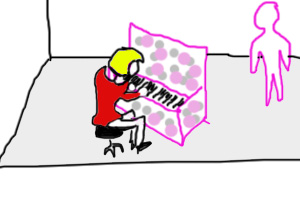 I incorrectly assumed that she was wearing one of the stage outfits from the show, but in Gaga World a cherry-red minidress with Judy Jetson-esque shoulderpads is what you wear when you're just hanging out before a gig.  This was vital information.
After she got off stage, we chatted for a bit, mostly in sentences that began and ended with "OMG GIRRRRRLLL!"  We caught up quickly, as we both had work to do before the club opened its doors to the thousands of kids streaming down 56th Street.  Gaga's the same sweet, slightly loopy kid she was in 2007 – gracious, charming, and totally batshit crazy. We made plans to talk more after the show, but I knew she'd be busy and I was likely to miss her… Until next time, you adorable weirdo.
I want the world to know that she really drinks tea out of that teacup.  Also, she's a total darling.
Team Gaga sold a lot of things at the merch booth. Here is but a sampling of those things:
I wanted to buy a hair bow for Tinkerbell, but they were 35 freakin' dollars each.  Her merch girl did let me try one on: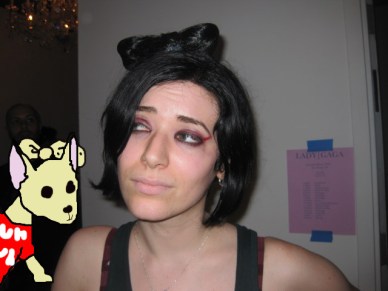 I'm sold.
As the club's doors opened to the public and throngs of glittery, giddy teenagers came streaming into the building, I went down the hall to get cell reception. Suddenly my ears alerted me to the presence of something very familiar – Haviland Stillwell's legendary Cyndi Lauper impression.
But um, BE STILL MY HEART! It wasn't a 2008 flashback but rather Cyndi Lauper herself, headed upstairs to VIP. Night=made.
There were a lot of celebrities in house – Debbie Harry from Blondie, Christian Siriano, Kanye West (allegedly), you know, the usual.  This show was an EVENT.
So! The show!
I took really careful notes. I will try to explain this experience as though you haven't seen it, and maybe if you have seen it, you'll appreciate the cartoons. Let me start out by saying that Ms. Stefani Joanne Angelina de la Pica Morales Germanotta puts on a hell of a show.
The show began with a bunch of images and videos projected onto a giant screen – but if you weren't directly in front of said screen, you could actually see Gaga psyching herself up at the very back of the stage.  She was air punching and dancing wildly, like Rocky sans pants.  It was magical.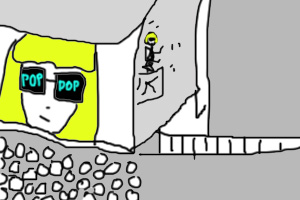 Say what you want about this woman — she sings her heart out live and dances like a maniac, and her stage show is worth every penny she's put into it.
Then the screen fell and the show opened with a burst of smoke and the sweet sounds of "Paparazzi." Gaga emerged with a swirling team of dancers all wielding jagged scenery and video screens. It was like the gayest elementary school play in all the land. Say what you want about this woman — she sings her heart out live and dances like a maniac, and her stage show is worth every penny she's put into it.
"LoveGame" followed, and the crowd wielded their surprisingly functional home-made disco sticks loyally.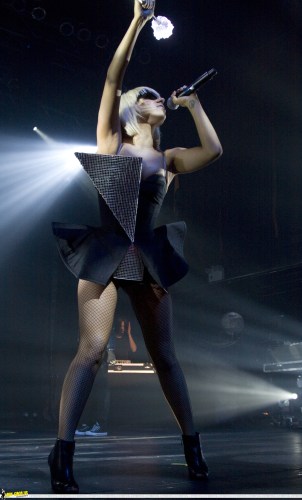 "My name is Lady Gaga, and I've got no money, cause I spend every dollar I make on my show," announced our heroine as she swung into the opening chords of "Beautiful Dirty Rich."  Just as the song ended, she disappeared into her own set design, leaving behind only a flashing video screen and a thumping beat. Before our senses could fully recover, she re-appeared in a completely different outfit, ROLLING OUT ON A VESPA for spirited renditions of "The Fame," "Money Honey" and "Eh, Eh."
"I've traveled the world, and I had to travel the world three times before people would play my music!" she told us. "People would tell me I was doing really well, but I didn't believe it until tonight. The only time I've ever been in a venue like this… well, I was probably puking on myself."  Bless you, child.
Gaga excused herself for yet another costume change, but said she'd leave us in the company of Nicodemus, the newest addition to the Haus of Gaga.  I expected her to bust out some crazy Rats of NIMH shit, but Nicodemus turned out to be that man statue from soundcheck, which I knew meant that it was now BUBBLE PIANO TIME.
We were treated to Gaga's ridonkulous piano version of "Pokerface," as well as a new song called "Future Love," which is about constellations and planets and includes the lyric: "Won't you be my future man? / I want to fuck you as hard as I can."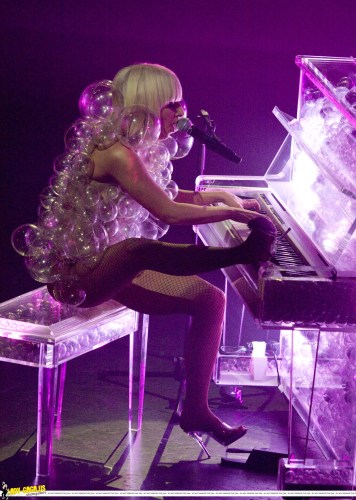 It's around this point that we discovered that the hi-lighter-yellow leggings up in VIP belonged to the legs of none other than Lourdes Leon, and the blonde behind dear Lourdes was her less-fashionable mother, Madonna. Sources near them told me later that Madonna looked totally irritated during the dance songs, but once the piano business started up she seemed to calm down and enjoy herself. Competition: you has it.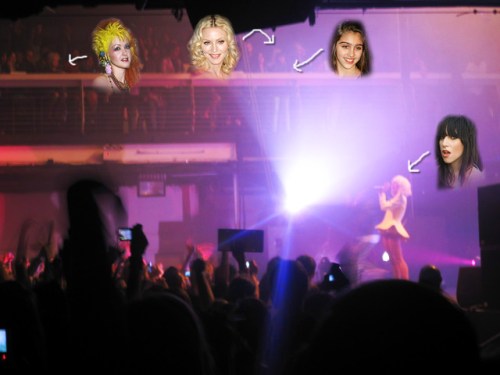 Obvs the night could not end without another costume change (a greenish minidress similar to her bizarre pre-show loungewear) and her huge hit single "Just Dance," followed swiftly by "Boys Boys Boys."  Not gay enough for you?  Don't you worry! For her encore, Gaga changed into a flesh-toned sparkly bodysuit with matching captain's hat and marched right back on stage for the full-on dance version of "Pokerface."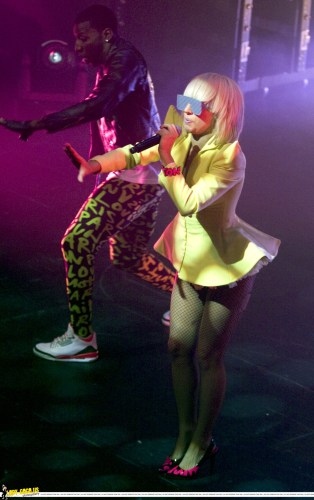 Up in VIP, Lourdes danced like only a 12-year-old can and Cyndi Lauper clapped and cheered. Down in the arena with the proletariat, 3,000 weirdos lost their wigs due to a dance explosion and yes — for one brief moment, the world was a better place.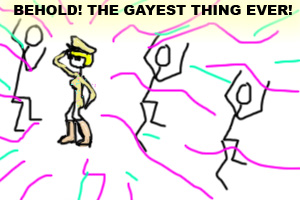 After the show, I ran into Lady Starlight (Gaga's old DJ) on the stairs. We spoke briefly about how huge Gaga's gotten and how amazed we were by the crowd. "If only all our talented friends could make it like this," she said incredulously. Amen.
And then it was over, and it was time for a lot of drunk 14-year-olds to stumble home, wash the lightning bolts off their faces and make up stories to tell their moms and dads about what they'd been up to that night. Madonna left with Lourdes, probably scheming a thousand new ways to make herself more relevant to kids her daughter's age. As for me, I left feeling completely optimistic – if Lady Gaga can continue to succeed on her own terms and create strange and wonderful things on such a grand scale, then … well … perhaps there's hope for pop music after all.