SUPREME COURT:
A CBS News poll from this week shows that a majority of Americans would be ok with a gay person serving on the US Supreme Court. Have a gander: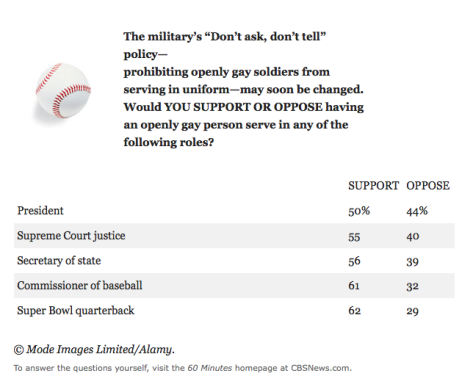 Look we're sure this is a super scientific random sample, but 309 million people live in the United States. 136.6 million people voted in the 2008 elections. And this poll, conducted by CBS News/Vanity Fair, polled a random sample of 967 adults nationwide, and Vanity Fair sports an occasionally economically conservative, yet consistently socially liberal, audience. [Full disclosure: My Statistics 350 lecture was really early in the morning so I usually slept through it and eventually I took the class pass/fail to avoid my inevitable GPA-tarnishing C.]
Yet somehow these results are making inevitable headlines via the AP, Reuters and etc. Some more nuanced responses:
+ Mediaite: While it's not the majority, 50% is a pretty high number. So should we celebrate this as a big win for civil rights in America? Well, maybe not. A CNN/Opinion Research Corporation poll recently asked Americans the question "Do you personally think that homosexual relationships between consenting adults is morally wrong, or not a moral issue?wp_postsand 48% answered "Morally Wrong". At first glance, it might seem like a shift in opinion. However, the CNN poll was held only two weeks before the Vanity Fair one (February 12-15 compared to February 26-March 1) and that would be a pretty big shift in the normally glacial-speed progression of civil rights.
+ New York Mag: "If Obama gets another chance to put someone on the court (and it looks like he will), he may very well feel more free to pick a more controversial nominee… Of course, the opinion of the majority of people and the opinion that gets most frequently covered by the media aren't always the same thing. And Christian and far-right-wing so-called "family" groups are sure to go ballistic if there is a real viable gay candidate being considered, drowning out moderates with the volume of their complaints."
+ Queerty: "There is a rumor going around — okay, it's actually the results of a poll — that some 50 percent of Americans would support an openly gay president. What this poll does not say is whether half of Americans would support an openly gay presidential candidate, during his campaign, because we really freakin' doubt that. And compare that stat to the same poll concluding 62 percent of Americans saying they'd support an openly gay NFL quarterback, and we begin wondering aloud about whether Americans understand what the term "job qualifications" means."
Hey maybe that'll be me one day! JK, that sounds really stressful, and I'll still be in law school when Obama's first term ends. But anyway, I'd love to see a gay justice! Also, the Prop 8 trial might wind up in front of the Court in the next few years, which could make this a hot-button issue.
CHURCH SCANDAL:
Bill Donohue: the Catholic Church's problem is about homosexuality: "The Catholic League, always ready to gay-bait along with this Pontiff, has placed an ad in the NYT that makes it clear that if you're gay, you're to blame for the criminal sexual behavior by priests, not Benedict and his pals who shuttled the pedophiles around the globe so they could molest and rape other children. " (@phb)
MITRICE:
Search efforts for Mitrice Richardson are being renewed in downtown LA. Richardson disappeared after being released from a Los Angeles police station in September. Police have tracked numerous reported sitings of Richardson, and some church volunteers are now searching LA's skid row for any signs of the missing woman. (@latimes)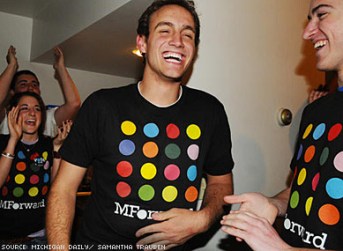 MICHIGAN:
The University of Michigan has elected its first gay student body president, Chris Armstrong. Look how happy he is! It's because he's gay, but also probably because he won. (@advocate)
APPOINTMENTS:
Obama has decided to make some recess appointments while Congress is away. Among his first picks was Chai Feldblum, a lesbian activist and Georgetown University Law Professor. She will serve as commissioner of the Equal Employment Opportunity Commission. (@passport)
JON STEWART ON HEALTH CARE:
If you, like us, tuned in last Monday eagerly to see what Jon Stewart had to say about health care then you, like us, perhaps freaked out when it was a rerun. Well luckily he is back this week ready to tear everyone a new asshole, which if they are under 26, is now covered under their parents' policy.
EX-GAYS
In Defense of Ex-Gays: The People, Not the Predators: We point to scientific and empirical evidence to explain why we are a certain sexual orientation or gender identity. But that's not why we deserve protection in the workplace — we deserve it because nobody's job should be at risk simply because of who they choose to love. And that includes ex-gays. (@queerty)
SARAH PALIN:
Sarah Palin has finally crossed Elisabeth Hasselbeck's line of what she considers acceptable political ad campaigning. (@examiner)