A NEW ERA: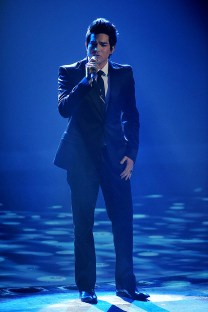 A few months ago, Out magazine complained that because of Out's Big Gay Agenda, Adam Lambert had allegedly been difficult & cagey about his photoshoot and interview for the Out 100. Lambert disputed the account, and it seems particularly absurd in retrospect: though Lambert admits he's not up on gay issues enough to speak confidently about gay rights in interviews, he definitely hasn't shied away from his gay identity. And now Lambert has signed on to perform at the 2010 GLAAD Awards. Straight allies have lovingly attended and been honored at the GLAAD Awards for years (to a fault), but never has a star with so much mainstream appeal as Adam Lambert been at our disposal. Yet despite his apparent comfort with his sexuality, GLAAD's announcement somehow surprised us.
Is it because we're gay media and therefore often dealing with the paradox of gay artists canceling interviews and straight artists eager for gay coverage that we're surprised by such big-name gay affiliation? Is it the times that have changed, or did we just get lucky that so many chart-toppers happen to be homos this year?
Though President Obama's scheduled spot at the HRC Dinner was surprising, Lady Gaga's appointment and eager participation was somehow even moreso. Lady Gaga, presently (arguably) the most talked-about/popular new musical artist in the world, was eager to perform at our gay rights event!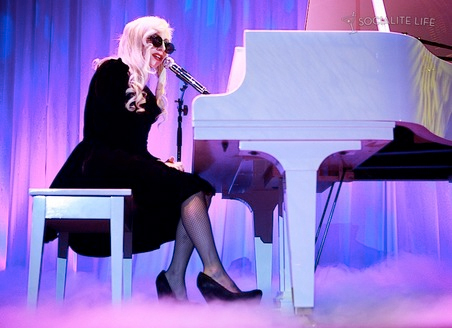 And it was only a year ago that Lady Gaga, an out bisexual, headlined Club Skirts' legendary Dinah Shore Weekend, and this year's program is headed up by the inexplicably popular and apparently bisexual Ke$ha, who is more popular now than she has ever been (and likely ever will be) with two singles on the Billboard Hot 100 and the longest running number-one debut single by a female artist since 1977. It's one thing to say you're bisexual and quite another to posit yourself on stage at Lesbian Spring Break! And she's doing another gay event the next week!
A few blocks down, Girlbar's Dinah Shore Weekend party has roped the elusive DJ Samantha Ronson, who's been out since the get-go but has essentially stayed away from gay politics and gay events.
We've always had popular queer musicians headlining our events, but not until recently have we snagged performers equally in demand by mainstream audiences/events.
And it trickles down; the "edge" and cool factor given to an event when it's gay-affiliated has made even vacations and cruises totally acceptable — in fact awesome — venues for gay artists to book a gig. Because I mean really how punk rock is the chocolate buffet on the Norwegian Sunrise? But queer takeovers provide crucial edge.
Mostly we just are hoping that Adam and Tommy will make out again onstage at the GLAAD awards and then get awarded immediately as like, Makeout Vanguard Bandits.
MARLEE MATLIN:
Marlee Matlin Tweeted from the Nickelodeon Kids' Choice Awards on Saturday, "I am so glad I'm DEAF! Every time they mention Justin Bieber or Taylor Lautner, 10,000 girls SCREAM here at Nickeodeon's KCA … OMG they just slimed Katy Perry! Now Justin Bieber, Miley Cyrus here at KCA. They are screaming so loud even I CAN HEAR IT!"
THE CLOSET:
In response to Ricky Martin coming out yesterday (I'm just FLOORED by that information. Really.), Gawker put up a list of the 10 People Who Need to Finally Come Out of the Closet, already! Most queers will already know this list by heart, with the exception of Kevin Spacey, though it might come as a surprise to the strais. (@gawker)
AUTONATIC:
Our dearest Natalie Garcia is gonna joining We Have to Stop Now, the websirees starring Cathy DeBouno and Jill Bennett:
Nat will be here on www.wehavetostopnow.tv LIVE conducting interviews in our members only section of the site with such folks as Suzanne Westenhoefer, Meredith Baxter and other contributing artists of the show including the creator, actors & musicians featured in the episodes and on the site.
Also, her show will debut on Autostraddle soon! We're having a meeting tomorrow!
RICKY MARTIN:
GLAAD is happy that Ricky Martin came out: "When someone like Ricky Martin comes out, hundreds of millions of people now have a cultural connection with an artist, a celebrity and, perhaps most importantly, a father who happens to be gay,wp_postsBarrios said. "His decision to model this kind of openness and honesty can lead to greater acceptance for countless gay people in U.S., in Latin America and worldwide."
KE$HA:
How Ke$ha divides the masses: Saturday Night Live skit gone too far, or amazing performer/superstar? (@jezebel)
WRESTLER:
Monday, the cat is out of the bag, so to speak: Pro Wrestling's first openly bisexual wrestler hits the air: "Orlando Jordan is the character – and truly is bisexual, not just portraying a gay (or bi) character, as has been the norm in pro wrestling's past. Jordan made his debut for TNA Wrestling on Jan. 4, with no hint that night of his sexuality. He walked to the ring for a February match accompanied by a male and a female." (@outsports)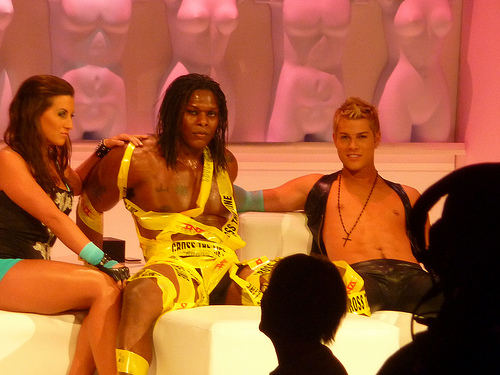 TILA TEQUILA:
What the fuck is happening to Tila Tequila? She goes to the grocery story all practically naked and shit, it's like our bad dream is her chosen reality. (@ontd)
NICKI MINAJ:
bisexuals DJ Amber Rose & Nicki Minaj shot a video together. Meanwhile, Clutch Magazine writes The Deformation of Nicki Minaj: Why Black Women Are No Longer Enough for Hip Hop:
The vacancy of female rap artists have made such an astounding impact on the hip-hop generation that the emergence of someone like Minaj presents a peculiar mix of unpreparedness and prediction. Minaj isn't merely a Lil' Kim clone, she is the 21st century inheritance of post-modern branding, technological advancement and hip-hop male desire. In a music genre where authenticity is everything, Minaj's (and camp) diligent attempts at packaging a distinct female hip-hop presentation with borrowed Barbie nuances and a rehearsed dialect in tow raises questions around the Minaj underneath it all.
BAD ROMANCE:
Jordan Catalano covers Bad Romance. It's not about his car this time. (@buzzfeed)