Adulthood is so hard! Some days it feels like feeding all your hopes and dreams through a paper shredder. You do the best you can, but that machine never fucking seems to jam; sometimes the only thing left for you to do is cry. When that time comes for you, my advice is to embrace it fully. I do! I mean, not to brag, but I've probably cried more tears in the past year than some people manage to eke out in their entire lives. I think of myself as Kanye and Jay Z's weepy counterpart: I bawl so hard muhfuckas wanna fine me.* And once I'm done human typhooning, I do my best to move past it as quickly as possible.
I've really come into my own on this subject in the past few months, so today I thought I'd share some practical, hard-won tips. Here's how to look like you weren't just crying.
---
Pre-Cry
Eyeliner
Liquid eyeliner is a Regina George-level frenemy when it comes to crying. It stays in place at the start of your cry, complementing your outfit and making you feel like one of those rare pretty criers. This is a lie; you're an indecorous snot bucket just like the rest of us. Once you start rubbing your eyes, this bitch will always flake, in truly weird and insidious ways.
"If I know my face is going to get wet, I always go with gel liner… and God," said Contributing Editor KaeLyn when I polled the team. "Long-lasting gel liner tends to not show signs of crying as much as liquid liner." I agree! 
You can reduce smudginess by waterlining the upper inner rims of your lids only (like Ingrid Nilsen does here), putting the pigment in a place that's typically less disturbed by eye rubbing. I also like to do the outer bottom corners, although that area does smudge a bit.
If you're really doing a lot of crying, your best bet is to give up on crisp lines altogether. My approach here is to tightline the outer corners of my eye using a dark brown eyeshadow. I use a flat, angled brush dipped in eyeshadow transformer (sometimes called liner sealer) to get a darker color and give it staying power. Because the initial look is sort of soft, it's not obvious when you fuck it up by rubbing at it; it just gets a little softer looking. Post-cry, all you need is a tissue, a mirror, and two seconds to clean up any shadow that has migrated too far. Concentrate on your undereye and outer corners.
Eyelashes
Did you know that clear mascara is a thing? It is! My lashes are super short, so it doesn't really do much for me. But if you have longer lashes than me, that little curl-holding boost might be just the thing to keep you from looking like someone tapped a cigarette butt across your eyelids.
If you're going to use colored mascara, choose carefully. For obvious reasons, waterproof mascara is better than regular. Some brands hold up better than others. However, in my experience, even the best waterproof mascara washes away eventually. It might hold through a light drizzle of face rain, but if you're in the midst of monsoon season, you need some heavy duty equipment. Enter false lashes.
Inarguably, the absolute best looking false lashes are the ones where you pay a technician to painstakingly glue individual lashes on top of your existing lashes. Application takes about an hour, but the lashes stay put for three whole weeks. And the best part is, you can cry every single day and they won't budge! I've had great experiences with salons certified by Xtreme or NovaLash — however, these are luxury brand lashes and are priced accordingly ($100+ for initial application, $50+ for refills). I'd consider applying these for, say, a wedding I want to look really hot at and know there will be lots of pictures of. But I find salon applied lashes way too expensive to justify as an ongoing beauty expense.
The next best thing is to apply your own false lashes. My advice here is to stay away from strip lashes (unless you want a vampy drag queen look, in which case, bless you) and instead go for the ones labeled "individual" or "flare." Because they're in small clusters, you can match the actual shape of your eye and get a more natural look.
Warning: there is a steep learning curve to applying false lashes. I recommend that you start small. Think date night where you're mostly in the dark anyway, and your partner has casually suggested that you watch Buffy season 7, for example. (I will never not be crying about Anya's death, you guys. Unforgivable.)
Primers and Setting Sprays
Have them? Use them! This is what these products exist for. I've had good luck with e.l.f. Makeup Mist & Set and Smashbox Photo Finish.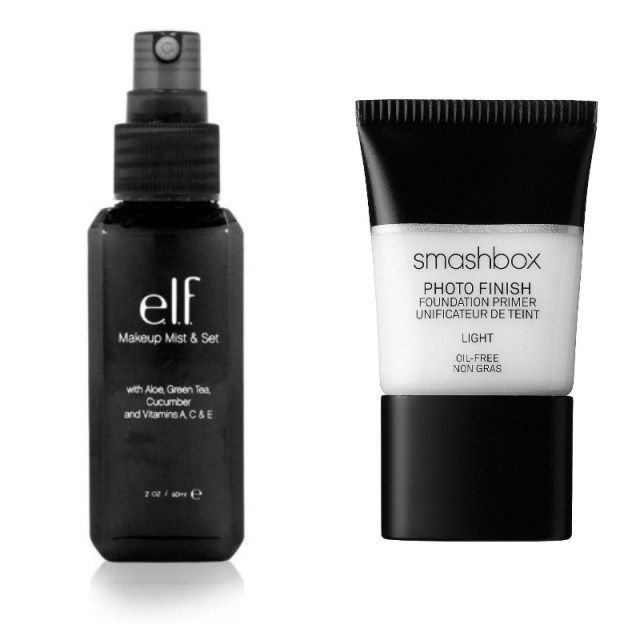 ---
Post-Cry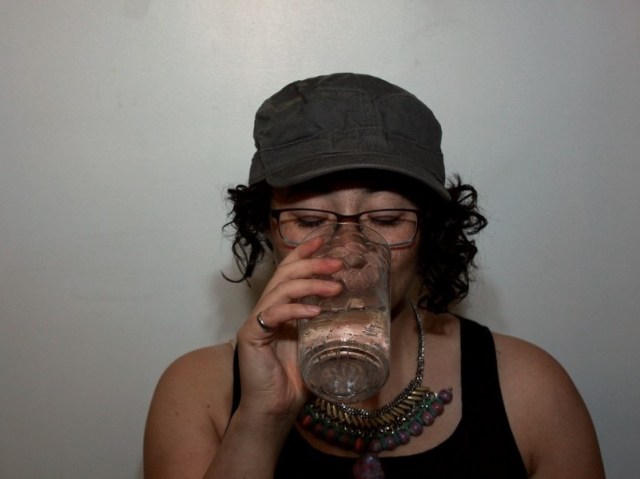 Hydration and Hats
Number one tip: drink some water! This is good both for rehydration purposes and putting something between your blotchy, tear-stained face and the rest of the world.
Number two tip: while you're gulping water, try to think of some other ways you can nonchalantly obscure and distract from your face. Do you have a hat? A busy necklace? Some sort of casual headscarf situation? Put them on, friend. The more accessories between you and the rest of the world, the better.
Riese's favorite tip: "Glasses! Not necessarily even sunglasses. Regular glasses even if they aren't prescription, just glasses that look like prescription glasses. This is my go-to. It's harder to see your eyes, so if you have on a bunch of concealer, do a heavy smoky-eye eyeliner, and put on glasses, you're in good shape."
Tylenol
Sometimes the best thing you can do is to try to be fully present, acknowledging the emotions you're feeling and emotionally processing the reasons why. This is rarely my impulse! When I feel feelings, seven times out of 10 I want to check the fuck out of the situation to deal with it at a later time. Drugs don't solve problems, but sometimes they can be used responsibly to forge a tiny bit of respite from the hellscape that is your life! Speaking of which, did you know that Tylenol dulls not only physical pain, but also emotional? It's true! Unlike ibuprofen, there are no anti-inflammatory properties, but the active ingredient, acetomenaphin, does prevent and address headaches. Just remember not to take it if you're drinking.
Facial Exercises
You know how when you cry, you tense up all the muscles in your face? If you keep holding your face all rigid afterwards, people tend to notice and lob well-meaning but ineffectual questions your way, like, "Were you just crying?" and "Hey, are you okay?"
Yes. I'm okay. We are all okay.
To get your face out of freeze frame, I recommend facial exercises. They get your muscles moving, and also, they're straight up hilarious. Maybe you can even distract yourself into feeling better!
Cool Compresses
My lids swell like crazy when I cry, and sadly, I've never found anything that can reliably prevent puffiness in that area for me. But Carolyn and Lydia swear by the following: "Cold damp tea bags! Cold damp compress! Anything cold and damp you can apply while tilting your head upward, basically." Apply the compress directly over your eyes, recline on your fainting couch, and use your best fancy lady voice to ask for smelling salts. 
Eyedrops
You may think it doesn't make sense to add further liquids to your situation, but you are wrong. Bloodshot eyes are a dead giveaway that you've been crying, and eye drops mitigate that effect. Visine works almost immediately, and I cannot recommend it enough. Contact lens wearer and makeup guru Aja also recommends Blink 'n Clean for this purpose.
Argan Oil
Argan oil contains flavenoids with powerful anti-inflammatory properties. It's not an instant effect, but I swear to Yoncé, this shit works. I keep a tiny bottle of Josie Maran in my medicine cabinet and use it as part of my moisturizing routine, three drops applied by fingertip to the undereye area every morning and evening. I also keep a tiny bottle in my makeup bag and repeat the process in the event of a midday meltdown. It feels nice, it combats puffiness, and it keeps the skin at the outer corners of my eyes (where salt always seems to collect when I'm crying) from looking/feeling like wrinkled crepe paper.
Makeup Reapplication
I mean, you know how you like to do your own makeup. Follow the same principles we discussed in the "pre-cry" section and you're well on your way.
Also, don't let other people make you feel bad if they walk in on you reapplying makeup after crying! There's nothing to be embarrassed about. You're living hard and fucking up the system and being present and allowing yourself to experience the full, beautiful range of human emotions. OWN IT.
Other Tips
+ Yvonne says, "This might be dumb and not an actual tip but like, exuding confidence that you weren't just crying. Trying your hardest to pretend you just weren't crying. Usually if I think people think I was just crying, then my eyes just start to well up with tears again and then my nose runs and it's all downhill from there, because they know something's wrong and I don't want them to ask." Wise words!
+ Rachel also has the following advice for you: "If there's redness around the eyes or elsewhere, you might be better off using a corrective colored concealer (often green). It will probably do a better job — especially in a thin layer with a thin layer of normal concealer above it — at counteracting the redness than just trying to pack on a really thick layer of concealer the color of your skin."
+ From Aja: "A gentle pat-down with a makeup removing wipe can be a godsend when you can't redo your makeup but need to clean up a little mascara or add enough moisture back in to blend away actual tear tracks with your fingers. (I cry at movies a lot, you guys.) Plus, it's soothing. There's something soothing about patting a cool, clean-smelling thing against your little cryface."
+ If all else fails, Lydia suggests wearing this:
---
*"I don't even know what that means!" "No one knows what it means. But it's provocative. It gets the people going."