Well! What a doozie! I mean. Wow! JESUS CHRIST ON A CRACKER! I mean, what a FUCKING EPISODE, right?! Right guys?
Just kidding, did they make this episode just specifically to piss me off? (Sometimes I feel like Ilene Chaiken does that to me IN MY SLEEP!) Did they think "which storylines does Riese NOT GIVE TWO SHITS ABOUT, let's ONLY DO THOSE"? I mean. And then — and THEN! — "which plot device will, inevitably, still make her eyes water, and which songs will make her heart sing, so that she feels conflicted about wasting this precious time so close to Nationals?" well if that's what they thought then they're wrong. I'm not conflicted.
I found this Getty Stock Image that best explains how this episode made me feel: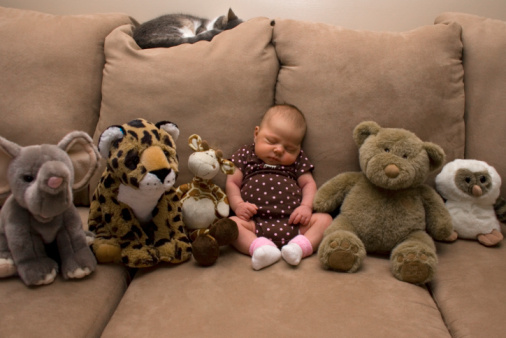 The good news is that my intern, her name is Grace or "Intern Grace" for short, really handled my Devil Wears American Apparel graphic-related demands this week with aplomb. Did you know that Sue Sylvester walking down the hallway looks just like Frankie walking down the hallway?
+
Did you know that Sue Sylvester sometimes looks like Bette?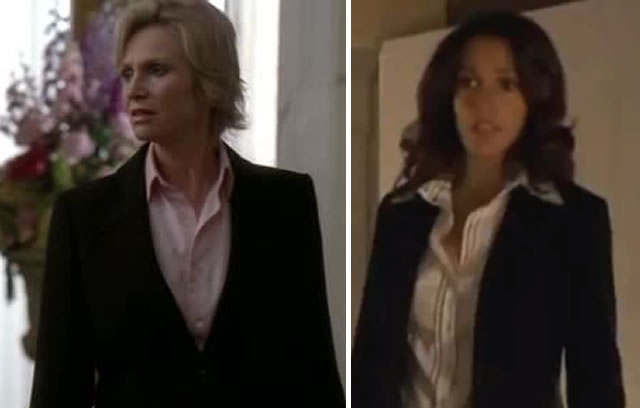 The more you know!

So, the show! Actually before I begin I want to say that it's really late on Thursday, I've been in flight all day, am currently in Michigan a mere 3 hrs away from the Lima, Ohio Cracker Barrel, and wordpress just erased 30 minutes of work on this thing just for funsies! So I'm sorry if it's not funny.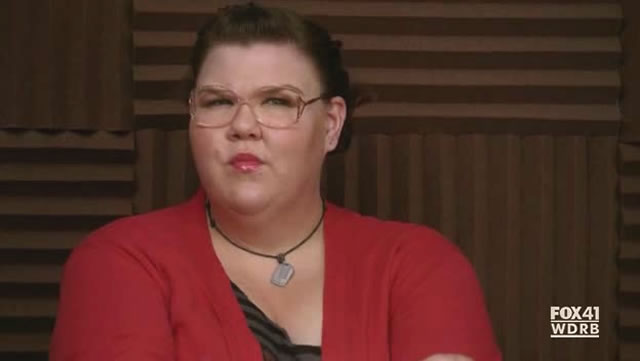 It's another morning in Lima Ohio where Mr. Shu has mixed up his weekly ritual of writing on a whiteboard and then underlining it by writing the word on the whiteboard BEFORE the children arrive and NOT underlining it! This week, the word is "NATIONALS."
Will opens by informing the children that Jesse St. James, once again wearing a homosexual outfit, has been added to Glee Club as a "consultant." Because you know, for weeks everyone in Glee's been sitting at home in the darkness binging on tater tots, drinking wine coolers and crying WHY DON'T WE HAVE A CONSULTANT IF ONLY WE HAD A CONSULTANT WE COULD WIN NATIONALS WHERE IS OUR GOLDEN CONSULTANT.
Regardless, clearly McKinley High is so fond of inexplicable plot devices that the kid from the other school who fucked Glee at nationals last year and got into a fist-fight at prom last week is now on payroll.
How does The Glee Club feel about this last-minute addition to their "team"?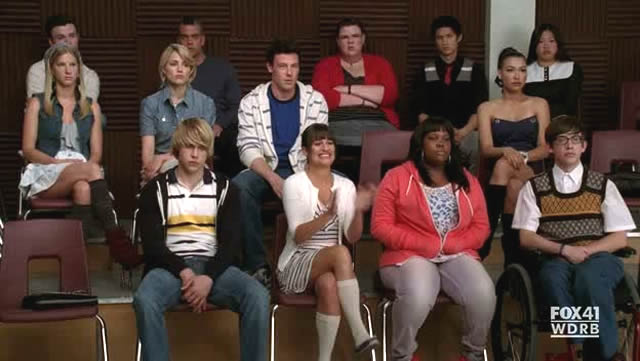 Jesse's big idea is that they should center the show around their strongest performer, and everyone knows it's Blaine. Just kidding it's Rachel. Just kidding there's a sign-up sheet on the door. Just kidding obviously it's gonna be rigged because Jesse is dumb/evil.

Sue wants to fly the Glee Club to Libya so they'll be swarmed and murdered by militants, and also, she fired Becky, and now Becky wants to be in Glee and Will says no, she can't, because Nationals is coming up and they just can't deal with a new member right now.
I'm pretty sure Will is gonna let Becky in anyhow and I'm mentally preparing myself for the "people with Downs Syndrome can sing too!" episode which undoubtedly would end with Becky covering We R Who We R backed by a 50-piece orchestra and Cirque du Soleil trapeeze artists.
Which — to be fair — would've been AWESOME.
Then Becky says, "I just want to belong," which I mean. Crack my heart open with a screwdriver.
But Will stands his ground. Hm. Well played, Will. Well played.
(What's the purpose of this scene, then? It must be relevant to a future scene which will undoubtedly irritate the fuck out of me.)

Will goes to yell at Sue about firing Becky.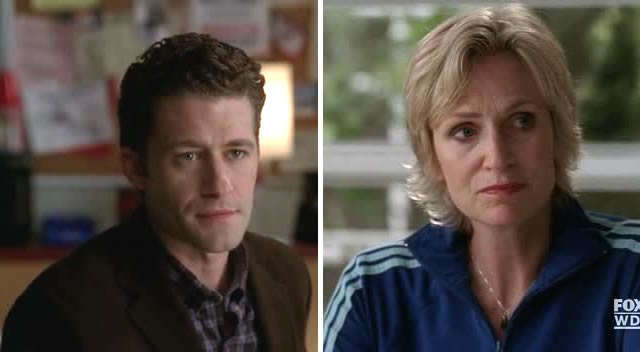 Turns out Sue fired Becky because Becky reminded Sue of her sister and Sue's sister died. Womp Womp.

Here's the thing about teevee episodes involving the death of an immediate family member — a sibling, a parent, a child — if you're one of the people, as I am, who's lost a parent/sibling/child, the episode is always about you. Grief actually isn't that complicated, and television generally does it about as awkwardly as we do it ourselves, though more contained, sometimes. But all that benign grief is there at the surface, you know? Bette's Dad was my dad. So was Dawson Leary's Dad, and Miranda's Mom, and Nate/David/Claire Fisher's Dad…. it actually doesn't even need to be good to make you feel sad!
But also — I came here for Brittana.

So are you following? So far the girl with Downs Syndrome has been fired by Sue Sylvester and summarily rejected from Glee Club. Finn has upset Quinn with his love for Rachel and Jesse has upset Finn with HIS love for Rachel, which manifests as Jesse ripping on Finn's singing/dancing skills. Then Sue's totally nice sister died. Will has been in like every scene so far. We even had to spend time in Will's bedroom looking at his clothing.
So basically everyone is sad or dead, including me.
Also, Finn has no confidence and won't audition for Glee and Jesse fucked up all of his confidence in ten seconds. Lesbians are so insecure, probably because people were assholes to us in high school.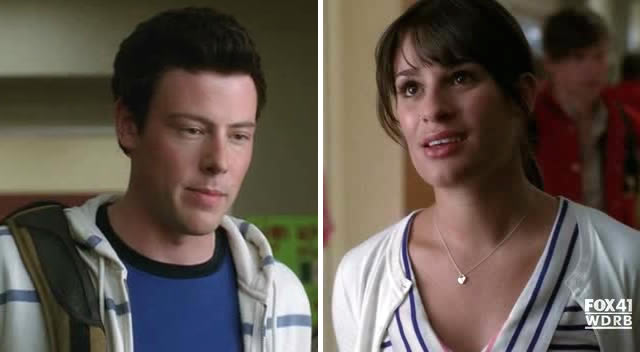 You know what Finn should do? He should put "at least mike chang can dance" on a white t-shirt, and go sing "Closer to Fine" on the stage while the rest of us eat our Jell-O and wonder why Brittany and Santana are not making out.

Also Finn and Kurt, aka Team Lesbigay, visit Sue to offer their Grieving Expertise or support or something. They're like little cub scouts, Kurt is the smart one and Finn is the one everyone wants to talk to.
Somewhere in here they get the idea to throw her a funeral, because both of them are, basically, big softies who love feelings. Sue Sylvester is the opposite of that. And opposites. Attract.
I gotta hand it to Jane Lynch this episode. Much like being waterboarded, it's not easy to play a ruthless semi-psychotic Darwinist bully trickster being in grief. But she does it. It's shocking at first 'cause Sue's always so dry — so that flat monotone is in full effect, but this time there's no snap at the end, just a dry dull sadness.
Sue: "So how do you think you can help me? Are you here to tell me how to deal with this?"
Kurt: "Not at all–"
Sue: "Because if I'm being honest with you, Eddie Munster and Herman Munster, I don't know how to deal with this. I can't go back into that nursing home and start sorting through Jene's things, and I won't plan a funeral. If you boys would really like to help me you might start by trying to explain to me why it was her time and not mine. She's the sweetest person I ever met. and as both of you can attest, i'm probably the meanest, so how come i'm still the one standing here talking to you?"
Jesus fucking Christ my eyes are watering again.


The Lost Boys return to Glee Club with grand plans for a … FUNERAL! Why would they wanna throw a funeral for that bitch Sue Sylvester, is the question. They argue that it's outside loyalty — they're not doing it for the "bitch", it's for the bitchin' sister.
The kids still seem a bit wary, considering the funeral will probably take up valuable time they could spend having conversations in their bedrooms while looking in the mirror. These kids love mirrors.
(Does Will still write lesson plans? Kinda feel like the kids are constantly running the show these days, with all of Rachel's announcements she oughta be promoted to Vice Principal or something.)
Jesse thinks throwing the funeral is a bad idea.
Jesse: Can I say something? When someone dies, yes, it's a tragedy, but it's also a part of life. And you can't let death put you life on hold. Now, I don't mean to be blunt, but I don't think you should be planning a funeral the same week you should be focusing on the set list for Nationals.
Finn: Seriously? You… you're serious?
Jesse: Actually, yes, I am. Do you know what Vocal Adrenaline is doing right now? They're in their third week of 24-hour-a-day rehearsals. They're on an I.V. drip. That's how hard they're working. Do you know what happens in Vocal Adrenaline if someone dies during a number? They use them as a prop, like Weekend at Bernie's.
Well they're definitely gonna lose because you can't win if you're sleep deprived. BAM!

It's time for auditions and Jesse, the ambitious asshat that he is, lets Will know he's practicing for a big career as a reality show judge, which I mean — duh Simon Cowell, I see how this is gonna be. They've got a lot in common, like big egos and a good resume for the job. Will will be a conglomerate of Randy's cheesiness, Ellen's kindness and Paula's dim-witted-ness.
You know I just recognized Will's haircut: Justin Timberlake. N'Sync. Quite some time ago.
I think Will's got brain damage of some sort. Maybe from when that stranger offered him candy and a ride home from school and then decked him with a baseball bat.  Sue could've wiped his dumb ass onto the pavement in episode 111 (Hairography) just by setting up a few Home Aloney booby traps or just hired a wicked witch to lure Will into a gingerbread house.
Basically, what's about to happen here is that Santana will blow it out of the ballpark, Kurt will climb the fence and grab the ball and throw it back into the stadium, and then Mercedes will catch the ball and score a home run. Then Will will clap softly and Jesse will hurl emotional tomatoes violently at the stage.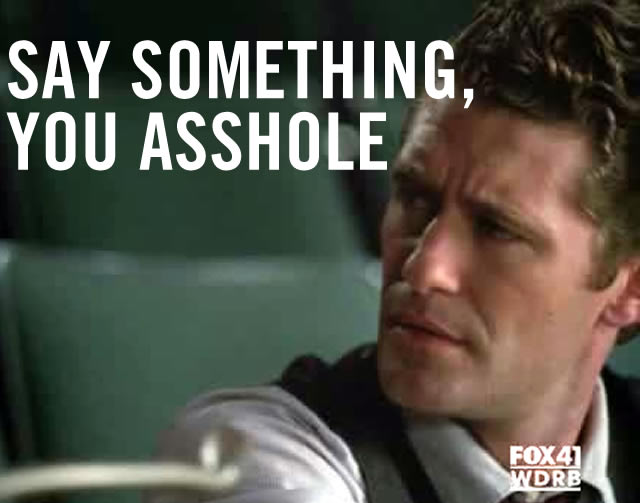 First up is  Santana, doing "Back to Black" which has been in my head ever since. She's got this thing she does — like she's dressaging her sexuality, like she knows just how to perform heterosexuality, how to play it, but she's a little bit above it at the same time. She's sassy but dark too. Classy. That rhymes. Raspy.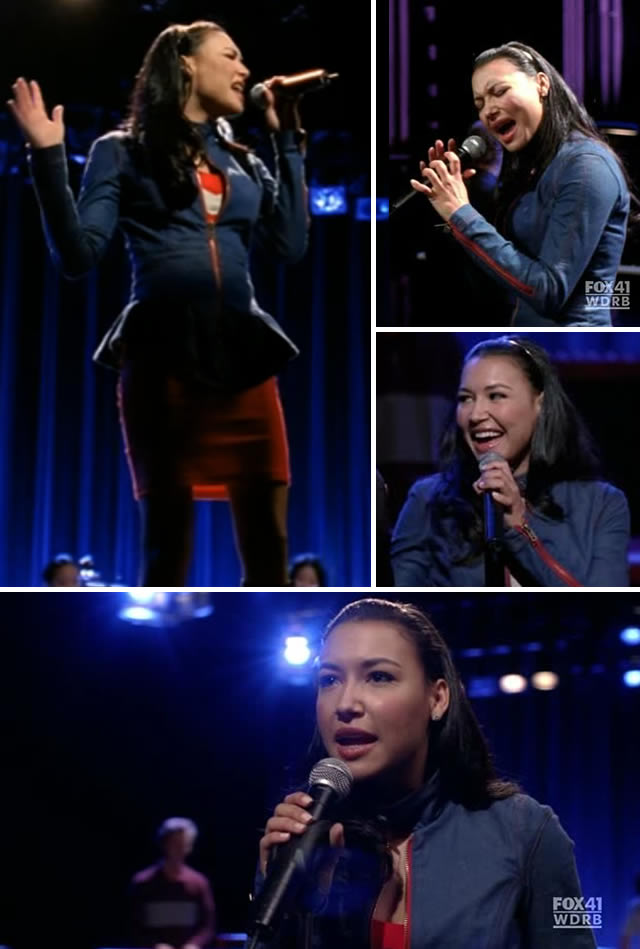 Following this incredible performance, Jesse juices up the enema and expels it into hate speech about the best two minutes of this program.
Don't rain on that bitch's parade, pretty boy. Don't you dare. She will crack your barrel.
+


Pages: 1 2See entire article on one page