Bottoms is finally here! You don't want to miss Kayla's review. Plus, she also asked a top about Bottoms, shred her list of rejected Bottoms review headlines, and updated her Stunt Queens masterpiece. Gabrielle Grace Hogan wrote about finding representation that matters in Bottoms. Drew's back at the Toronto International Film Festival and her first review is Orlando, My Political Biography. On the TV side of things, The Afterparty season two ends with queer romance and surprise cameo.
Notes from the TV Team:
+ Star Trek: Lower Decks is back this week with a deep cut Voyager episode and some surprise promotions. Dang, I missed these space dorks!  — Heather
---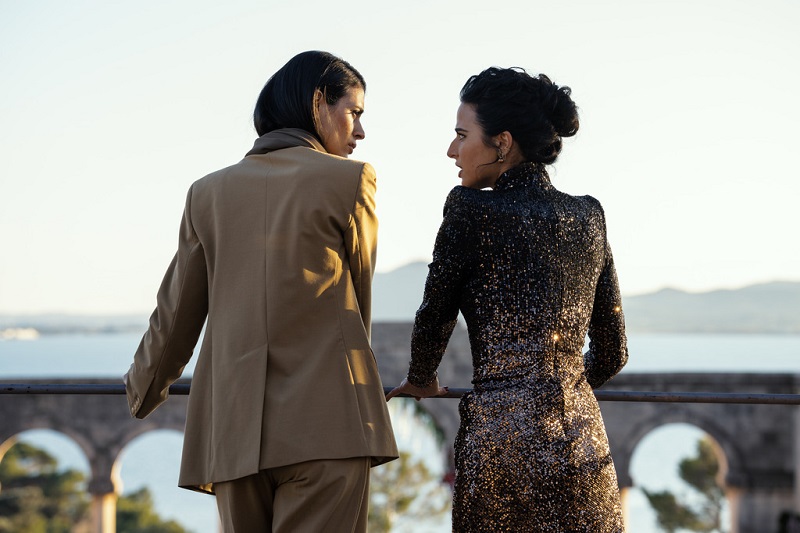 As the team's plane touches down in Barcelona, Joe outfits Lioness with a beacon — a way to contact the team for extraction that can't be detected — and does one final check-in. After being force-fed eight hours of propoganda, Cruz is ready. She still carries all her misgivings but the Lioness is ready to complete her mission. Before hopping on her final leg to Mallorca, Cruz sends a text to Aaliyah, alerting her to impending arrival.
"YAAAAYYYYYYY. I'll have someone get you and bring you to me," Aaliyah texts back.
Cruz meets her driver and is taken back to the compound. Security is tight: they search Cruz, her bags, and the car she arrived in. After she's cleared at the gate, the driver delivers Cruz, not to Aaliyah but to her soon-to-be husband, Ehsan. He interrogates her about what happened in New York — specifically about what drove her away from Aaliyah's hotel room, in tears, on three different occasions — but doesn't believe the excuses she offers. He slaps Cruz and threatens to throw her in the sea if she tells Aaliyah of their meeting. Perhaps because she flashes back to that abusive boyfriend or because she's performing her duties reluctantly, Cruz reacts.
"I'd like to see you try…because I could wipe the floor with your boney ass," Cruz retorts. She asks the bodyguard to take her to Aaliyah or to the airport and though the bodyguard think's the airport's the better option, Ehsan insists that she stay. Without her, Ehsan laments in Arabic, his wife's legs will be closed on their wedding night. As she leaves, she chides Ehsan again — "I bet she spends it with her legs closed anyway" — and he blasts her for daring to speak to a man that way.
It's all just too much. The cavalier talk, the threats, the knowledge of Arabic. Ehsan was skeptical of Cruz's relationship with Aaliyah when she arrived but now he's skeptical of her. He spends the night before his wedding trying to find out who she really is.
Meanwhile, Cruz is delivered to the women's side of the compound and finally, crosses paths with Aaliyah. The bride introduces Cruz to her mother, shows her around the complex and explains what will happen tomorrow. From then on, she says, love will only be what she can imagine or what she can remember. She hopes Cruz will remember her and — like a scene out of Imagine Me and You — Cruz admits she's impossible to forget.
Aaliyah takes Cruz to her room (directly across from hers, natch) and waits in the doorway for Cruz to invite her inside. The invitation doesn't come though and when Aaliyah tries to kiss Cruz, she steps back. Chastened, Aaliyah returns to her room and once she's behind a closed door, Cruz collapses into silent tears.
Aaliyah returns later and confesses that she doesn't want to get married. Ultimately, though, her future has already been determined and she has no say. She pulls Cruz close and begs her to make her feel loved one last time. Cruz resists, confessing to her own dishonesty. Aaliyah dares Cruz to deny that she wants this and she can't. Cruz gives in and returns Aaliyah's kiss, but before things can go too far, Cruz remembers the mission and jumps out of bed. She insists that she can't do this and excuses herself to get water. Unbeknownst to either of them, it's the last time they'll see each other.
Cruz walks down to the kitchen, in a t-shirt and underwear, looking for water. She opens the freezer and quietly chastises herself for nearly losing control. Focus on the mission, she tells herself. But she's not alone in the kitchen: Aaliyah's father is also there. Clad in only a robe, t-shirt, and underwear himself, he looks far from the monster he's been made out to be and more like an ordinary dad, sneaking downstairs for some ice cream. He shares the world's best gelato with Cruz before Ehsan rushes in and announces his discovery: she's a Marine.
Cruz thinks quickly, grabs a knife and kills them both. She activates the beacon and rushes toward the water, dodging bullets, where her team awaits. The moment they climb back onto the boat, Cruz attacks Joe, in much the same way she had, the last person who tortured her. She quits the team and curses Joe for the monster she forced her to become.
I don't know that we'll get another season of Special Ops: Lioness. The framework is there, of course — there could just be another Lioness — but so much of what was good about this season, rested with Cruz and Aaliyah (Laysla De Oliveira and Stephanie Nur) and it's hard for me to imagine them replicating that magic in their absence.
---
We pick up where we left off, with Oliver scouring through Loretta's scrapbook of newspaper clipping about Ben, and finds some handwriting that matches the dressing room mirror message. He will keep this to himself for the rest of the episode, because you can rationalize a lot when you think you're in love.
Mabel is in her apartment when Howard shows up, wet from the rain, looking distraught. He tells Mabel that he has something to confess: he killed Ben.
Mabel calls the guys over and they listen to Howard's story. Of course, as the trope goes, Howard didn't literally kill Ben. He's being dramatic, and what he means is, he blames himself for Ben's death, because he didn't sweep the ghost energy away from the stage like he has before every other performance; but K.T.'s office was uncharacteristically locked and there were strange noises coming from inside it. Tobert comes out of Mabel's bathroom and has a little tête-à-tête with Mabel that makes the guys jealous. So she sends him away and goes with Charles and Oliver to the theater to investigate.
Eventually the trio gets split up; Charles is locked in a supply closet with his fish, and Oliver ends up in a secret room above the theater where an old director friend has been living, Jerry. Jerry admits he's been pretending to be the ghost to scare them off, but promises he didn't kill Ben. He also says that Loretta has a "violent temper" and tells him about Charles punching Ben.
While Mabel tries to figure out where the guys went, she runs into Tobert, who says she trailed Jonathan to the theater. When confronted, Jonathan admits that being the lead of the show has been too stressful and that Ben's doctor gave him the "leading man cocktail" he was giving Ben. This strikes Mabel for two reasons: assuming he's telling the truth, this strips Jonathan of motive; and if this cocktail had meth in it, it should have showed up on Ben's autopsy, and as far they know, it did not.
Oliver is starting to realize that all signs point to Loretta but is desperate to keep this information private, so he starts to wipe off the mirror, which pisses Charles and Mabel off. He starts to pick a fight, which Charles easily jumps into because he has his head up his own ass. When Charles turns on Mabel and accuses her of never having a "grown-up job," she decides to take Cinda Canning's advice and dump them.
She'll work with Tobert instead. Tobert, who I personally think should be up on the murderboard with the rest of the potential suspects.
---
Written by Nic
After a week off, Statler and Dempsey are back and they're getting ready for the all-important meeting of the friends. As is her wont, Statler is nervous AF to meet Dempsey's friends, especially considering how it went when she met her dad. They're cute as heck though as they get ready and head to the bar, with Dempsey teasing Statler a bit about why she likes British women so much (because she's been through all of the American women, of course).
At the bar, we meet Dempsey's gay ass friends Linzi and Georgia. They seem delightful and genuinely like they care about Dempsey's happiness. I wish I could say that Statler was equally as delightful during this meeting, but homegirl's anxiety really got the better of her. From the tiny toe I've dipped into 90 Day Internet Discourse, it seems like many people are annoyed by Statler, but as a fellow neurospicy baddie, I really do understand a lot of what she's struggling with. Her awkwardness and resulting self-deprecation was on full display as she described the itinerary for Dempsey's surprise Edinburgh birthday trip as "mostly sex" because it's "the only thing" she's "good at." When Statler goes to the restroom (after announcing that it's just for number one), Dempsey asks Georgia and Linzi if they think Statler is awkward or nice, and to their credit the girls respond with "both." Dempsey assures them that yes, she's all-in on relationships and can be intense, but Statler also treats her well and makes her feel special and those are things that Dempsey loves about her. Because Georgia and Linzi are good friends, they just caution Dempsey on making sure she goes at a pace she's comfortable with.
Then it's time for the birthday trip!! Statler surprises Dempsey with a stay at a castle in Edinburgh, Scotland and it's suuuuper romantic, y'all. Let me back up though; while they're packing, I swear I've never felt more seen than when I watched Statler bop from packing to asking about window cleaner as Dempsey tries to get her to focus. ADHD realness.
As they drive to Edinburgh, they debrief on the Georgia and Linzi meeting and Dempsey reveals that they think Statler is codependent. We love a self-aware queen, because Statler isn't even offended; she knows that she can be clingy in relationships and that maybe it's not a bad thing that she wants to be with her person all the time. Now, I love that she knows herself, but babe, everything in moderation is key. Once they get to the castle, Dempsey is absolutely floored that Statler did this for her. The place is gorgeous and Dempsey is all smiles as the caretaker shows them around.
They take a romantic bubble bath together and remark on how nice it is to just spend time together, continuing to get to know each other. We hear Dempsey's interview voiceover where she reflects on the fact that when Statler loves someone, she does everything to make them feel special and safe and cared for; Dempsey doesn't feel pressure to be with Statler, she's there because she loves her. Dempsey leaves off saying maybe she shouldn't push away this happiness, and while I'm rocking the single life at the moment, I feel pretty confident in saying maybe focusing on compromise instead of a full 180 is the way to go. But what do I know? Next week, potentially differing opinions on having kids!