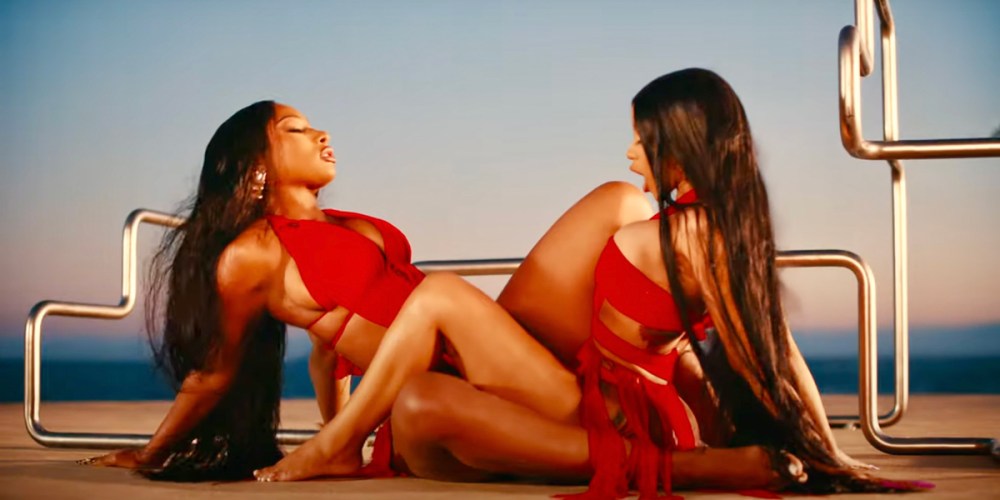 Cardi B and Megan Thee Stallion eat down (pun intended) in their new music video, "Bongos."
At midnight last night, I had just popped my melatonin and curled under the covers with the fresh nip of September air when I received a text from Autostraddle writer Natalie, along with two screenshots: "So… Cardi and Meg are scissoring in their new music video?"
By the time I woke up this morning my group chat was already ablaze. I think after 2020's "WAP" everyone was on edge for "Bongos." I mean, it would already be hard to outdo Cardi and Meg stroking and crawling on top of each other while wet from head to toe. But then "Bongos" had the bisexual rappers — did I mention that after two singles together and multiple years being two of the best rappers alive writing about pussy, Cardi has now taken to calling Meg her work wife? —  interlocking legs and thighs, with Meg reverently caressing Cardi's up and down, so now all bets are off.
A lot of "Bongos" hits the expected notes for anyone familiar with Cardi and Meg's work — I don't care what anyone says, it takes a lot of talent to write soliloquies like "Pussy get popped, piñata / Bitch, I look like money / You could print my face on a dollar." And when asked by Cardi about her favorite song to have sex to, Meg responded "silence, because I need you to hear this booty clapping," which in and of itself gives the song's title a whole new meaning. But what I was most struck by comes in the last minute of the video (and yes, of course I'm talking about the scissoring).
It's become a pretty common joke that all the popular rap girlies these days are some flavor of gay (Ice Spice, Rico Nasty, Yung Miami, Chika, the list goes on), but it often can feel like Black bisexual femme rappers who are either in long term relationships with men or write about enjoying the sex they have with men (or both) are constantly fighting off accusations that they aren't actually bisexual at all. After their 2021 Grammys performance of "WAP" — which also involved Cardi and Meg mimicking scissoring during one point of their dance routine — Cardi B went as far as to publicly respond to a Rolling Stone article accusing her of queer baiting (note: this is an incorrect use of the term queer baiting, which was designed to address tropes in fiction writing, not actual bisexual or queer people) with "I'm married to a man, but I have express[ed] soo much about my bisexuality and my experiences wit girls." Despite having discussed her bisexual sexuality publicly for years, Megan Thee Stallion is frequently not mentioned on lists of queer or bisexual celebrities.
In fact, when Netflix released a two and half hour docuseries, Ladies First, looking at women's contributions over the last 50 years of hip hop, during the section on queerness in the genre — Megan Thee Stallion was looped in with straight women rappers who "perform" queerness for straight audiences, and Cardi B wasn't mentioned at all. And this is despite the fact that "WAP" was a shining piece at the center of the documentary's discussion of (presumably straight) sexuality and the dynamics of women's empowerment vs the male gaze. Even within their own community, Black women who love and contribute to hip hop, Cardi and Megan often find themselves in the throes of bi erasure — because they're femme, because Black queerness is often presumed silent or unseen, because they've had longstanding relationships with men. But here, Cardi and Meg are sending a message. And that message was y'all keep erasing us if you want, but ✂️ ✂️ motherfuckers.
And maybe, just maybe, you're thinking that I'm reading too much into a few dozen seconds of a dance move in a music video. But to that I'd say two things: First of all, unlike "WAP," which had Cardi and Meg performing seductively and wet for an unseen audience behind the camera (which I'll never read as a straight performance to begin with, but sure I'll play along) — scissoring is a uniformly queer act. It is not designed for male approval, in fact it's based in an ownership of sexuality and sexual pleasure that exists outside of cis straight men at all. Choosing to allude and mime that sex act in particular, by two bisexual rappers who are often left outside of queerness, that puts everyone else on notice.
Second, they filmed the entire music video at the same mansion where none other than Black bisexual legend Whitney Elizabeth Houston herself, in all her glory, filmed The Bodyguard. So. You know. Take from that what you will.
PS: They're both wearing Bi Pride wigs in the cover art.