---
Mélissa Laveaux
Paris, France
Haitian-Canadian songwriter and guitarist Mélissa Laveaux just released her new EP Memory Is A Strange Bell, which cites influences ranging from Billie Holliday to Emily Dickinson.  She was kind enough to drop by "Almost Famous" to tell us about Paris, her dark inspirations for songwriting and her insanely adorable guinea pig, Mister Gaga.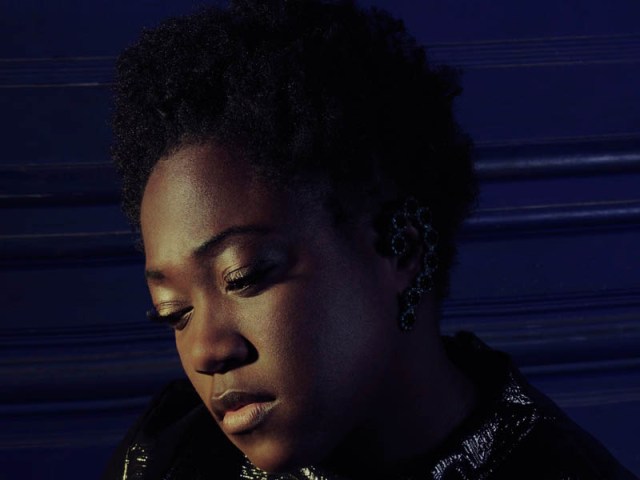 How would you describe your music?
Indie afro-rock, with a touch a folk here and a touch of pop there.
Which track would you most like Autostraddle readers to hear? 
Triggers – a song about a hard breakup and being haunted by your dead suicidal ex's ghost.
https://www.youtube.com/watch?v=jnwAksWTACQ 
Do you have any pets, and if so can we see a photo?
I have a guinea pig!  His name is Mister Gaga and he's 5 years old. He's very grumpy but loves cuddles and he really hated it when we got him a little brother (the now deceased Mr. Garbo). He's a much happier piggie now.
What do you get up to when you're not making music?
I do a lot of graphic design for friends or myself. Right now, I'm making a stop-motion video for my song "Pié Bwa" – it's a re-imagining of Billie Holiday's "Strange Fruit" from the point of view of the tree. It's hard to acquire a new skills – especially stop-motion animation. However I'm super dedicated to seeing all my projects through and the topic of lynching in America—especially that of black women—is something I really want to develop on.
What were the first and last records you bought?
First: Aaliyah Age Ain't Nothin' But a Numba
Last: Perera Elsewhere Everlast
What was the last piece you wrote about?
I wrote a piece in the Huffington Post about sexism on my tours – which is pretty much the worst thing about touring apart from always having a goddamn cold because I never manage to sleep. I got a nice little response out of that!  It felt really cathartic.
What is your favorite thing about living in Paris?

Everyone stops by Paris at one point or another. Everyone I've ever wanted to see has done so, so far, and I've been super fortunate to cross paths with some terrific people. And if they don't stop by Paris, every major European city is a skip and a hop on a cheap flight away. A weekend to check out a show in Barcelona, London, Berlin or Istanbul is a click away. I never thought I'd be so fortunate when I was growing up and we would drive everywhere and all our vacations were to visit family within the country or the continent.
What would constitute a 'perfect' day for you?

Going to see an exhibit of one of my favorite artists (Lorna Simpson or Mary Sibande). Going to the freshmarket and picking up stuff to make a huge meal from scratch for my friends. Playing video games while everything cooks. Kicking everyone out once they get comatose from the food and then cuddling while watching a movie with my wife while sipping spiced rum. It sounds elaborate but you did say "perfect."
If you could share a line-up with any two other artists, which ones would you choose?
Wildbirds & Peacedrums and Sampha. I'm just getting into the whole alt-R'n'B scene Solange Knowles is trying to put together. And one of my favorite bands to see live of all time is Wildbirds & Peacedrums. They make each performance nearly a spiritual experience. I leave their shows with tears in my eyes and my notebook covered page-to-page with scribbles of ideas for new songs or new poems.
Do you have any pre-show rituals?
My keyboardist Nico makes us all "ti-punch" which is rhum, a squeeze of lime and cane sugar – but my drummer Anne just has tea because she doesn't like playing "under the influence." I have a secret handshake with my bassist Elise right before we go on stage but everyone fist bumps. And my co-guitarist Gautier reads aloud from whatever music history biographical novel while Anne, Elise and I fight for crucial mirror time to put on makeup…
---
Welcome to Almost Famous, a weekly-ish segment where we ask up-and-coming queer musicians some not so hard-hitting questions about music and life and maybe even convince them to share photos of their pets. Get to know intimate details about your new favorite artist or band before they hit the Big Time and become too famous for us to interview for real. Header by Rory Midhani