Some days when it's really cold out you just want to put on waffle scented perfume, nibble Oreos, and watch Netflix under the covers all day while gchatting your girlfriend who is off having exciting adventures in the Philippines without you. Other days you realize how sad that is, put some pants on, and head to the kitchen to make an actual meal.
These recipes are for you, brave pants-wearer.
Filipino Chicken Adobo
Filipino chicken adobo is my favorite kind of chicken in the whole wide world. It's also my favorite kind of adobo. (Mexican adobo is saltier. I've never tried Spanish adobo, but I'm told that the taste is distinctly different.)
Filipino chicken adobo is a delicious comfort food all year round, but I always find myself wanting to cook it in the winter. It heats my kitchen up and makes my entire apartment smell incredible. And did I mention how wonderful it tastes? It's as delicious as the certainty you felt as a kid who knew 100% for sure that Santa Claus was real. But like, juicier.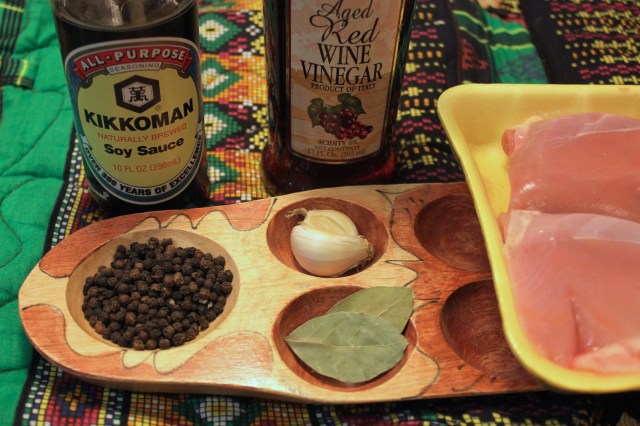 Ingredients
3 lbs chicken thighs (or whatever cut you prefer)
1/2 cup soy sauce
3/4 cup red wine vinegar  (apple cider vinegar works okay too)
a few cloves of crushed or sliced garlic
a couple bay leaves
a spoonful of peppercorns
I use a crockpot because that's my favorite way to cook things, but you could also use a big pot and put it over low heat if you want to go old school. Just don't wander too far if you have things on the stovetop because fire safety is a real thing that you should practice.
Let's Cook
Okay, this recipe is super easy. Are you ready? Take all the ingredients and add them to your pot.
If you have any less liquid than this picture, make a double batch of the soy sauce/vinegar mix. You want the meat to be more submerged than not.
Turn on your crockpot or stovetop. Cook until the chicken is done, rotating a couple times so that the middle gets cooked all the way through. That's it!
I cooked the batch pictured on high heat for two and a half hours, which is about the minimum time you can get away with. On workdays, I prefer to set my crockpot on low in the morning and leave it going for eight or nine hours. When I come back home dinner is waiting, and it's extra awesome because the chicken falls away from the bone and the bitterness has been cooked out of the peppercorns. The chicken will slowly start to burn if you leave it on for 10+ hours, but if that happens just use it for sandwich meat or throw it in a stew.
I recommend serving chicken adobo with white rice and some sort of vegetable. Spoon the extra broth over everything (the rice especially) and enjoy.
---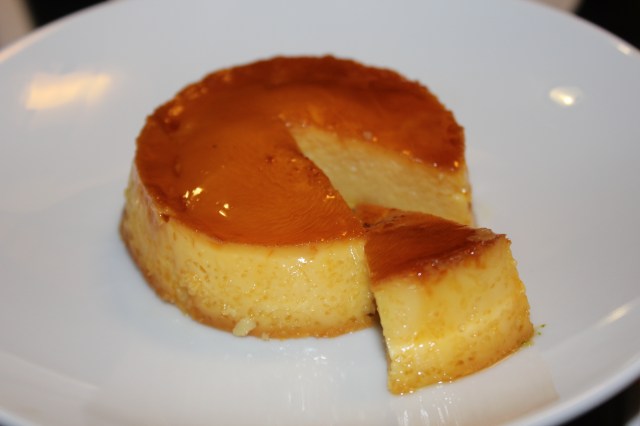 Leche Flan
Leche flan is a creamy Filipino dessert. It's richer and denser than Spanish and Mexican flan, and it tastes like the way you feel when you put on your comfiest pajama pants straight out of the dryer.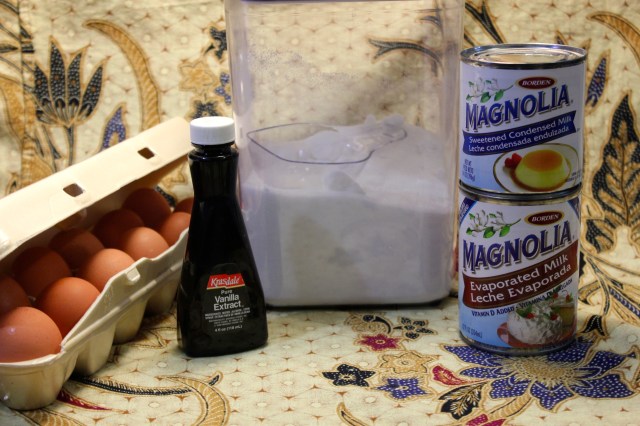 Ingredients
1 cup sugar
3/4 cup water
1 can condensed milk (14 oz)
1 can evaporated milk (12 oz)
10 egg yolks
a dash of vanilla extract (about a teaspoon)
Let's Cook
To make the caramel put the sugar and water in a pot, then apply medium heat to bring the mixture to a boil. Stir frequently as the liquid reduces and thickens. It takes about 20 minutes which is really tedious, but it's worth it, I promise. While you're waiting, let's find a pan to put your leche flan in.
At parties leche flan is usually served in 8″ oval aluminum moulds. But maybe you aren't going to a party. Maybe you're all alone in your apartment and it's so miserable outside that you had to pick your dog up and carry him over the snowbank because he took one look at it and was like, oh hell no, and you were like, uhh, I'm definitely not leaving my house again to go buy a proper pan now. It's fine! Find something oven safe and go wild. You're a grown woman/gender-person and you can do whatever you want.
How's your sugar water looking?
When the mixture looks thick and dry (bottom left), start stirring continuously. The mixture should brown up into a nice caramel.
Once it reaches a pretty amber color (below), remove your pot from the heat. Immediately pour into your pan/mason jars/ramekins/whatever.
Set those bad boys aside and preheat your oven to 350F. We're going to make some custard.
Separate the egg yolks and either discard or put aside the whites for another time. (They're great for omelettes. Or maybe you could try making fortune cookies!) Then blend the egg yolks, condensed milk, vanilla, and evaporated milk. Mix until the yolks are broken up and everything is the same color.
Pour your custard over the caramel. Pop it in the oven for 30 minutes.
When it's done, put your leche flan in the fridge for an hour/until completely cool/as long as you can stand it.
Take the container out of the fridge and turn upside down to release the custard. There should already be a nice layer of caramel on top, but sometimes it's nice to make a bit of extra caramel at this point to drizzle. It's also really good with blueberries or other fruit on top – but taste it by itself, first. Leche flan is really sweet and you might just want to eat it unadorned.
Kain na tayo! Let's eat!