For Valentine's Day, my girlfriend made me fortune cookies with little love notes inside. It was adorable and creative and you should make some for someone you love, too. I know it's not Valentine's Day, but random presents are infinitely better.
Fortune cookies are a super versatile present. They are so easy to make! They literally take about five-ten minutes from start to finish. Not only are they perfect girlfriend gifts, but the present possibilities are endless. Why don't you make them for that cute girl you've been trying to ask out, or your friend's birthday or graduation present? I'm sure your parents would like some with fortunes telling them how great they are. Need to apologize because you messed something up? Do it in a fortune cookie. No one can hold a grudge against cookies. Or you could make them for yourself, too, with affirming compliments, like those Dove chocolates. Convinced? Let's make some!
FORTUNE COOKIES
Makes approximately six cookies.
Ingredients:
1 egg white (or 3 Tbsp. liquid egg whites)
1/8 tsp vanilla extract
1 pinch salt
1/4 cup all-purpose flour (*see end for gluten-free instructions)
1/4 cup white sugar
Supplies:
Construction paper
Pen
Glasses (I like to use beer pints but most glasses work — you do you).
Not pictured: Scissors, cookie sheet, aluminum foil, spray oil or butter
Directions: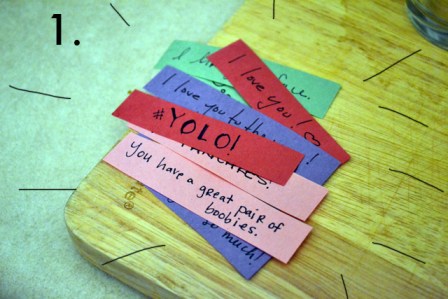 1. Write your fortunes on three-inch strips of paper. Make them as lovey/silly as you'd like.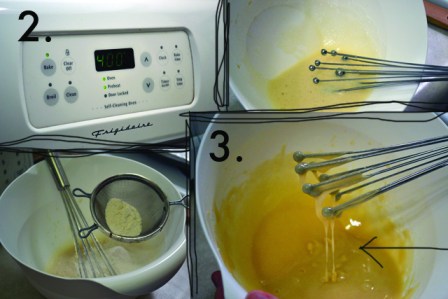 2. Preheat oven to 400°F.
3. Whisk egg whites and vanilla extract together until foamy but not stiff. We're not making meringue here. Sift in flour, salt, and sugar, and whisk together until consistency is similar to glue.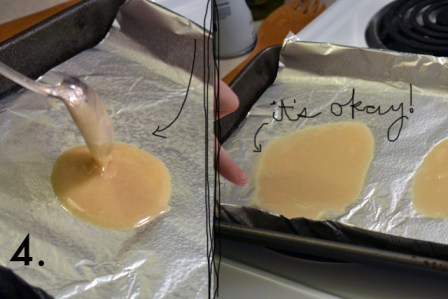 4. Place a tablespoonful of the cookie batter onto greased cookie sheet. Seriously, over-grease the foil, or it will stick and you'll want to stab your eyes out. I know this from personal experience. We only do two at a time because you need to mold them while they are still warm.
They don't need to be perfectly round. They probably won't be, and it's okay. That's what we in the fortune cookie biz call "rustic" and it's in style this season.
5. Bake for about five minutes, or until edges of the cookie turn golden while the center is still pale. This is the hardest part. They take awhile to change color, but when they do, it happens fast. Also, don't let them stay too pale or they'll be chewy. Just stand in front of your oven and obsess over them until they are perfect.
Am I stressing you out? I'm sorry. It'll be okay. Your cookies will be perfect, I'm sure of it.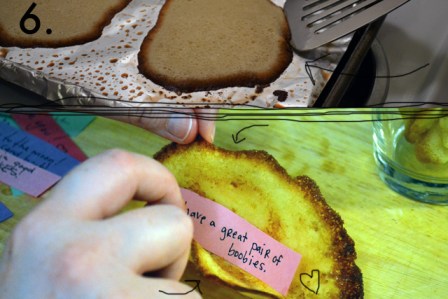 6. Remove the fortune cookies from the oven, and count to five-Mississippi. Okay, they're probably perfect to pick up now. Use a spatula to flip them onto a cutting board/plate/something besides the hot cookie pan. Place your fortune in the middle and fold the cookie in half.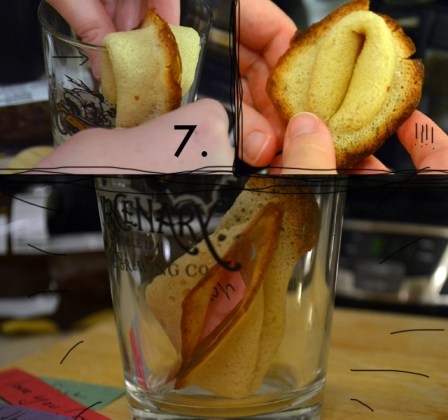 7. Place cookie on the edge of a glass to mold it into a crescent shape. Maybe yours will kind of resemble a vagina, too. Put the molded cookie into the glass to hold its shape while cooling down.
8. Remove your cookie from the glass and give it to someone. Or just eat it. And you're done!
*For gluten-free fortune cookies, use an extra Tbsp. of gf flour to get the right consistency. Make sure your cookies aren't too thin, or you can try adjusting the oven to 375°F, as they are more likely to burn faster.