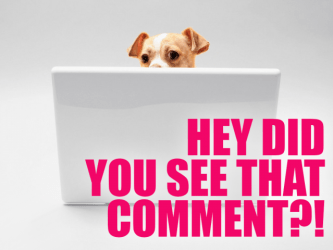 Hey dreamers! Did you take your vitamins this week? Did you take your pet to the vet? Way to be responsible. I did neither, but yesterday I ate the most delicious fries. They had hot peppers and garlic and duck(!) and other ingredients I cannot pronounce but do not regret putting in my mouth. Though they did give me terrifying nightmares. But today is a new day! More specifically, it's that lovely day when we remember what we said to each other in the past week. We had some good times, huh?
Then Malaika had us 
obsessing over afros
 and Kate reminded us that 
it's still okay to obsess over Lisa Frank
. We talked about a 
queer love story in Bollywood
 and 
watched Abby Wambach strip down for Sports Illustrated
. 
Whitney gave tips on how to stay close to faraway friends
 and Riese talked to 
The Nanny Diaries
 authors Emma McLauglin and Nicola Kraus about 
their new Britney-inspired book
. In news that doesn't necessarily surprise us, 
Jan Brewer was mean to the gays (though she got called on it this time)
,  The NY Daily News used some wildly offensive language in 
a case involving a transgender maid
 and 
Mitt Romney looked like a tool, perhaps intentionally, during his speech to the NAACP.
We let out a collective groan as 
TRLW Season 3 premiered
. But don't worry, 
our drinking game
 and 
the power of the clam pasta recipe
 will help ease the pain. Also,
HBO is doing a documentary on relationships
so how about you and your ladyfriend audition and actually make us look good? 
Riese read more things 
and Dina talked about the 
limits on health resources for queers in Queensland right now
. Keep your chin up though, now there's a 
lesbian super PAC looking to push our agenda in politics
 and 
some conservatives are even getting on marriage equality train
. Oh, and 
Episcopals like us too!
  Plus, 
True Blood
, 
boobs
, 
picnic noms
, 
Comic Con
, 
Amy Poehler
 and 
awards for excellence in gay journalism
  — what more do you want from us? How about this — 
Allison Weiss is coming to A-Camp and maybe you still can too!
And remember when you said that thing that made us happy?
---
On International Autostraddle Brunch Day:
The This Is Why We're Sponsored By o.b. Award to NeverDaughter: "That moment when you realize that you're totally gonna have your period this weekend."
On Abby Wambach Is Naked In This Video:
The Versatile Award to kpee: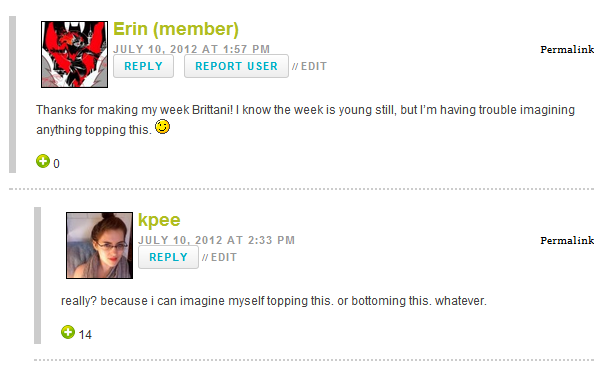 The Only If Your Life Is Directed By IFC Award to meghan: "Does just living in LA qualify as watching this show?" 
On True Confessions of a Queer Lisa Frank Enthusiast:
The Most Colorful TrapperKeeper Award to Linda: "Also, the model in the center of that ad and the caption 'Wear Lisa Frank and Share the Lifestyle!' …LOL. Lisa Frank: reppin' queer girls since 1980."
On A Camp September 2012 More Spaces New Faces: 
The Do They Have A Box For That On the Census? Award to AG:
On Amy Poehler Makes Fun of Talk Shows While Praising Awesome Young Women:
The You Had Me at Meat Tornado Award to birobot: "I'm sorry, but it is impossible for me to dislike anything that has Ron Swanson dancing."