I don't know exactly how to put into words for you what "Channel Orange" means to me or to music or to anyone. But I can't stop listening to it.
Musically, the words that immediately came to mind when I heard Channel Orange were "what the fuck this is a smooth record." I listened to the album on loop accidentally and loved it too much to care, really. This is a very rare feeling for me. It reads as one very long ride in an elevator playing hip-hop. No, seriously: this is what hip-hop / R&B will sound like when they play it at the indoor pool in 2050, and we live like the Jetsons. The sound is soulful but modern, and a definite progression from his older work. Channel Orange marks Frank's first studio album, and a huge success on his part to produce something timeless and/or classic and/or perfect. It's a pleasure to listen to and a pleasure to spin. It keeps you engaged, intrigued, and entertained.
This is a great fucking album.
Often the vocals come across as some sort of very integral instrument – like if you weren't listening to it with words it'd be completely different. Tracks like "Pyramid" are complex musically with lots of electronic touches keeping it up-to-date, and "Super Rich Kids" will make you feel like you're in college again. Tracks like "Pink Matter" (featuring the always timeless Andre 3000) will make you want to lay down with someone.
Lyrically though, things get heavy. Last week, Frank Ocean came out; right around Independence Day, when he posted the liner notes to this album on his Tumblr and told a previously secret story about his real first love: another man. That experience shaped this record. Ocean himself posted online that Orange reminds him of his "first love," which he revealed prior to his coming out, but now makes perfect sense.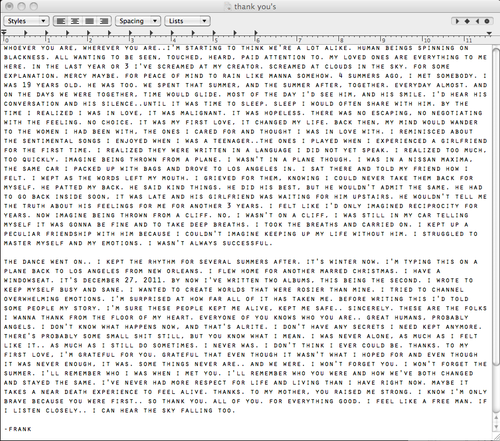 I posted excerpts of Frank Ocean's coming out note everywhere. I attempted to memorize it in bits and parts. I wanted to weave it into everything I was experiencing and think about life inside of his voice.
"I was never alone, as much as I felt like it . . As much as I still do sometimes. I never was. I don't think I ever could be. Thanks. To my first love. I'm grateful for you. Grateful that even though it wasn't what I hoped for and even though it was never enough, it was. Some things never are. . and we were. I won't forget you. I won't forget the summer. I'll remember who I was when I met you. I'll remember who you were and how we've both changed and stayed the same. I've never had more respect for life and living than I have right now. Maybe it takes a near death experience to feel alive. Thanks. To my mother. You raised me strong. I know I'm only brave because you were first. . So thank you. All of you. For everything good. I feel like a free man. If I listen closely. . I can hear the sky falling too."
Reading Frank Ocean's coming out letter was overwhelming. It was completely and totally mind-blowing, Earth-shattering, amazing. Danny told me he thought it was "the best thing to happen in a long time," and Amanda called it "touching." But I was crying at work. I opened my journal for the first time since February. I wrote again.
I am not sure how many people come out because they fall in love. It seems like a very powerful and important experience, but I'm biased. You fall in love with something or someone impossible, or maybe even something you have but then lose. You'll look back wishing you'd been a little older or a little better, and think how stupid you were to fuck it up, but also how irreperably changed you are afterward and how honest. You fall in love and then the world clicks into place because you figure out something miraculously and amazingly huge. Bigger than you.
To have loved and lost is an ages-old practice. This is entirely different. This is to have loved and learned and never wanted to let go.
Having a huge milestone in your life so explicitly tied up with someone you couldn't keep, and how you cope with that and how you learn to love yourself and others again in the process – new, but with a birthmark in your new world, starting all over – that is what this is. That is what it's like.
It is remarkable to have someone focus on that experience. Remarkable and brave and eloquent. Perfect.
The songs about Ocean's love story are apparent.
"Bad Religion" depicts Ocean so in need of a commonality and compassion that he confides in a taxi driver about his love for another man. He spills his guts on this track, explicitly and without pause. It is deeply and remarkably touching:
I can't tell you the truth about my disguise
I can't trust no one
You say, Allah-hu-akbar, I told him don't curse me
But boy you need prayer, I guess it couldn't hurt me
If it brings me to my knees, it's a bad religion
Unrequited love, To me it's nothing but a one man cult
With cyanide in a Styrofoam cup
I can never make him love me
"Thinkin' Bout Forever" features Frank Ocean singing at the highest notes in the world, as well as a genuine old-school vibe and a timeless central point:
Yes, of course, I remember, how could I forget, how you feel?
You know you were my first time, a new feel
It won't ever get old, not in my soul, not in my spirit, keep it alive
But "Forrest Gump" takes the cake as, what my friend and extended hip-hop genres expert, Danny, says is "amazing." The song is one of the closing tracks on the record, which is okay since it's simple but brilliant. The lyrics and music together tell of the lighthearted but intense feelings associated with love and longing.
And my fingertips, and
Explain my lips, they burn
From the cigarettes
Forrest Gump you run my mind boy
Running on my mind boy
That isn't to say, however, that lyrically and musically the album doesn't encompass a variety of stories and messages. Topics range from drugs, sex, and rock & roll to heartbreak, class war, and great metaphors. Words are consistent only in that they sound perfect over the smooth music in the background. Sort of like a really pleasant guided tour through Ocean's mind. His delivery mechanism, too, is varied. There are tracks about women and men on this album. There are words like "you were my first," "virginity," "beautiful," etc. Tracks are sweet – short and with humorous and light cynicism.
Musically, tracks include some instrumental numbers – including "White" with John Mayer – and a variety of electronic noise, classic R&B rhythm and sound, and even some acoustic and organ-based pieces. There's something for everyone inside of Channel Orange, or at least something for you and your wide range of emotions. I mean for God's sake, there's the line "too many bottles of this wine I can't pronounce," which is definitely from your theme song. There's a good balance between Ocean's heavy emotions and his lighter desire to simply produce excellent music. That's what makes it a good listen: you feel like you went somewhere, like you had a whole experience.
Listening to music is deeply important to me. I do it constantly. My commutes and my journeys via bus are made survivable by the singing of other human beings, or, in rare cases, the not-singing of their vocal chords during instrumental performances. I can see this album carrying me home, and it probably will. I can see it taking me from zero to hero after work, and raising my spirits in the morning as I trek to the bus stop. It already has.
Channel Orange means something, historically; but even more important, it's guaranteed to mean something to you personally and probably at least once cause you to move your body in a way typically associated with dancing, grooving, or strutting. It is powerful, complex, and dramatic – just like I like it – while remaining basic and enjoyable.
It's perfect.