Even just from the continued popularity of the protest "no homo," it's not hard to observe that homophobia is still an everyday occurrence in the world of mainstream rap and hip-hop. Although there's a few up-and-coming queer artists like House of Ladosha and Le1f, some female artists like Azealia Banks identify as bisexual, and rumors have swirled around female MCs like Queen Latifah years, for the most part the culture of hip-hop is still one of compulsory heterosexuality. Which is why, in a week of big-name coming out announcements, Frank Ocean's coming out and opening up about the fact that his first love was a man is maybe the most important story of all.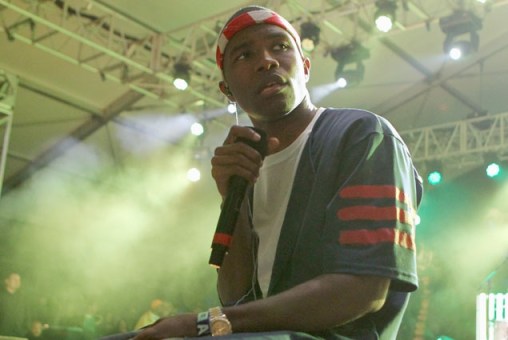 Frank Ocean (technically Christopher Francis Ocean) is only 24, but he's written songs for Justin Bieber and Beyoncé, been featured prominently on Kanye West and Jay-Z's platinum record Watch the Throne, and perhaps most interestingly, been working with the group Odd Future Wolf Gang Kill Them All since 2010. Ocean's new album, Channel Orange, is set to be released on July 17. In a letter posted on his own website, Ocean doesn't explicitly identify as gay or bisexual, but talks about the summer he fell for his best friends, in an incredibly moving story.
4 summers ago, I met somebody. I was 19 years old. He was too. We spend that summer, and the summer after, together. Everyday almost. And on the days we were together, time would glide. Most of the day I'd see him, and his smile. I'd hear his conversation and his silence..until it was time to sleep. Sleep I would often share with him. By the time I realized I was in love, it was malignant. It was hopeless. There was no escaping, no negation with the feeling. No choice. It was my first love. It changed my life.
Ocean says his friend didn't reciprocate his feelings — at least not right away, or soon enough that they could be together — but he writes "Thanks. To my first love. I'm grateful for you." The letter was meant to be part of his album credits, but because of rumors preceding the album's release, he posted it online.
Ocean's association with Odd Future is maybe the most eyebrow-raising part of what's a fairly historic announcement. Odd Future has made a reputation for itself as being, among other things, virulently homophobic, especially their controversial frontman Tyler the Creator. (Although one of Odd Future's members, Syd Tha Kid, is an out lesbian.) Tyler's public response to Ocean's announcement was initially joking (maybe? probably?) and then later supportive, albeit sort of cryptic. (Tyler's Twitter bio is, in part, "I AM NOT A DYKE.")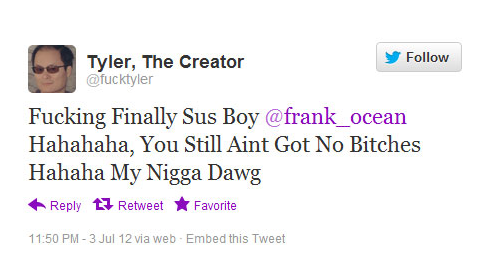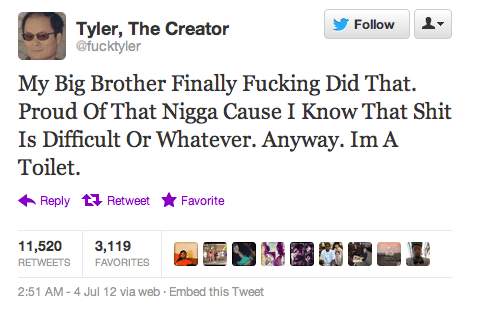 Earl Sweatshirt of Odd Future simply posted "Proud of Frank." Some fans have so far reacted very negatively to Ocean's announcement, but many industry names have stood behind him, from industry professionals like Russell Simmons to a wide range of artists like Action Bronson, Despot, Mac Miller, and Mr. Muthafuckin' eXquire. Other major artists, like Jay-Z and Kanye, have yet to comment. Simmons has also published an article in support of Ocean in the Global Grind.
There's already been an active conversation happening in regards to what the visibility of public figures does for the rest of the community when they come out. There are shockingly few role models for young queer men of color overall, and now a highly successful artist who's performing at Coachella and Lollapalooza this year has become the most well-known face of queer masculinity in hip hop and R&B. Ocean's coming out won't solve all of the problems of homophobia in hip hop or in culture at large, but it's a major step forward, and it was above all an extraordinarily brave and uncompromisingly honest thing to do. More than a coming out, it was opening up about a love story. As Autostraddle's Gabby Rivera puts it:
Frank Ocean did not come out as a homosexual man. Frank Ocean came out as someone who has been involved in a gut wrenching love story that ended without the happy ending that only exists in romantic comedies. His love story began with a friendship, as many of ours have. The huge amounts of media coverage focused on his confession of love is over the fact that it was with another man. Maybe the next little boy in love with his best dude friend can find strength in Frank Ocean's brilliantly written Tumblr ode to the deepest crushing sublime love.