My wife put me on to the Nickster about two years before Pink Friday dropped. We are Nicki Minaj lovers and we don't give a f*ck.
We wanted to share our love for her with you. Behold:
The Ultimate Nicki Minaj Mixtape – Unofficial AS Vol. 1

(If you start selling copies of this mixtape out the trunk of  your hoopty, we won't snitch.)
1)   I Gets Crazy – feat. Lil Wayne and Teyanna Taylor – "Beam Me Up Scotty Mixtape"                               You could jump double dutch to this beat.  Nevermind that she raps about wanting a "Rockstar little momma with a guitar."
2)   Til the World Ends Remix – Britney, Ke$ha and Nicki.
The three of them together is like a bad b*tch orgy.
3)   Monster – Kanye West feat Jay-Z, Rick Ross and Nicki Minaj.
Nicki runs lyrical circles around these hip hop greats. Kanye's beat is creepy, cacophonous and downright cray, which is lazy slang for crazy.
4)   Shaking it for Daddy – Robin Thicke feat Nicki –  Michelle Trachtenberg rapped it on Youtube .
5)   * Itty Biggy Piggy off the "Beam Me up Scotty Mixtape." Makes you just wanna do the booty clap .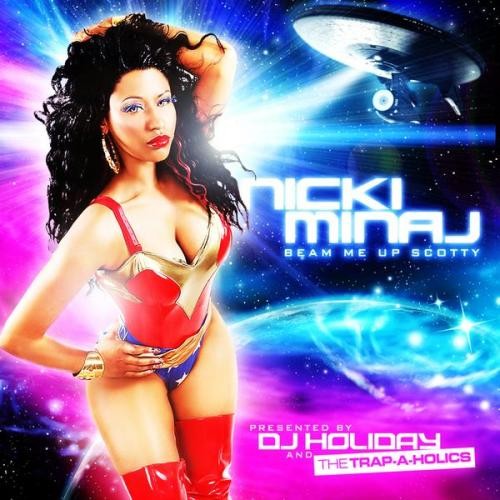 6) * Warning (originally by Notorious B.I.G)
Nicki pays homage to this classic hip hop beat.  Some say this is the track that started it all for her….
7)   Roman's Revenge – Nicki feat. Eminem.
Makes us all feel like a dungeon dragon, Rahhh Rahh!
8 ) * Strippin' in the Club – Nicki Minaj feat. Ron Browz.
Super catchy beat but just skip to Nicki's part at 1:34.
9)  * Tragedy – Nicki Minaj Diss Track
Every Mixtape Needs One. Barbie v. Queen Bee
10)   Bedrock –Young Money –
Infectious. Delightful. Silly Top 40 Rap track at its best.
"maybe it's time to put this p*ssy on your sideburns"
I think she's talking to a drag king anyway….
You still wit' us?! Last Nine Tracks…We Got This.
11)   Bottoms Up – Trey Songz feat. Nicki
Trey is my man crush.  He can get it anytime.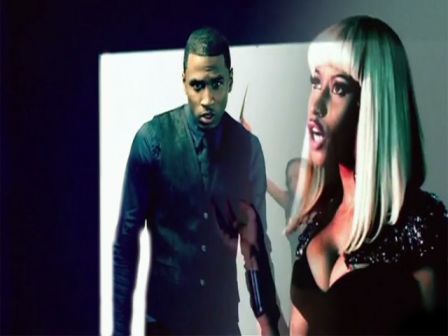 12)   My Chick Bad – Ludacris feat. Nicki
If your girl is dope, you know you had this as her ringtone.
13)   Check It Out – Will.i.Am. feat Nicki.
Nicki's biggest European single to date.
14) Woohoo – Christina Aguilera feat. Nicki.
Welcome back, dirty Xtina.
15)   Girls Fall Like Dominoes (Originally by the Big Pink ) sampled by Nicki Minaj.
Love chicks? This is your anthem.
16)   Up Out My Face by Mariah Carey feat Nicki.
Um, this is like the best and worst song ever.
17) * I Get Money Remix – Wifey's Top Nicki Freestyle
18) Hello Good Morning Remix – Diddy Dirty Money feat.Nicki Minaj and Rick Ross.
Blue wig fetish.
19)   Single Ladies Remix – What's a playlist without a little Beyonce?
*Note* some of these tracks are only available to listen to on Youtube mainly because they're freestyles or unreleased remixes.

You can stream the edited but still lyrically explicit  Ultimate Nicki Minaj Playlist.
For all things Nicki Minaj check out MyPinkFriday.com.
Go forth and get your Barbie on.  What Nicki tracks did we miss?  Drop them in the comments.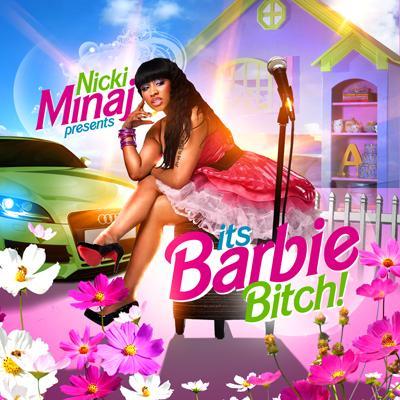 (image from imposemagazine.com)
"You wanna play? Meet me at the fumble line cuz I'm a ninja.  Cowabunga time."