I've been sitting here staring at this text box for about three days, not knowing what to say. I keep thinking of the emails you've all sent me — hundreds or maybe thousands at this point — and how a sort of inherent self-deprecating function prevented me from realizing that if it ever came to this, you'd all be there. Can I just write "I love you" 500 times?
When a reader on formspring suggested that we keep Autostraddle in business by holding a "10,000 in 7 days" fundraiser, I believe I literally laughed out loud. I mean really — us?
But then, as tax season offered us an opportunity to assess and subsequently totally freak out about our financial situation, we decided it was at least time that we attempt to recruit a business advisor of some sort and subsequently we posted a post asking for applicants. We also put Fundraising Stickers on sale.
At the end of the post about needing a business advisor we asked for donations.
By the end of the weekend we'd already raised, much to our surprise, NINE FUCKING THOUSAND DOLLARS.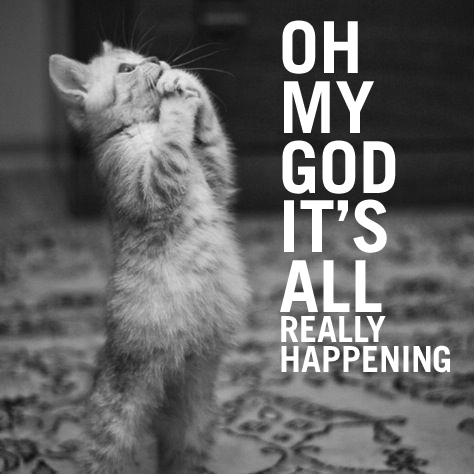 We were shocked. We told you that we loved you and you told us to keep raising money and so we decided to aim for $20,000 which we thought was totally completely 100% crazy but we f*cking did it.
It's possible, internet. We did it and it's possible.
This all happened at a weird time when a lot of bloggers, LGBT and social justice bloggers in particular, are questioning the sustainability of their enterprises.
Womanist Musings – April 11, 2011
"If a sustainable model is not created soon — many of the social justice spaces that we have become accustomed to frequenting, will simply cease to exist."
Bill Browning of The Bilerco Project – April 6, 2011
"If we don't find a way to put together a model that actually pays queer bloggers for their hard work and dedication, it will definitely be the end of the LGBT blogosphere as we know it. The only ones left will be the corporate owned behemoths who are more interested in lining the pockets of their board members than the blogger."
Pam Spaulding of Pam's House Blend – March 24, 2011
"I wish I could do this full-time, but no one has come up with a sustainable model that allows editorial freedom… Putting tips in the jar won't make a difference; it really comes down to time. I don't see how I can ramp up for 2012 coverage, help with the marriage amendment battle in my state, hold down my day job, produce content for the blog, and work a third job I now have."

Meanwhile, BlogActive is done blogging. Queerty just closed up (Update: But is, apparently, returning?) Web bohemeth Regent Media is getting sued, and who knows how that will turn out.
The resounding theme in these posts?
That idea that someone can eternally run a successful, quality, kickass, evolving, breaking-news-supplying, multi-authored website AND work a full-time job? Yeah… that's a myth. People get really tired.
The idea that advertisers come in as honors/traffic/authority accumulates? Nope. Not for this kind of material.
I mention this because I want to talk about a sustainable model because despite the sacrifices (and the fact that everyone works for free and they deserve to be paid), I'm still sitting in an apartment right now typing on a computer, I'm 75% sure my landlord didn't notice that month of rent I skipped, and I've got electricity. I'm g-chatting Laneia, and earlier she mentioned lunch. This website is operational. So something is being sustained.
There's a unanimous internet consensus that unless you're purchased by Viacom or Regent, there is no sustainable model.
There's a consensus that readers will not pay for content.
But Autostraddle has survived primarily on your donations and investments and hard work for two years now.
So what gives?
I understand that our success in raising funds is due to a lot of intangible/specific elements of our readership which I don't know how to put into words yet. Sometimes I am so sure of a thing that I feel like the words I need to describe it haven't been invented yet.
But what I can talk about, what I do have wise words on regarding "The State of the LGBT Blogosphere," is that creating anything more than a personal blog, especially when you're reporting actual news, isn't feasible as a long-term "side project" with no goal/end in sight. Your facts must be impeccable, you must prepare to deal with trolls and bigots, you will be held just as accountable for your work as paid journalists are. There's an expiration date on that kind of energy. We need to demolish this misconception that something as awesome and reliable as Pam's House Blend can be anybody's eternal easy-to-accomplish "hobby" or that these semi-large projects will follow a "blog on the side until the money pours in and you can quit your job and dedicate yourself to your blog" trajectory if your blog is super amazing and you just work hard enough and manage your time properly.
Where does that idea come from?
+ People don't understand how much time this all takes.
+ People assume that a blogger's "day job" will somehow involve earning a salary/benefits while sitting at a computer secretly operating a blog. (Which is classist and stupid! I've never had a job that demanded less than 100% of my consistent attention, and I've really only had one job ever that even involved a computer.)
+ Because blogging is THEIR hobby, they think it should be everyone's hobby. Anyone who can't blog and work full-time is just a bad organizer because look, they have a job AND posted 25 pictures of their dog yesterday on tumblr!
The biggest internet success stories start, like all print publications, like Gawker, HuffPo and Nerve.com, with start-up funds and full-time people. A sustainable model requires somebody's full-time attention, which means it also requires somebody's full-time salary.
So what do you do if you're us, and you have no start-up funds and no corporate backing?
You either don't bother or you take a giant, stupid, crazy risk. Those are the only two options any of us have to sustain independent LGBT media.
Among many other expenses, a major place where your donations go is to sustain my LIFE and Laneia's LIFE. Yet we undervalue ourselves. We avoid financial questions 'cause we feel judged/insecure that we'll simply be written off as irresponsible for not somehow holding down another job on top of Autostraddle.
Nobody asks the editors of AfterEllen or SheWired what they do for their "day jobs" or if they have "a trust fund or something" — it's understood that their work commands a salary and gets it.
What we learned last week is that you "get it," too. And g-d that feels good.
We bring our whole lives and hearts and souls to bear upon the page and we spend ages making sure all our content is perfect and all our writers are the right writers. I believe our readers sustain us because we are trying (and usually failing, but sometimes winning) to sustain them, too. I'm 100% positive that we wouldn't have the financial support from readers and the team that we do have if we haven't always had at least two full-time people working on Autostraddle (right now that's Laneia and me).
Being full-time on this wasn't the plan, we all had jobs when we launched. It's a long story how this became full-time so quickly and I don't want to get into it but needless to say, it wasn't 'cause the money was rolling in.
I wanted to fill this hole we saw in the lesbian/feminist media universe, be this thing that wasn't being done. We want to analyze and report but we also want to make art and build community. We crossed our fingers that we weren't the only people who wanted this thing. We can't describe it. It's just IT.
So back to our "sustainable model."
How have we survived this long?
Our income sources are varied and many: Some team members own shares of the business because they invested money in it. We make a couple hundred bucks a month from affiliate sales (Amazon, Shopstyle, Linkshare, Babeland, Good Vibes) and network-ads. We've sold ads (some months $0, some months a couple thousand, it fluctuates wildly)  to those companies eager to invest in this market, and for that we are so so soooo grateful so please please please please patronize companies like Girlbar, Focus Features, Pandora Events and Lucky Dog Leather. We make somewhere around $2,000 on our annual pride party, and selling merch brings in varying levels of cash too.
But depending on the month, reader donations have often been our largest revenue source.
Eight of you have given us over $1,000, some well well well over $1,000. Without you, we would not be here.
We also have debt and maxed out credit cards and unpaid bills and haven't gone out or been to a restaurant or fixed our computers or flown home to see our families for a long time. The past few months Laneia & I both reached a point where it had just been too long since we'd gotten shoes or slept more than 6 hours a night and so many previously often-available-team-members had gotten full-time jobs and our plates were full & overflowing and we really started wondering how long we could keep believing in an impossible dream. We often wanted to just let go of this and start over again in life and make a paycheck like everyone else. #firstworldproblems.
But you wouldn't let us go and for that we thank you.
What our donation drive shows is that readers are hungry for things like this, and they will pay for it to keep it.
In conclusion, the only sustainable model I can suggest to anyone not employed by Viacom is to be completely fucking insane, accept life at the poverty line, have really talented friends, and to love your readers in hopes that they will love you back.
It's not for everyone. It is my dream to do this. I did write my own blog and do L Word recaps on the side for three years before taking this leap into an ultimately all-consuming project, and brought many of those dedicated readers and investors with me.
The lesbian market remains apparently unappealing to investors and advertisers. When marketers feel our community isn't buying what they're selling, they somehow blame the buyers rather than what's being sold.
But we know they're wrong. We're going to prove this. We know our writers trust that the second we can afford it, we'll pay them. We desperately need those people in the top 1% who own companies with ad dollars to recognize and appreciate the market here, which is present and hungry.
With our traffic levels, we should be making $1,000/day in advertising but we're not, obviously.
But all the reasons why advertisers and marketers neglect us are the same reasons why you like us, so the money then comes from you.
You all showed us this week that you love us just as much as we love you, which makes it a healthy relationship and lord knows those are few and far between.
We're gonna work out some revenue streams that don't require emptying your wallets and then we're gonna take over the world.
Amendment:
We want to help you all connect to each other so in that spirit we're unrolling some social networking features, there is a new bar at the top of the screen. This will have no impact on the editorial content or quality here and nobody is required to post a profile or participate in that element of the site. But for those interested IT EXCITES ME. People are already starting groups to arrange meet-ups, you should go join one.
We're using a buggy wordpress plug-in that we're still trying to fix (issues include randomly highlighted profile sections and avatar disfunction) so we haven't made a "big announcement" yet… but we just want to let you know that we're stepping it up.
We want to be good enough for you. You have paid us. You are our boss.
(Also to those who applied to help us it's taking a long time to go through all these fantastic applications so it's looking like next week is when we'll get back to you!)
(Also sidenote: if Pam's House Blend or The Bilerco Project or Womanist Musings go offline we will weep on our laptops, but also understand.)
[ETA: Pam's House Blend has a great article about this article. One of the things Pam mentions is that she has to keep her job for the health insurance it provides. As a person with a host of health issues including fibromyalgia, I agree — going without health insurance is a giant liability for me as became crystal clear when I got the ambulance & ER bills from Palm Springs. In New York, I was on Medicaid, which covered the meds I have to take daily. In California I don't qualify for Medicaid and paid out of pocket for my medication for my first few months here, but eventually found a program at a hospital in Almeda County for low-income persons such as myself which pays for some of my meds. Laneia's kids have health insurance through their father but she is also uninsured. I don't see myself living in California forever.]

I don't know how to end this so I'm ending it with a Stephen Dunn poem:
Between Angels
Between angels, on this earth
absurdly between angels, I
try to navigate
in the bluesy middle ground
of desire and withdrawal,
in the industrial air,
among the bittersweet
efforts of people to connect
make sense, endure.
The angels out there,
what are they?
Old helpers, half-believed
or dazzling better selves,
imagined,
that I turn away from
as if I preferred
all the ordinary, dispriting
tasks at hand?
I shop in the cold
neon aisles
thinking of pleasure,
I kiss my paycheck
a mournful kiss goodbye
thinking of pleasure,
in the evening replenish
my drink, make a choice
to read or love or watch,
and increasingly I watch.
I do not mind living
like this. I cannot bear
living like this.
Oh, everything's true
at different times
in the capacious day,
just as I don't forget
and always forget
half the people in the world
are dispossessed.
Here chestnut oaks
and tenements
make their unequal claims.
Someone thinks of betrayal.
A child spills her milk,
I'm on my knees cleaning it up —
sponge, squeeze, I change nothing,
just move it around.
The inconsequential floor
is beginning to shine.