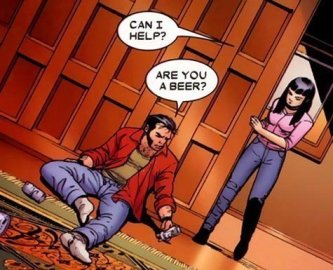 If you're a professional human well versed in the arts of "making money" and "management" and "success," it's probably a bit frustrating to observe the evolution of the Best Worst Idea of all time — aka Autostraddle.com. Hell, if you've ever run a lemonade stand you're probably wondering what the hell we think we're doing.
Just like our email inboxes are overflowing with emails, our brains are OVERFLOWING with ideas for making money.
But all we know how to do is write posts. We've built it, and rumor has it "they will come," but now what.
We already know as much as you can know about these things from reading/research/trying to do it ourselves.
So we don't need learners or interns or suggestions.
We need people who already know what they're doing and are prepared to do it!
Maybe you know how to set up speaking engagements for our charismatic youngsters or maybe you know how to sell ads or maybe you know how to find investors or how to make money rain from the sky? Maybe you know something about search engine optimization so when people google "lesbian," we come up within the first 50 pages of results?
We're open to a situation where specific people are working on specific business-related projects, just whatever works.
This is what we need:
Business/Marketing Advisor – We don't even know what this person would do, that's how much we need it. Someone who can help us make money.
Ad Salesperson – This should be a really easy job because we have cornered an incredibly specific market and you can make commission! Our media kit is SUPER cute, also. Jen will help you but she is in Canada. Alex is learning too. We do sell some ads but probs about 10% of what we could be doing.
Really this advertising should sell itself! You should live in the United States! (Ideally in the Bay Area, the Los Angeles area or the New York metro area but if you don't that's okay.)
Sidenote: It's gonna take us a few days to start getting back to people 'cause we'll have to read/talk about them first. But we're really liking what has come in so far, like a LOT!

What should you do if you want to do this?
Email laneia [at] autostraddle [dot] com, cc riese [at] autostraddle dot com. Tell us what you can do, give us a resume, link us to relevant evidence of your success. It's up to you, really, just tell us what you think we need to know and why you want to do it/what your expectations would be.
I'm reading this because I read everything Autostraddle posts, but I am not a businessperson. What can I do?
We're trying to raise at least $10,000 to keep going for the next two months, during which we hope to establish a more secure, less-dependent-on-you revenue stream. This is more-or-less barebones survival.  I sorta half-mentioned this on our tumblr and people have started donating/buying things and we've raised about $8,416 (as of Sunday April 17th 6:20 PM PST) so far in donations/sticker sales. You can see our progress in the widget on the sidebar!
We'd like to take a moment to recognize how fucking kickass you guys are. We have tons of subscribers and donators — enough to keep us going this long! If you've donated anything, we would hug you if we could see you. You're the best. Thank you.
Anyhow, we might look into indie-a-go-go (we can't do kickstarter because we don't have a specific "project"), but for now if you wanna donate or buy merch, please do!
Other ways to help out include buying things on amazon via autostraddle links (there's a big button in the sidebar for easy access) — whatever you buy there after clicking out from us earns us commission. We get between 5% and 7.5% of your purchase, 10% for mp3s, and a $50 kickback for any purchases from the amazon wireless store.
ETA: By popular demand we've now added an affiliate account at The Book Depository. Also check out these posts which are heavily affiliate-linked, some may be relevant to your interests:
+
Shopping Guide Greatest Hits:
+ Boyshorts 101: Your Complete Guide to Successful Lesbian Underpants
+ Best Headphones: Autostraddle's Headphones Shopping Guide
+ Headphones Shopping Guide Part Two
+ Feminism 101: Read Books, Become a Better Womyn
+ Autostraddle's Swimsuit Issue: Butches, Bois, Femmes, Dykes, Grrrls and Otherwise-Identified Beachgoers
+ How to Smell Good 101: Cologne & Perfume Guide for Queers
+ How to Not Dress for Success: Top Fashions For Being Alone in Your Apartment
+
More Incredibly Awesome Shopping Guides:
+ Autostraddle's Ultimate Holiday Gift Guide 2010: What Your Girlfriend Or Otherwise-Inclined Pal Wants
+ 2010 Fall Fashion Guide for Various Shapes, Sizes, Gender Expressions
+ 2010 Winter Fashion Styles For Various Shapes, Sizes, Gender Expressions
+ Spring Style for Girls Who Like Dresses, Heels, and Flowers!
+ Queer Style: All The Small Things–Autostraddle's Accessory Guide! Part 1
+ The Queer Style Revolution Will be Accessorized: Accessory Guide Part 2
+ NSFW Sunday Wants a Famous Fisting, Other Lesbosexy Gifts – Includes strap-on shopping guide
+ Period 101: Toxic Shock Station Stomps Out the Tampon Industrial Complex (Includes links to diva cups, tampons which are cheaper when you order them in bulk on the internet, etc)
+ Autostraddle Picks the Best Games of 2010 and Top 5 Anticipated Video Games of 2010
+ 19 Coolest Holiday Gifts for Geeks, Gamers, Tech-Nerds & Beyond
+ What Your Girlfriend Wants: Autostraddle's Final Ultimate Holiday Gift Guide 2009
+ Also most of our music posts are affiliate link parties, especially playlists.
+ Ditto for books posts, such as Read a Book, You Stupid F*ck: Lesbian Lit for Spring 2010
Also if there's a thing we could do for you that you'd pay money for — a 'zine, copywriting, a card from intern emily, etc. — let us know and we'll look into it!