[This post was inspired by the success of the "Top Ten Sweatpants" post. Obvs.]
SO. It seems like a lot of you are familiar with "the feeling of is the sun setting already, I haven't even been outside yet" or "the feeling of being all undressed up with nowhere to go," and therefore could probably use additional fashion tips from me. I am the queen of all undressed up.
I've been rolling out of bed, walking across the room and turning on my Macbook every morning since mid-2007, when my then-girlfriend had a psychotic break and I had to quit my job and consequently I became a temporary agoraphobe and started working freelance from home. So now, in lieu of structuring my days in a traditional way or really at all, I've settled into a comfortable routine in which the transition from "work" to "play"/"playing while working" is indicated primarily by a shift in sobriety and a change in outfits.
People who work "in offices" have all kinds of rules for how a person should dress for success — rules which involve blazers, uncomfortable shoes, ties, pressed pants and other concepts that ultimately stifle the human soul. Working from home allows you to tap in to your most authentic self — but let's not confuse that with "being lazy, apathetic and generally aimless/hopeless about life."
One quickie before we begin: I do advise — and I'm being serious! — that if you're the kind of person who doesn't like to be seen without your pants on/makeup on/hair done, that you should do those things first thing in the AM, just like if you were going to work. Otherwise the prospect of answering the door, video-chatting, or running an errand will seem gradually more and more insurmountable, as "put pants/eyeliner on" is another overwhelming step strengthening inertia's deadly grip.  Putting on pants also helps your mind register the transition between "play" (the underpants you slept in and a ratty t-shirt) and "work" (clean sweatpants, a hole-free t-shirt) and enables you to take yourself more seriously. Because GIRL YOU ARE SERIOUS. BEING UNEMPLOYED AND/OR WORKING FROM HOME IS SERIOUS BUSINESS. And just because we don't have to iron our pants doesn't mean we can't have our own share of the market! We are the future of America, everybody.
Basically, I've been at this for a while, and I pretty much look like shit. But G-ddamn am I comfortable, and you should be too.
+
Top Ten Stay-At-Home Fashions
1. Hoodies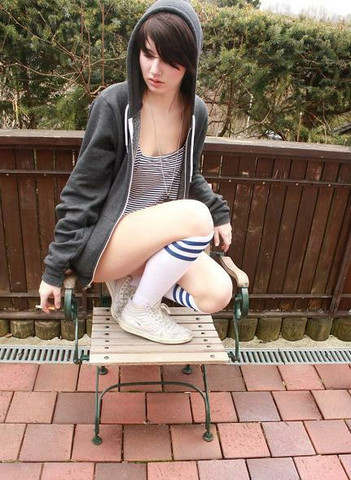 Hoodies are like the Swiss Army Knife of torso-wear, because they're a hoodie AND a spring jacket AND a hat (the hood). Ideally during the day you should put on and remove your hoodie several times as the temperature changes in your room, based mostly on what drugs you're on and if the air conditioner/space heater is working.
You need AT LEAST 2-3 hoodies. It's good to have either a black or navy blue hoodie, a grey hoodie, and a color that looks good with all the t-shirt colors you wear most often.
Let's be honest — nobody does a hoodie like American Apparel. This is unfortunate, because Dov Charney is an ass.
+
2. Basic T-Shirts
A three-pack of Hanes V-Neck T-shirts is like $15. Plus, white is such a "clean" color that wearing it is almost like dressing up, and when you spill coffee on it you can say "well, at least it only cost six bucks."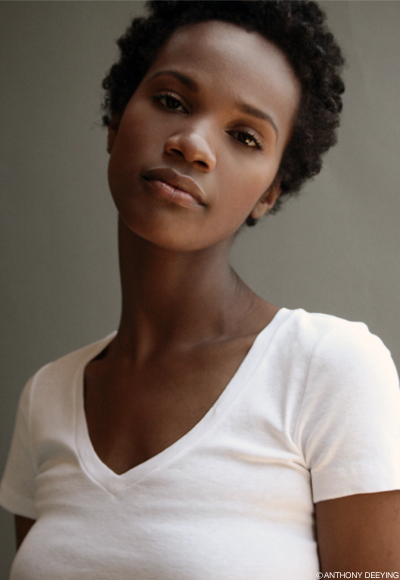 I enjoy American Apparel v-neck t-shirts. However they are obnoxiously overpriced. So either you find someone to get you a bunch of them, which's what I did, or you get off your ass and product test some fucking juice or babysit someone's kid or something and then buy yourself a t-shirt. They're cheapest on Amazon, IDK why.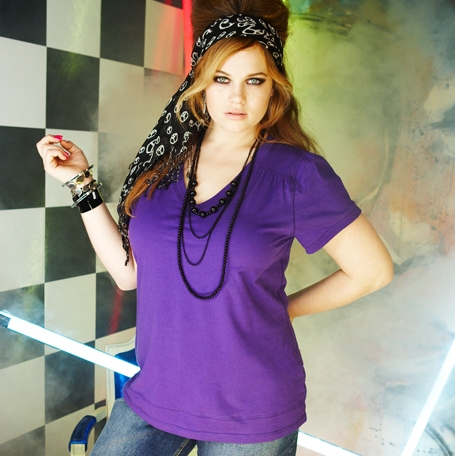 Also stock up on wifebeaters. You can never have too many wifebeaters. See, look how happy she is: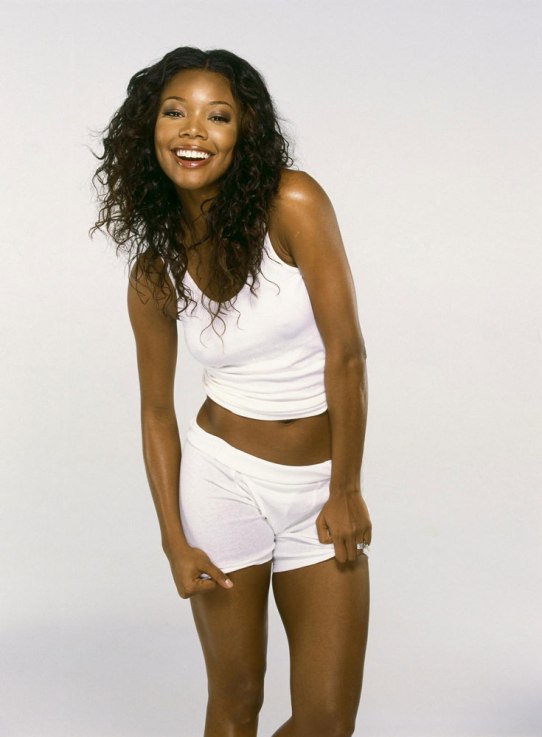 +
3. Gigantic Sunglasses
When you're spending 75% of your day in various stages of "recline," it's important that you don't lose your sense of importance. I am totally averse to celebrity magazines 'cause I don't care who anyone is dating, but I do enjoy flipping through them at the nail salon for fashion tips.
Celebrities are special in that people want to photograph them in their sweatpants with no makeup on. When you're just a regular person, people want you to put on real pants and makeup before they'll take your picture. So in this way celebrities are actually our only guides to Hangover-Wear.
And they all wear gigantic sunglasses. The bigger the lenses, the bigger the hangover.
To comfort myself about my overall failures in life, I like to really get into character, trudging up to Starbucks in my giant sunglasses thinking to myself "G-d I wish Mary-Kate would stop being so mean to me" or "I can't believe Kevin thinks HE deserves full custody of Jayden!" You know?
Get some cheapies at Alloy, these stylish Aviators from Steve Madden, or make like the famous people do and spend $325 on Oliver Peeples Sunglasses that you'll probably accidentally leave at Applebees.
+
4. Actual Glasses
I also recommend ACTUAL GLASSES, like these clear-lens geeky glasses from ASOS. I was always envious of my near/farsighted friends in college b/c all they had to do was put their hair in a ponytail and put on glasses instead of contacts to indicate "I am so busy and frantic today that I didn't even have time to put in my contacts!" which is exactly what you want people to think when you slept through your alarm.
I now have actual glasses because staring at this screen and reading books in the dark for 28 years finally caught up to me.
+
5. Fuzzy Boots / Flip-Flops / Slippers
You might think that if you're inside all day, footwear is not important or even necessary. WRONG. See above w/r/t leaving open the possibility of leaving the house, and also, your kitchen floor is colder than you think it is. You will realize this when you leave your room to go make toast, and realize I am right. When you first look at these boots (below) you might think, "ugh so ugly!" But actually, they're the best boots of all time, I own them, and I wish Puma hadn't discontinued them. However, I believe there's a number in China you could call.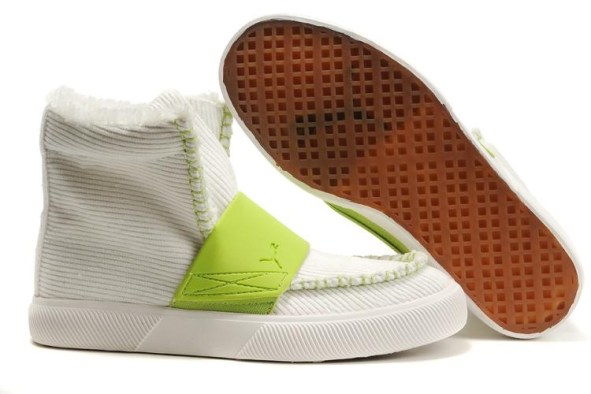 "Is it ever okay to wear Uggs?" you might ask yourself. YES OF COURSE IT IS. Uggs are PERFECT for your lifestyle, except they cost a lot. Less expensive options include these Roxy Glee Booties or these Minnetonka (As LA Gear is to Reebok, so Minnetonka is to Uggs).
I don't like flip-flops but I understand why they're a hit amongst people without very sensitive between-the-toes-skin.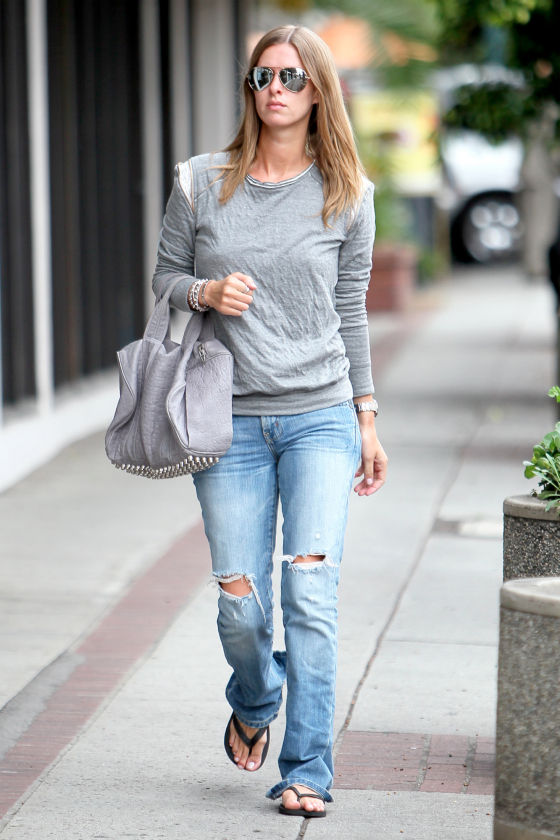 The key here for slippers, flip-flops or booties is that there are no ties/buckles involved, requiring only minimal commitment to shifting activities from outdoors to indoors while emanating an aura of effortlessness.
+
6. Baggy Jeans + Adult Jeans
+
Pair #1: Baggy & holey.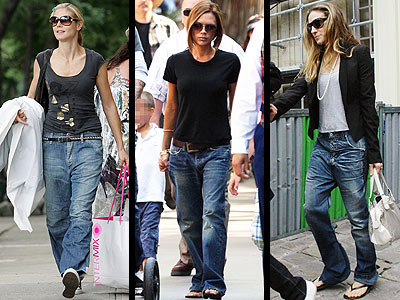 You should be able to pull these jeans down without unbuttoning the waist. Secretly I actually find nothing more adorable/sexy than a girl in baggy-ass jeans. These jeans will be so cozy, they will almost feel like pajama pants. If your parents were hippies, they probably have some in the attic, or you can go to a thrift store or Old Navy or the mens section.
+
Pair #2: Dark & Tight.
Keep these on-hand for an impromptu special occasion like going to Whole Foods, picking up your child from a rich person's house or going to the gas station right next to your old high school.
+
7.  Multiple Pairs of Sweatpants/Leisure Pants & Leggings
We go into detail about sweatpants in top ten sweatpants. But it's hard to say too much about sweatpants. You will need at least:
+ One (1) pair of comfortable/warm sweatpants
Ideally in a dark color so they can double as a napkin.
+ One (1) pair of "Surprisingly Sexy" leggings or yoga pants.
What happens if you're at home editing a video and your girlfriend suddenly shows up at the door? Yes, she claims to love you unconditionally, etc., says you look cutest with no makeup on just like Drake, but what's the harm in pre-packaging your butt in loungewear that appears both lazy/accidental and SECRETLY HOT.
+ 3-4 additional pairs of your choosing
Underwear Tip: if you wear tight, thin boyshorts that cover your entire ass, then you won't have to change underpants when switching from leggings to gym shorts to jeans to bed!
+
9. Sneakers, Gym Shorts & a Sports Bra
My number one piece of advice for stay-at-home people is to leave your home. Specifically, I want you to go to the gym. Not because I think you need to lose weight (I don't) but because working out is really the only thing in the world guaranteed to make you feel better about yourself afterward without any negative feelings, consequences or complications tacked onto it. Also, when people make snide remarks about you staying at home all day, you can say "I go to the gym every day," and then they'll feel like an asshole because they don't go to the gym and you are therefore a supreme being. If you can't afford a gym, we totally get that and recommend walking down to Dunkin Donuts every day instead, or going for a run just when you know the cute barista at the place down the street will be leaving work and unlocking her bike. She will be impressed by your athleticism.
All you need are some cheap shorts, the wifebeaters I already told you about, a sports bra, and some sneakers.
+
10. Legwarmers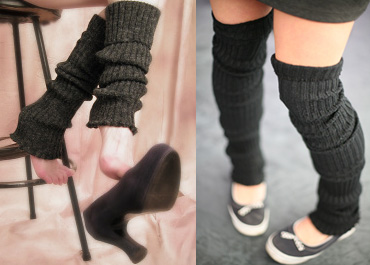 I prefer stirrup legwarmers (these Stretchy Oversized Boucle Stirrup Leg Warmers look warm) worn by actual dancers because they stay put, but you can find more stylin' styles if you venture out of stirrup-territory. I can't tell you why these are so important, but they are. And if it's really hot out, you can wear them with boyshorts and it's practically an outfit and perfect for housecleaning.It's like being on FAME! 24/7.