Every year you want sweatpants for the holidays and nobody ever believes you because it's like asking for socks or something right. That's totally bullshit, sweatpants have officially become second to "no-pants" in the battle of The Best Pants to Wear For The Day. You know how they say bloggers work from home in their pajama pants? That's not true, we work from home in our sweatpants. We don't have pajama pants. We sleep naked. Anyhow.
Today I'm going to tell you the Top Ten Sweatpants according to me (except for one of them which is according to Senior Editor Rachel and two others which are according to Executive Editor Laneia). Because I'm only one girl, I encourage the rest of you to share your sweatpant recommendations in the comments, because we are all special snowflakes with different needs.
Top Ten Sweatpants
[not really in any particular order]
+
1. Uni Sweatpants
Senior Editor Rachel loves her Sweatpants from Brandeis – which she says are either $29.98 or "something like 87 dollars." Rachel graduated college in June and has probably forgotten about math, I think.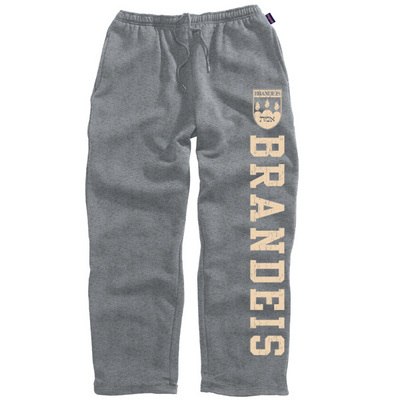 Rachel says: "The best sweatpants I own are ones I bought from my university bookstore. I was angry that they were like $87 or something but then I put them on and was like oh shit, these are the best sweatpants. They're really thick and have pockets and also the band is really tight so they don't sag. I also wanna share that sweatpants are like ALL I ASKED FOR this Christmas, but apparently no one thought I was serious because no one got me any."
+
2. Basic Champion/Hanes/Fruit of the Loom Sweatpants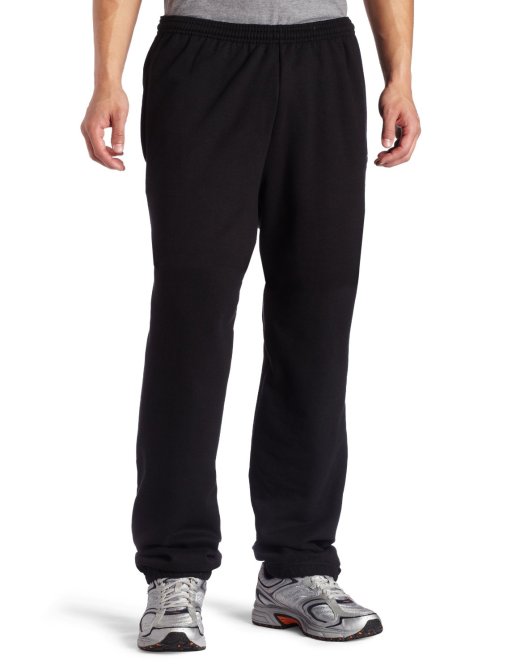 These Champion sweatpants are not cute. Your butt will not be featured or showcased in any way. But they are warm, and they have pockets and they are SO SO CHEAP and especially good for laundry day (espesh if you've got quarters/keys to lug around)!  You can find similar styles peddled by Hanes and Fruit of the Loom. We recommend slaughtering the legholes at the bottom b/c the elastic thingie around your ankles is oppressive, like the patriarchy.
If you want basically the same cut but softer, in better colors, and way more expensive, try American Apparel's Flex Fleece Sweatpants.
+
3. "Lounge" Pants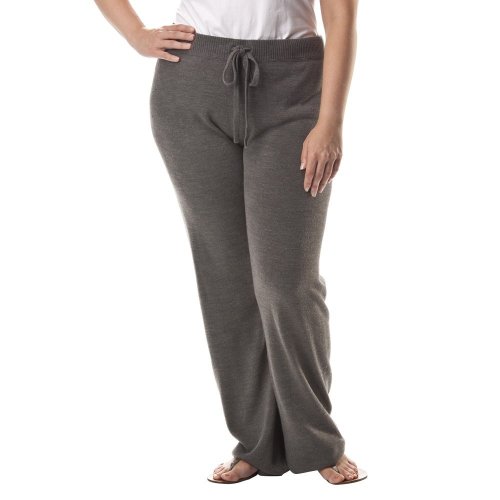 Lounge Pants are just for ladies. You can wear these anywhere anytime. They feel like pajama pants, but they don't have plaid or stripes, so you can wear them to the grocery store and people will think you just left the gym when really you just got out of a Buffy Marathon Coma and plan on returning to it asap.
+
4. Hard Tail Yoga Pants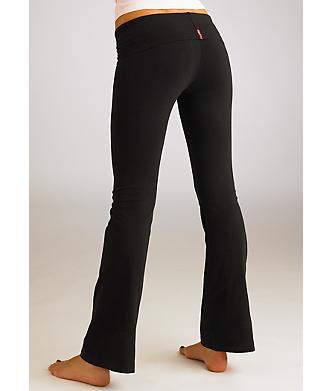 Once upon a time I went to the University of Michigan and befriended many girls from the New York Tristate Area who sported very expensive clothing/accessories. Although they were wrong about most of their fashion choices being "worth it," they were totally right about Hard Tail yoga pants, they are THE BEST.
I have worn my ~4 pairs of Hard Tail pants literally EVERY SINGLE DAY, or at least every-other-day, since 2002.
I KNOW THEY'RE EXPENSIVE but Hard Tail Roll Down Yoga Pants last forever and make everybody's butt look cute. Even better are the Hard Tail Roll Down Bootleg Flare Pants because they are made out of thicker material so they last EVEN longer and are less HERE'S MY JUNK, etc.
+
5. Status Sweatpants
e.g., Abercrombie, Hollister, Juicy
Your Abercrombie/Hollister sweatpants scream "I have money for sweatpants!" But everyone knows you weren't on the Abercrombie Hockey Team. Don't front.
(Sidenote: As a 5'10 human, I've found Abercrombie sweatpants ideal 'cause they've got a 36 inch inseam. Hollister however is for adolescent girls and people who only eat lettuce and mustard. American Eagle has cute stuff but runs too short for me.)
+
6. Lesbian Status Sweatpants
Once upon a time someone bought me a pair of Free City sweatpants. They feel like heavenly clouds are embracing your thighs, but baggier. When I become v.rich/successful, I feel like Free City is the only "expensive" brand I'd ever patronize. I mean, also it's an independent lesbian-owned business with super-ethical/green/community-oriented feelings.
However about a month ago, I turned on my closet light (a desk lamp in my closet), not realizing it was aimed directly at a stack of sweatpants, and I left it on for too long so it burned a hole in "FREE" and I almost cried.
These suckers are expensive, for example these cost $150, but your purchase will ensure Leisha Hailey has enough to eat.
+
7. Grandpa-Style Pajama Pants / Sheet Pants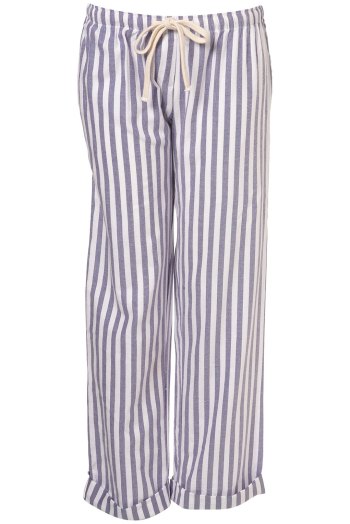 Exec Editor Laneia says: "These are sometimes referred to as 'like hospital scrubs' or, as I call them, 'sheet pants,' because they're not jersey or flannel and they feel like bedsheets. You've got a drawstring elastic waist, straight roomy legs and if you're the luckiest person on earth, pockets. These pants let the everyone know that your legs need to breathe and you are not cold. When you buy them from aerie or Old Navy in the spring / summer, you will enjoy the low-rise cut and the cute patterns and fuck if I don't love a cute pattern."
+
8.  The Red Sweatpants
My BFF, rising star Haviland Stillwell, had this pair of Russell Athletics dark red sweatpants she always wore when she was in a state. She cut off the bottoms and there were slits on each side. This one night, I slept over at Haviland's for the first time (mhm) and then the next morning when I missed my flight to New Orleans she let me borrow the pants. Eventually she gifted me the pants.
Basically, these are magic pants best suited to a mental breakdown. I can't tell you where to buy them, I just wanted you to know.
+
9. American Apparel Leggings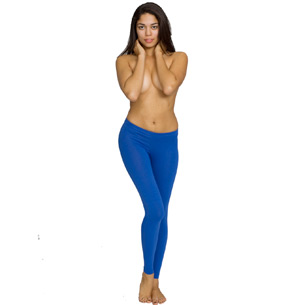 WHEN I WEAR MY AMERICAN APPAREL LEGGINGS I WANNA GET PHYSICAL, PHYSICAL/ I'M WEARING THEM RIGHT NOW also we think that leggings are the most HONEST KIND OF PANT.

+
10. Threads for Thought Roll-Top Leggings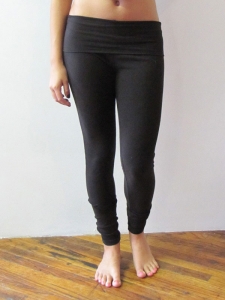 Exec Editor Laneia says: Rolling the top down on your Thread for Thought pants instantly makes them customized to you and your life and your body. Do you want the waistband of your pants to hit you mid-ass? Do it. Roll that shit down. Not feeling it today? Wanna pull 'em all the way up under your boobs? FUCKING GO FOR IT I'M NOT HERE TO JUDGE THESE ARE YOUR PANTS.
Also hi hello, leggings are another way of fucking the patriarchy, because by wearing leggings, we're highlighting yet another part of our body that/which we're taught should look a certain way before we highlight it. Leggings are your way of saying "this is what my legs look like DEAL WITH IT." The cutest girl in leggings isn't the skinniest one or the tallest one or the one who goes to the gym the most, it's the one with the smile on her face and the world in her heart.