As you have probably already heard, the 9th Circuit of Appeals made a "ruling" today on the appeal of Judge Walker's original court decision. It was not actually so much a ruling as a postponement of one, or specifically "certification of a question to the California Supreme Court." The court has ruled that Imperial County, which tried to intervene in the case, does not have standing to appeal Judge Walker's ruling. They didn't make a decision either way, however, on the issue of whether Protect Marriage (aka Yes on 8/h8ers) does have standing. They essentially shot this question right back to the California Supreme Court, which is confusing because it seems very much like this was virtually the 9th Circuit of Appeals' only job. The exact wording of the question does not clear things up that much:
Whether under Article II, Section 8 of the California Constitution, or otherwise under California law, the official proponents of an initiative measure possess either a particularized interest in the initiative's validity or the authority to assert the State's interest in the initiative's validity, which would enable them to defend the constitutionality of the initiative upon its adoption or appeal a judgment invalidating the initiative, when the public officials charged with that duty refuse to do so. We understand that the Court may reformulate our question, and we agree to accept and follow the Court's decision.
The issue, clearly, is standing – hopefully someone who actually went to law school will be able to explain this to you more accurately and thoroughly tomorrow, but the very basic idea is that an appellant needs to be directly affected by a ruling in a demonstrable way in order to have their appeal heard by the courts. Or, in legal terms:
Standing to defend on appeal in the place of an original defendant demands that the litigant possess "a direct stake in the outcome." Diamond v. Charles, 476 U.S. 54, 62. Petitioners' primary argument–that, as initiative proponents, they have a quasi legislative interest in defending the measure they successfully sponsored–is dubious because they are not elected state legislators, authorized by state law to represent the State's interests, see Karcher v. May, 484 U.S. 72, 82. Furthermore, this Court has never identified initiative proponents as Article III qualified defenders. Cf. Don't Bankrupt Washington Committee v. Continental Ill. Nat. Bank & Trust Co. of Chicago, 460 U.S. 1077.
Prop 8 was a ballot initiative, which makes Protect Marriage an "initiative proponent;" as the Court says, initiative proponents have never before been granted what Protect Marriage is asking for. This makes it kind of a long shot for Protect Marriage, but the fact that the 9th Circuit didn't rule that they were without standing immediately isn't heartening either.  The question is whether the members of Protect Marriage – namely straight religious conservatives who virulently oppose same-sex marriage – are affected by a ruling that legalizes same-sex marriage. Since whether or not straight people are affected by gay marriage is a major argument in the national debate on the subject, it's a very interesting question to watch play out. Keep checking back for more information on what this means, and in the meantime, Prop 8 Trial Tracker is hosting a Q&A in their comment threads if you have a specific concern.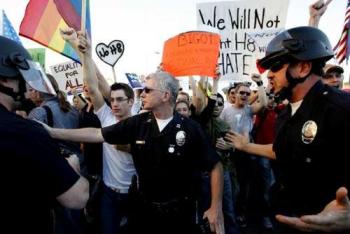 To the best of my understanding, the 9th Circuit of Appeals has come to the conclusion that the question of whether Protect Marriage has the standing for this appeal is only answerable by looking at the California State Constitution, which is the job of the California Supreme Court. Does that mean that their ruling will set a precedent for issues like this in the future? We're not sure. We also have no news on when this next decision will be made, or what to expect. But we've been waiting for this victory a long time, and we can wait out every homophobe in every courtroom if that's what it takes. Or, as Dan Choi says: