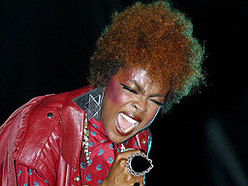 The moment it was announced that Lauryn Hill was doing a show at the Williamsburg Music Hall, I knew I had to go. I'd just paid rent down to my last dollar, so like a true asshole I coerced my best friend to purchase us the concert tickets by throwing my best ADHD fit until she couldn't stand to look at me anymore. My argument was: It's Lauryn Hill! It's worth it!
You'll probably agree that Hill's 1998 debut solo album, The Miseducation of Lauryn Hill, was a hugely significant release. It sold over 18 million copies and racked up 5 Grammy Awards, it even beat out Madonna's Ray Of Light as 'Album of the Year'. Her worldwide commercial success confirmed what most of us already knew from her time with The Fugees – that Hill was a truly gifted hip-hop artist, one of the best.
I'd heard that Lauryn Hill was a little eccentric. Following the success of Miseducation, she went on some sort of personal exodus and disappeared for four years. If the stories are to be believed, she threw herself into Bible classes, fired her management and stopped listening to music altogether. In 2000 she came back with MTV Unplugged No. 2.0, a recording of an intimate live performance that received mixed reviews. Some critics praised it as an honest and raw representation of Hill's emotional state, while others claimed that the songs were unfinished. Rolling Stone went as far as to describe the record as "a public breakdown".
Which brings me to last week's live performance by Lauryn Hill at the Williamsburg Music Hall.
We arrived half an hour early, just to be safe. It was unnecessary, though – one hour passed, two hours passed, and Ms Hill was nowhere in sight. Into the third hour of waiting, the crowd had grown hostile, to say the least. The mood in the room only lifted momentarily when an 11-piece band took the stage and played along with the DJ, we thought this was surely a sign that Ms. Hill was about to appear. Not so.
Nothing speaks louder than an artist's relationship with their musicians, and clearly the one between Lauryn Hill and her 11-piece band is shit. Forced to stand in front of an increasingly restless crowd for 30 minutes, the band members exchanged awkward stares and even started texting each other on stage. After dealing the crowd's protests and beer can projectiles, Lauryn Hill's keyboard player created a paper sign that said: "We were on time."
Meanwhile, two gorilla-like bouncers grabbed a girl by the back of the neck and slammed her to the ground. By this point Lauryn Hill was three and a half hours late.
At 1am, three back-up dancers walked on stage and the room went quiet. It was finally time. Lauryn strolled out sporting a tight afro and some flowy get up. At that point, I was expecting an excuse. Maybe her dog was hit by a lawn mower or some other horrific injury was sustained, something so tragic that it could justify the absurd time lapse. Instead, Hill responded to the crowd's hostility by launching into a masturbatory rant that included the protest that 'it takes a lot to get everyone in the one place,' as if this was a concept that us mere mortals in the crowd had never dealt with before. She told us that she was worth the wait.
I've been to many concerts by many equally-iconic artists and to put it bluntly, I've never come across one who is so blindly out of touch with their fans. On stage, Ms Hill projected a landfill-sized ego. As a long-time fan, the biggest disappointment was not the time delay but rather the realization that Lauryn Hill is a complete tosser. It stung, like being dumped by a high school sweetheart.
Despite the long wait and lousy attitude, we held onto the hope that her performance would be redemptive and leave us with something fond to remember. We wanted to hear the Queen of Hip-Hop's soulful, soaring voice. Instead we were delivered a sort of scat/rock scenario that was sort of like singing, I think – it was difficult to tell over the noise of the three electric guitars in her blaring 11-piece band.
It took me until half-way through the first song to realize that I actually knew it, I was just confused by the particular 'remix' that was being executed on stage. That happened with a lot of songs. Hits such as Ex Factor and To Zion were butchered to the point of being unrecognizable unless you happened to catch a few bars by the back-up singers. Many people in the audience, myself and my friend included, responded to this new sound with cautious and slightly horrified looks and, at times, nervous laughter. A few fans made the most of the show, moving from side to side as Ms. Hill waved her hands and signaled for the crowd to get into it. Not everyone, though. Some walked out.
The only words I heard clearly from Lauryn Hill that night were, "you might win some but you just lost one." I could not sum up the evening better myself.
Stef Mitchell is an Australian photographer and writer who's currently based in New York. Check out more of her photos and words here, here, here & here.