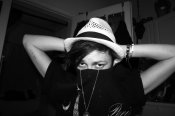 The last time we heard from Australian photographer and writer Stef Mitchell was in Sept '09 for our report on P!nk's Funhouse tour. Except for the decade, not much has changed. Stef is still rad photographer who has never met a straw hat that she didn't like. However instead of hanging around Sydney, Stef's now running amok in New York and snapping one of her favourite bands – Cold War Kids – for Autostraddle.

Cold War Kids
Williamsburg Music Hall, 28 January '10
If you're a) a dedicated fan or b) own a radio, you've likely heard Cold War Kids' arguably most popular single "Hang Me Up To Dry". But not everyone has experienced being two rows from the front of a sold-out show, pressed up against a dreamboat of a girl and drunk enough for it to not be awkward while frontman Nathan Willett announces that "this song is for the truly desperate" and then belts on into the first chorus like something inside him is strange and electric.
The Cold War Kids are among a handful of artists whose talent was documented via massive blog-buzz before they even became an established band.  Fresh out of the recording studio in 2005 with their EP Mulberry Street, the boys from LA went on to enjoy a solid whirlwind of success while proving that the 'young people' of today can make you move and have a social conscience.
"They create characters and small narratives that clearly resonate and captivate their listeners."
In addition to their notably unique sound, the Cold War Kids offer up another uncommon element: they create characters and small narratives that clearly resonate and captivate their listeners. This can be slightly alarming, like when you consider that the title character in Saint John is on death row after throwing a brick at a boy's head, or that a terminally ill patient is singing about "joy and misery' in Hospital Beds or that in We Used To Vacation, an alcoholic father fails rehab and consequently admits "it sounds so soothing, to mix a gin and sink into oblivion."
The packed Williamsburg Music Hall reverberated last week with the sound of Cold War Kids' recently released EP, Behave Yourself, giving particular power to the fittingly titled "Sermons vs the Gospel."  Thumping vocals from Nathan lead the entire crowd chanting "Lord have mercy on me." The comparatively light-hearted "Santa Ana Winds" kept people moving and, because of the song's newness, enthusiastically belting out words they didn't quite know.
The four songs on the new EP are a slight departure from the introspective ballads that CWK have become known for. Speaking to MTV, Nathan recently explained that "they're lighter… they seem to have a different feel altogether" and at the show it was evident; the mood lightening as they shifted between old and new material.
The boys chose to relocate from central Los Angeles to San Pedro, which helped them distance themselves emotionally from their old work and tap into new energy. Their new studio is a gutted office building where they've created their dream space, packed with instruments and walls plastered with bassist Matt Maust's artwork. A large black-and-white piece announces "Black is the Color of my True Love's Hair." So perhaps he wasn't the pioneer of their new, "lighter" direction.
Near the show's end, the band reached its peak with "Hospital Beds" when guitarist Jonnie Russell snatched up a maraca and started smashing the symbols with it. Nathan semi-stumbled/threw himself into the other band member and suddenly the stage turned into a romping ground of what looked like a bunch of 12-year-olds having an ecstatic tantrum. The lights dim and they disappeared, only to come back on and aluminate clear crowd favourite "We Used To Vacation," Nathan doubling up as he soothes "this will all blow over in time".
For CWK though, it's highly unlikely. Recording for their third album starts this month.
---
Follow Stef on twitter and visit her awesome photoblog