Welcome back to What I Wore, a column about fashion as shelter in traditionally heteronormative and patriarchal spaces.
---
Extended Family Gatherings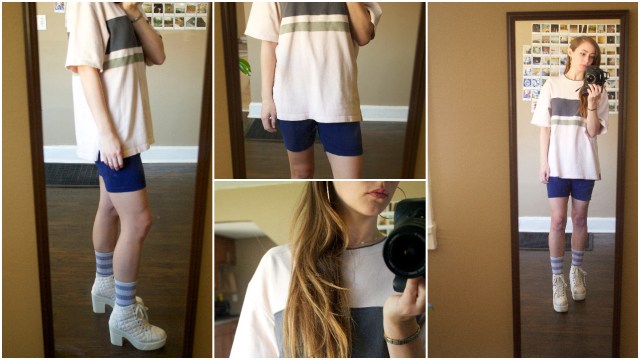 As the only queer identified member in a pretty large southern and religious family (not counting gay uncles who moved out of state decades ago), I represent a very exotic, unstable bridge to another world whenever I return home for birthdays, weddings, new babies (so many babies) or holidays. This is a fairly new development for some of them, so it's understandable that they're still reconciling the image they had of me five years ago, their assumptions of what gay people look and dress like, their hopes for me based on "potential", and the actual image they have of me now. That being said, I love to mess with them.
In their eyes I got two things right with this outfit: long hair without much body or movement and shoes with tall heels. So, wearing an oversized, shapeless shirt with cotton lounge shorts as the main ensemble is no doubt frustrating for them. Also horizontal stripes?? You're doing nothing for your figure! Maybe she doesn't know about things like that, because of the gayness. To ensure a mixed conclusion to that query, I make sure the wings of my eyeliner are so far-reaching and symmetrical that life for them no longer makes sense.
Success rating: 5 out 5
---
The Straight Bar

Usually it follows that you build accessories around an outfit, but when you want to draw focus away from the clothes that might attract the wrong people, you build your outfit around your accessories. And there is nothing more terrifying or confusing to straight men than black lipstick. Pair that with some dusty sneakers and a unisex jacket straight out of Ally McBeal, and any appeal that flowing pearl skirt had is voided.
Success rating: 4 out of 5
---
Brunch
I think the reason so many straight families go to brunch is because it's like date night without having to get a babysitter. Fair! And while I respect the game and know many lovely straight families exist, add being affectionate with your girlfriend into the mix and you just never know what those little rascals are going to say!
To a casual viewer, this might seem like a down home, girl-next-door outfit. Oh, just some casual slip-ons, a jersey top, cut-off jean shorts and a baseball hat. I'm basically Connie Britton in Friday Night Lights. Hey y'all! But then it's like, oop, nope, that's just a bra. Mesh, the gayest fabric, combined with overexposure is enough to steer any straight family away from your table. Also, I wear that Atlanta Braves hat ironically, (I wrote off the Braves when I was nine after meeting one of their star pitchers, Tom Glavin, in a Boston train terminal where he proceeded to ruin everything I held sacred – THE BRAVES – when he sighed and stood next to me in a picture like he was being held at gunpoint) so if anyone would have been like, "Hey, Atlanta, nice," I would have gotten to be like, "NO, INCORRECT."
Success rating: 4 out 5