If you are one of those people who a) has a TV and b) watches Saturday Night Live even though Tina Fey isn't on it anymore, you may have seen an SNL sketch this week advertising a false product called "Estro-Maxx." You may also have flipped a shit over how transphobic it was, and consequently either changed the channel or kept watching even though you were disgusted because wasn't this the one with Nicki Minaj?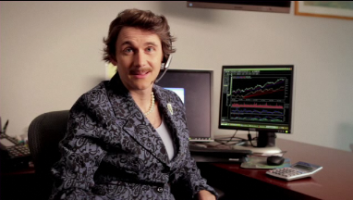 As is its custom, GLAAD has issued a demand for an apology, and started an online petition for Saturday Night Live to respond. Their statement reads:
In the January 29 episode of Saturday Night Live, NBC broadcast a dangerous and blatantly anti-tansgender segment which they called 'Estro-Maxxx' – the punch line of which was the lives of countless transgender people across the country.

The piece was a mock commercial for estrogen replacement therapy and featured men with facial hair wearing dresses, meant to represent transgender women. This segment cannot be defended as "just a joke" because there was no "joke" to speak of. The attempted comedy of the skit hinges solely on degrading the lives and experiences of transgender women. Holding people up for ridicule simply on the basis of their identity fuels a hurtful climate and puts people in danger, especially given how infrequently the media shines a fair and accurate light on the lives of transgender people. "The violence, discrimination and harassment that transgender Americans experience each and every day is no laughing matter," said GLAAD President Jarrett Barrios. "Saturday Night Live is a touchstone of American comedy, but Saturday's unfunny skit sends a destructive and dehumanizing message."
See that? What they did there? They made a logical and solid point about when things are funny and when things are not funny. This is a disappointing story in terms of the sickness of our national climate and the casual cruelty of our media culture and the willful ignorance of The Average American, but these things will only change when people understand WHY these things aren't funny, or why it's different when the joke is at the expense of marginalized groups.
From "Is GLAAD Humorless? Is it Just a Joke?" (the whole thing is worth a read):
From a pure script standpoint, this sketch is not at all anti-transgender and is actually rather respectful. In fact, some transgender people might agree with lines like "nature got in the way.wp_posts But the fact that the sketch gets all of its laughs from visual gags, aside from Brittain's line, undermines that respect entirely. In fact, the respectful dialogue almost makes the sketch even worse, and here's why.
By having the actors play these transgender characters more like straight men, this sketch is telegraphing how it really feels about transgender people; they're actors, pretenders, and 'men in dresses.' Two of the characters even have obvious facial hair, one of whom has purposefully groomed his into a mustache. And by playing their appearances for laughs, the sketch is telling the audience that no matter how seriously transgender people take themselves, that doesn't mean you have to take them seriously.
It's not "just a joke,wp_postsand it's not that GLAAD doesn't "get the joke,wp_postsbecause there was not a single 'joke' in this entire sketch, unless you think the appearance or acceptance of a transgender person is funny.  SNL should be better than this.
COMEDY should be better than this.
Is GLAAD overreacting? Opposing Views says no:
"Yes, it's true that SNL pokes fun at people of all shapes and sizes, races and genders, backgrounds and political leanings. But they poke fun at their behaviors or their mannerisms or the way they react in certain situations. They don't poke fun at them just for being who they are.
From a really basic creative standpoint — a spoof has to point out the ridiculousness of the original — like the idea of spreading a magic potion on your head to grow hair overnight, or that the best way to get skinny is to hold a vibrating weight in your hand. But the fact that you need to take Estrogen more than once a day isn't really problematic, ridiculous or funny and furthermore, it's never advertised on television! And if the idea is to poke fun of ads for bio-women's estrogen pills, it seems like the more effective ad would be more akin to this ad spoof of Annuale and have nothing to do with transpeople at all.
An apt point to end on, from The Opposing Views article:
But just because something makes people laugh does not make it comedy. (There were lots of people laughing when I was shoved into a row of lockers or knocked down the stairs in junior high. I don't think any of you would call that act, in and of itself, comedy.)