Things are looking up for us, I think. See — television affects children irrevocably, according to the social scientists and also to The Parents Television Council, who believe all children should be raised by their televisions. That's why the PTC grades each television on its ability to parent, like the PTC is a really twisted social worker or something. Anyhow even if they're right I think things are looking up for us.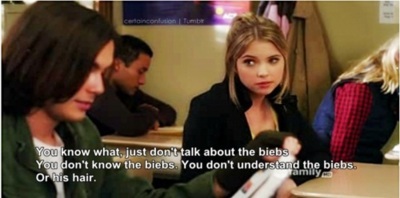 Last year, when the kids were dying of self-loathing and everyone was suddenly eager to talk about it, Glee did an Issue Episode, reminiscent of Blossom's Very Special Episodes, after-school specials, etc. In the 80s and 90s, Special Episodes taught us how to handle a thing, like abortion or bulimia or abuse. We saw Kelly Martin handle it, and then we decided how we would handle it. Glee's "Issue" was gay bullying. In the episode, Kurt's hetero friends rally behind him to defend him and they beat the bully and ALSO SING AND DANCE.
So there we have our first example of what you should do when your friend gets gay-bullied okay? Okay good, moving on to the topic at hand, Episode 115 of Pretty Little Liars:
In Episode 115 of Pretty Little Liars, no lesbians made out or rocked each other gently in a candlelit room. However, plans were made and fucks were gave and suspects were raised.
Last night on Pretty Little Liars, Spencer told Emily's swimming coach that Paige, the Psychotic Swimmer Girl, had said something mean to Emily about her homosexualspectacularness. See, Paige — who looked cute in her first scene and then transformed into a douche — wants to be captain of the swim team, but now that Emily's back from her homosexual vacation, because everyone knows being gay is a full-time job that prohibits you from participating in extracurricular activities, Paige is worried that Emily will get to be captain because Emily is : 1) a better swimmer than her, 2) not Totally Fucking insane. Paige is probably a closeted homosexual, because she looks at Emily a lot with those "I hate that I want to bang you" eyes of despair.
So Paige threatened to out Emily to her team if Emily dared to beat her, and Emily was like, "Are you A.? Yes or no? If you are A, then you are one scary motherfucker. If you aren't, then you are NOT the scariest thing that's ever happened to me. SUCK IT."

No just kidding, Emily says if you want to be a better swimmer, then work for it, or something very tough & dykey like that.

Later that day, Emily tells her friends what happened with Paige and Spencer apparently just naturally went and told the coach.
Emily is then shocked/appalled when the coach calls Paige and Emily aside after practice and says she understands that a homophobic remark was made and she wants to punish somebody. Emily is totally confused and says everything is fine and she will take care of it herself. In other words, Emily is pretty, she's little, and she's lying.
Then later on Spencer asks what happened with Paige and Emily is like WHAT and Spencer was like, oh yeah, I told the coach, that girl always talks shit about the homogays. Emily gets pissed and says she can take care of herself. The thing about that, though, was the nonchalance. Like it was just one more bossy thing for Spencer to do, because you know, she wears plaid cardigans and looks really smart and seems to "have her shit together."
Near the end of the episode via flashback we find out that Allison was not just a bitch, but perhaps actually completely and totally evil. We still care who killed her though, despite the fact that this mystery has more holes in it than Helena Peabody's character arc but whatever, what-the-fuck-ever, give us the tea and talk about our eyes being windows to our soul, for crying out loud we've been sitting here all this time JUST FUCKING TELL US WHO A IS AND THEN EVERYBODY MAKE OUT.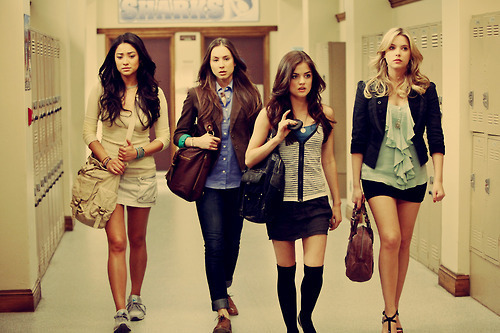 Also, Paige tries to murder Emily in the swimming pool and there are some nice underwater sequences with good music.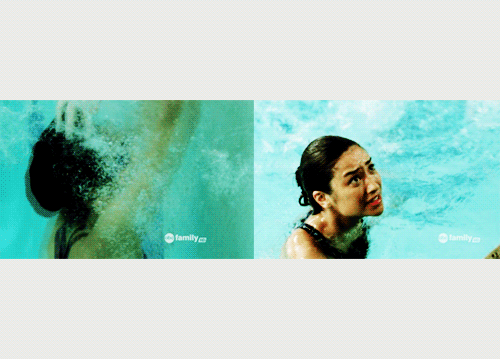 Anyhow back to Spencer telling the coach about how Paige made a bad joke to Emily about the breakstroke and what "team" Emily was on and how Spencer seemed so nonchalant about telling the coach, like Of course I told her. Because that's what you do.
Didn't you know?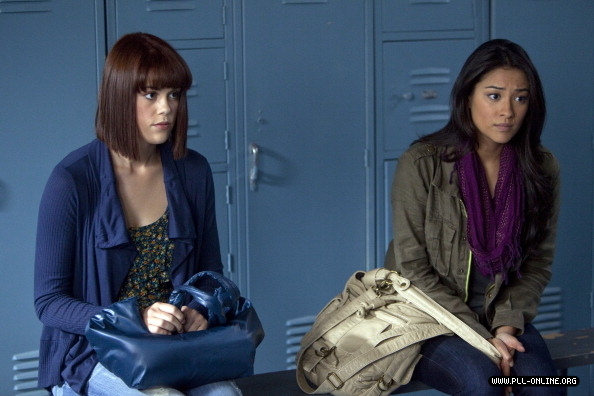 That's what you do when someone says something homophobic to your friend, you go tell somebody in a position of power who can use that power to impart wisdom and execute discipline to whomever dared to do such a terrible, terrible thing. That's what you do, kids. Say no to drugs, say nope to dope, always use a condom, wear your seatbelt, don't walk alone at night, no means no, there is no excuse for violence against women, judge a man by the content of his character not by the color of his skin and there is no excuse and zero tolerance for homophobic language. Everyone got that? Okay. Thank you.
What did you think of the episode?