Being queer or a total fucking weirdo in this day & age means it's often difficult to locate appropriate beauty and fashion advice in spaces that aren't totally alienating. We cannot spend our entire lives mentally re-appropriating Esquire's Manly Men Man at His Best Manly Manliness Manscape or Glamour's 567 Ways to Make Your Lips Look Like Everyone Else's to meet our own sinister queer purposes! We need somebody to just do it right the first time!
We've decided to take that on. Welcome to The Queer Beauty Bar, where everybody knows your name and we keep our nails very short.
+
Today's topic: Scents.
We had a request for a story on men's cologne for lesbos, but of course we could not contain ourselves to one gender and had to share all of our feelings about all of the smells in the whole wide world.
Anecdotal evidence shows that smelling good is the number one best way to get laid or to hide your aversion to daily showering. If you have a special somebody this Valentine's Day, scents are a fabulous way to tell somebody, "I love you, and I want to nuzzle my nose in your shoulder and bite your collarbone." You know? What I'm saying is that a good cologne is the gift that keeps on giving. Seriously if you're not wearing cologne or perfume or patchouli or scented lotion or something I don't really want you anywhere near me, to be perfectly honest.
+

+
Man scents
Popular Picks: Dolce & Gabbana Light Blue & Burberry Brit For Men
+
Brandy HOWARD & Julie GOLDMAN
video stars, "In your box office"
The best smelling man in our life is (hands down) Jonny McGovern. Nothing but the best for the Gay Pimp– he wears Play by Givenchy. And that's our vote for the sexiest cologne worn by a boy we know.
Julie smells pretty sexual herself, and she sprays on Lacoste for Men and then smokes a cigarette. (That combo is a panty dropper. I've seen it happen!)
Both of those are hot, but we aren't mad at Axe Body Spray. It's great in a pinch and it's cheap enough that you can afford to spray it all over your body, your car, and your sheets. (Girls go crazy for that!)
+
G. of "Can I Help You, Sir?"
My preference is for clean, fresh or in some cases, woodsy scents with an underlying masculine feel. I tend to stay away from the spicy colognes, as they're too heavy. I don't want my scent to be noticed as soon as I walk in the room; I'd rather it be noticed because someone had to lean in closely to talk to me.
My top 3:
+ Armani Code for Men: I think it's the combination of the lemon and the wood that really does it for me with this scent. One of the things I like best about it is that it's definitely masculine without being overwhelming, which is an elusive quality with all the macho colognes out there.
+ Burberry Classic for Men: I really love what Burberry does with their fragrances, especially this one. It just smells great on my skin. It's been around for a while, but it's still one of the first ones I grab as I'm getting ready. The top notes of bergamot, cedar and amber really do it for me. I also own Burberry London, Brit and Beat, and I love them all.
+ Banana Republic Slate: I love the fresh scent of this cologne, which relies basically on a blend of ginger and citrus notes. Those two together give it the a quality that is tough for me to find, which is clean AND inviting. It also just feels like a simple, easy-to-wear cologne, which I really like.
My choices also vary a bit depending on the season. These ones are all good fall/winter selections. I have different standbys in the summer that are a little lighter with more prominent citrus undertones (Dolce & Gabbana Light Blue is a favorite).
+
+
+
M.
First, much like G, I treat most colognes like seasons. Summer scents are not okay in the winter, unless there's some sort of obscene heat wave that drives all the sea lions from Pier 39 all the way to Oregon. There are a few that are transcendental, though, and can be enjoyed year round, not unlike peach cobbler.
+I like spicy (but earthy) colognes in the fall and winter. Serge Lutens Borneo 1834 and John Varvatos Vintage are good examples. The Varvatos in particular smells like you just made an emergency landing with your prop plane in a mossy forest, survived, and so did your flask. It is quiet-handsome-action-hero-ruggedness! Tobacco, dirt, woods, gasoline, smoke!
+I am loathe to admit this, because Tom Ford is a giant dickbag, and most of his colognes reek like urinal cakes, but I really liked his Black Orchid cologne for Men. Fuck you, Tom Ford (but also: good job)! I plan to steal some from a department store so Mr Ford doesn't profit. This makes me feel better. Anyway, why I liked it- even though he is like an attention-whorey-Vegas-casino, the cologne is more like an Olympic fencer: surprisingly subtle.
+ Summer and Spring call for lighter, cleaner/fresher scents, to go with lighter clothing. Although I am all out, Creed Silver Mountain Water is my favorite. It is light and clean and not FRUITY! I don't want to smell like food. Only food should smell like food! In fact, I have a household ban on any non-food product that smells like food (candles, soaps, cleaning products, etc). Okay, okay, I made one exception for a fig candle.
+
Kelsey
Video Assistant
I roll with Old Spice "Swagger" which my girlfriend Taylor insists smells like everybody's grandpa.
+
Jess
Senior Editor
My best friend is an impeccably groomed twenty-something gay guy and he always smells delish. He wears Dior Homme or Gucci II for Men. Whatever he's doing, it's working.
+
Corey
Music Blogger
Personally, I wear Curve for Men. It's the least overpowering men's cologne I have found and it smells good. As an added bonus my girlfriend likes the way it smells when she wears my jackets so that aspect doesn't hurt either.
+
Natalie
News Writer
I enjoy Burberry Brit For Men – it's smart, fresh and light, but also robust and earthy, just like my honeys. I like it because it says "I'm serious (you can wear it to the office) – but come from a peaceful, relaxed place.
+
Fit For a Femme
Fashion Blogger
There's a great, super Portland company that does old-timey scents in great little manly bottles here that are definitely worth taking note of (don't say I didn't warn you; you will want them ALL).
+

mixed-gendered scents
+
Robin Roemer
Photographer
If you want to break all gender barriers and also the bank, you can be one of many NYers who visit Le Labo to get a Feminine, Masculine, or Androgynous perfume.  Carly's gay boy roommate and I had the same scent for awhile.   I like being able to sample an array of scents and see which one fits best.
Burberry's The Beat is another one I own.  Although I believe it's "for women", it's a pretty unisex smell.  It's not too flowery or too musky.  I like straddling that line between smelling feminine and masculine.
+
Deanne Smith
Comedienne Columnist
I wear Chanel Allure Homme. If you smelled it, you would want me to hug you.  My smell-sensitive and generally allergic little raw nerve of a girlfriend likes it, too, which is a bonus.  I found out recently that her mom wears Chanel Allure for ladies, though, and I'm trying not to be weirded out by this.
The best-smelling fragrance in the world is Gaultier 2. On the right body, when it settles in, it seriously smells like muffins.
+
Rachel B.
Tech Writer
I really like warm, spicy smells. The kind that smell comforting and cozy.
I like to wear Intimately Beckham by David Beckham because it's very warm but also light. It combines really well a spicy aroma while being sweet at the same time. Also Curve Crush smells really good because it kind of smells really clean and like you're sitting at the ocean and it's kind of a cold day but you have a really great cardigan on. Another favourite is Paris Hilton for Men. It's sweet and very delicious but my bottle ran out a long time ago and I'm still sad about it.
+
Carly
Televisionary
I love fragrances! It's one of my favorite accessories and they always come in very exciting packaging. I never leave the house without spraying something on. A scent can completely change your perception of a person… a great scent goes a long way but so does a bad one. I'm always asking my friends what perfume or cologne they're wearing if I like what they smell like. Wow reading this back I sound like a lunatic.
Anyway, I am obsessed with Le Labo Fragrances (lelabofragrances.com). They have a store an adorable store in SoHo. They're all amazing and they whip you up a fresh batch whenever you buy one. A little pricey but it goes a long way. And their whole look/decor is fantastic. Currently I'm wearing Fleur D'Oranger 27. They have collections that are for men, women, and unisex, but I've found that most if not all of their fragrances can be worn by anyone.
Other favorites: Gucci II for Women, Burberry Touch for Men, Clean's entire line for women, Viktor & Rolf Antidote for Men, and even though it's mega-popular, D & G Light Blue for Women is lovely. And whatever that Burberry scent is that Robin wears, it's really really nice :)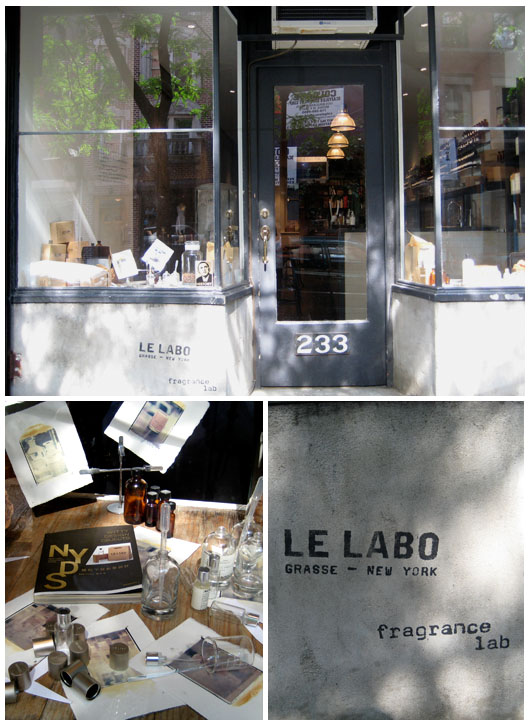 +
Stef:
Music Blogger
I used to be really obsessed with the natural perfume oils at Black Phoenix Alchemy Lab, which are handmade and unisex and delicious.
+
Vikki:
I'm of no help. We don't wear cologne. Luisa always smells like men's speedstick and I smell like mentos gum. Unless alcohol counts because apparently drinking a lot of whiskey makes you smell flammable and I came home smelling like that a couple weeks ago.
+
Intern Elizabeth
I don't tend to like or wear any cologne or perfume because I'm pretty allergic, but I do enjoy when a person (guy, girl, whoever) wears Old Spice Sport or if they just smell like regular aftershave or fresh laundry. I guess I just like it when people smell like they shower?
+
+
Crystal
Music Editor
I've always been in love with the classic Hugo Boss Man fragrance (and anyone who wears it), however it's extremely strong and masculine and post-college I decided that it was a little too bold to pull off. So now I wear Hugo Boss Element, a far more subtle fragrance for men that could really be marketed as unisex, it smells amazing and always attracts compliments from both genders.
I also wear Hugo Boss Deep Red, which is a fragrance for women that's wood & spice-based rather than floral. I like it because it's soft and warm and there's something rather masculine about it. But that can be said about a lot of Hugo Boss lady products, the brand caters to people who prefer their fragrances & fashion to be a little androgynous.
Every now and then I'll also wear Daisy by Marc Jacobs and With Love by Hilary Duff, they both smell pretty.
Becky
Style Editor
Kiehls Original Blend-Toilette Spray – it's pretty expensive, but it was seriously the best/sexiest thing I've ever smelt. Also I can get down with the apothecary aesthetic of the bottle. Other favorite smells include cigar boxes, cocoa butter, and jasmine.
+

lady scents
+

+
Rachel B
Tech Blogger
Some favourites that my lady wears are Heat by Beyonce – this is a very sexy, dark, deep smell. Obvs. And With Love by Hilary Duff. It is also wonderful when she wears the Lemon Bath and Body Works spray. But that just makes me want lemonade.
+
Michele
The Scene writer
Most days I wear Falling in Love by Philosophy because my grandma has been buying it for me since 10th grade and it smells like a good winter day and also because I've been wearing it so long that people associate it with me and I like that. But I like to wear Axe, too, which is totally nauseating I know but I have no doubt that inside I'm a 15 year old boy. 15 year old boy is a really fun thing to channel before going out on a Friday night. Also I like how cheap and fresh it smells.
+
Intern Lily
I wear "Provocative Woman" by Elizabeth Arden for a number of reasons. Mainly because I really really like wearing something called "provocative woman", I think it is hilarious. It is also fun to pretend to a be a "provocative woman", of which I pretty much am not. I got a free sample of this stuff freshman year of high school when I was hanging out with my friends after school. It was a day that was just really really good for no reason in particular–I hadn't been consistently content or happy in a long time so the feeling was new and I wasn't quite sure what to do with it but I knew I liked it. So that perfume reminds me of being ok. Who knows if I even truly love the smell, I just like the sense of security it gives to me. And, of course, the name.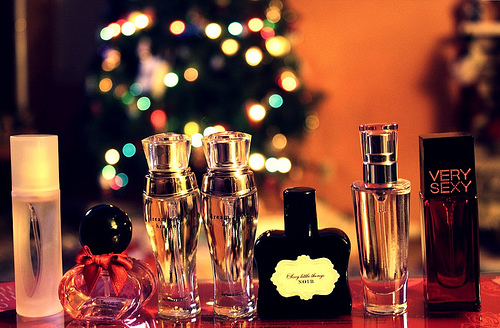 +
Intern Megan
Very Sexy from Victoria's Secret because it's what my first girlfriend wore and I'm now addicted to the scent.
+
Riese:
Editor-in-Chief
My first scent EVER was Fuzzy Peach from The Body Shop which I picked because I got a lot of Body Shop stuff on my birthdays. I then graduated to a ten-year romance with Tommy Girl which I selected because it made me think of tomboys. Then when I was no longer a girl, I switched to Burberry Brit because my boyfriend said it was the best scent for a woman. If anything smells oaky, fruity, calm, oceany, or whathaveyou, I know not of these things.
When I'm traveling, gymming, or spending a day in the unscentisfactory wilds, I pack a travel-sized bottle of Victoria's Secret Very Sexy or a rollerball of Juicy Couture Original which is about as big as a tube of chapstick. The former I liked when it came free with something I bought during the Semi-Annual Clearance Sale and the latter I selected for its size, but consequently fell in love with the scent. Perfumes worn by my roommates which I have co-opted and worn myself include Fresh Sake and Mademoiselle by Chanel.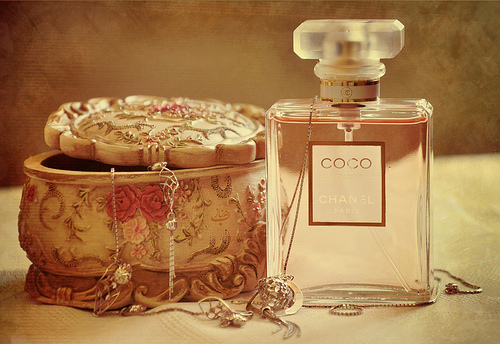 +
Jess:
Senior Editor
I've been using the same formula since late high school to make myself smell good….. CK One + Gap Body Dream. For some reason these two scents are a bit too strong for me when used individually, but when I spray one of each on my wrists and rub them together = magic. That's my staple, but I also dip into Angel and Burberry Brit on occasion. Don't mix those together!
+
Alex Vega
Design Director
I wear Gwen Stefani's fragrance called "LAMB" because my mom bought it for me for Christmas one year. I just kept buying it after that because I feel like it's an androgynous scent, or at least less "flowery" than others geared towards the ladies. Also, it comes in a cool square bottle so I dig the packaging/product design on it!



Feature graphic image from wild umbrella. Special thanks to Fit for a Femme for letting us republish M. & G.'s responses from her fantastic post on this topic.