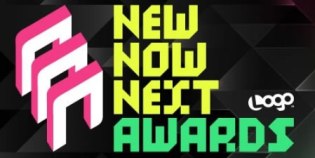 Logo's NewNowNext Awards are like psychic awards because they predict the future and are also very strange, but interesting and exciting.  Autofaves Skins, Darren Criss and Amber Heard are obvs in the running for the 2011 awards show since we've pretty much dedicated our life to having our finger on the gay pulse. For the fourth year in a row, Autostraddle was not nominated for an OMG Internet Award.
The NNN Awards actually have an impressive track record, having identified Lady Gaga, True Blood and Julie Goldman as Significant Things before they hit the mainstream radar.  In fact, the first annual NNN Awards was the site of Gaga's very first televised performance of "Just Dance" back in May 2008:
NewNowNext Awards used to take place in New York City –here's Autostraddle's trip to the red carpet in 2009:
So, here we have the nominees for the 2011 edition. The winners will be revealed on Monday, April 11th on Logo's 90-minute special taped in front of a live audience. It's sure to be super gay and involve a drag queen or two and usually the people who show up win.
Nominees for the 2011 NewNowNext Awards:
Brink of Fame: Actor
• Andrew Garfield (Spider-Man)
• Darren Criss ("Glee,wp_postsFOX)
• Donald Glover ("Community,wp_postsNBC)
• Emma Stone (Spider-Man)
• Nicholas Hoult (X-Men: First Class)
• Rooney Mara (The Girl with the Dragon Tattoo)
#zOMG Internet Award
• @CarrieFFisher on Twitter
• DamnYouAutoCorrect.com
• JamesVanDerMemes.com
• Mike Tompkins
• Sassy Gay Friend
TV You Betta Watch
• "1 girl 5 gayswp_posts(Logo)
• "Pretty Little Liarswp_posts(ABC Family)
• "Skinswp_posts(MTV)
• "The Gamewp_posts(BET)
• "Tosh.0″ (Comedy Central)
• "The Vampire Diarieswp_posts(The CW)
Best New Indulgence
• Angry Birds
• Netflix Watch Instantly
• OWN (The Oprah Winfrey Network)
• New Kids On The Block/Backstreet Boys – Summer Tour 2011
• TJ Kelly, from "The A-List: New Yorkwp_posts(Logo)
Most Addictive Reality Star
• Tabatha Coffey, "Tabatha's Salon Takeoverwp_posts(Bravo)
• Tyler & Catelynn, "Teen Momwp_posts(MTV)
• Carmen Carrera, "RuPaul's Drag Racewp_posts(Logo)
• Josh Kilmer-Purcell & Brent Ridge, "The Fabulous Beekman Boyswp_posts(Planet Green)
'Cause You're Hot
• Amber Heard (Zombieland)
• Archie Panjabi ("The Good Wife,wp_postsCBS)
• Ben Cohen (Rugby Player, Activist)
• Jesse Williams ("Grey's Anatomy,wp_postsABC)
• Joe Manganiello ("True Blood,wp_postsHBO)
• Sofia Vergara ("Modern Family,wp_postsABC)
Next Must-See Movie
• Bridesmaids
• Harry Potter and the Deathly Hallows: Part 2
• The Smurfs
• Water For Elephants
• X-Men: First Class
Brink of Fame: Music Artist
• Oh Land
• Sleigh Bells
• Two Door Cinema Club
• Willow Smith
• Wynter Gordon