by Dodai Stewart
The thing about turning iconic American literary work into a movie is that there's no way the folks on screen are going to look like who readers pictured in their heads. So the new On The Road stills are jarring.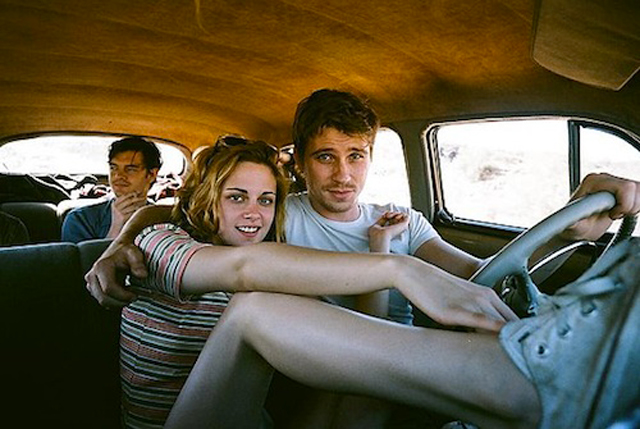 On The Road, written by Jack Kerouac in 1951, and published by Viking Press in 1957, has been called "The novel that defined a generation." The film version stars Garrett Hedlund as Dean Moriarty and Kristen Stewart as Marylou. (See more images here.)
Now Kristen Stewart, to her credit, does not look like a miserable vampire-loving mopey girl from Forks in these stills. She looks happy. Ready to explore America! Still, I just pictured Marylou different, somehow.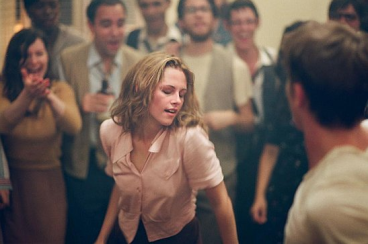 Here's what Keroauc writes about Marylou on page two of the Penguin Books edition of On The Road (which I plucked from my bookshelf):
Marylou was a pretty blonde with immense ringlets of hair like a sea of golden tresses; she sat there on the edge of the couch with her hands hanging in her lap and her smoky blue country eyes fixed in a wide stare because she was in an evil gray New York pad that she'd heard about back West, and waiting like a longbodied emaciated Modigliani surrealist woman in a serious room. But, outside of being a sweet little girl, she was awfully dumb and capable of doing horrible things.
Okay, it's not like you actually expect the filmmakers to cast some one who looks like a Modigliani surrealist woman. And when I first read this book, I didn't even know what that meant, I only knew that these characters were wild wanderers from a different era. I pictured them looking like hippies, even though that's all wrong. I thought Marylou was basically Janis from the Muppets, and I thought Dean Moriarity looked like Frank Zappa. I realize this makes no sense but I was 15 and still figuring stuff out. But books do that: The words create a blueprint and your mind colors it in. I also pictured Sal Paradise looking like Sal Mineo.
In any case, Garrett Hedlund actually lines up fairly well with Kerouac's description of Dean:
My first impression of Dean was of a young Gene Autry — trim, thin-hipped, blue-eyed, with a real Oklahoma accent — a side-burned hero of the snowy West.
Trying to do justice to such a famous book is a really tough assignment, and no doubt some people will be furious that the "chick from Twilight" is involved. (One blogger said the main shot of Dean and Marylou, at the top of this page, looks like "a picture out of an Urban Outfitters catalog.") But if anyone can make it work, director Walter Salles — who's best known for another truly beautiful road picture, The Motorcycle Diaries — probably can. Fingers crossed.
+
By Dodai Stewart, originally published on Jezebel. Republished WITH PERMISSION MOTHERF*CKERS.